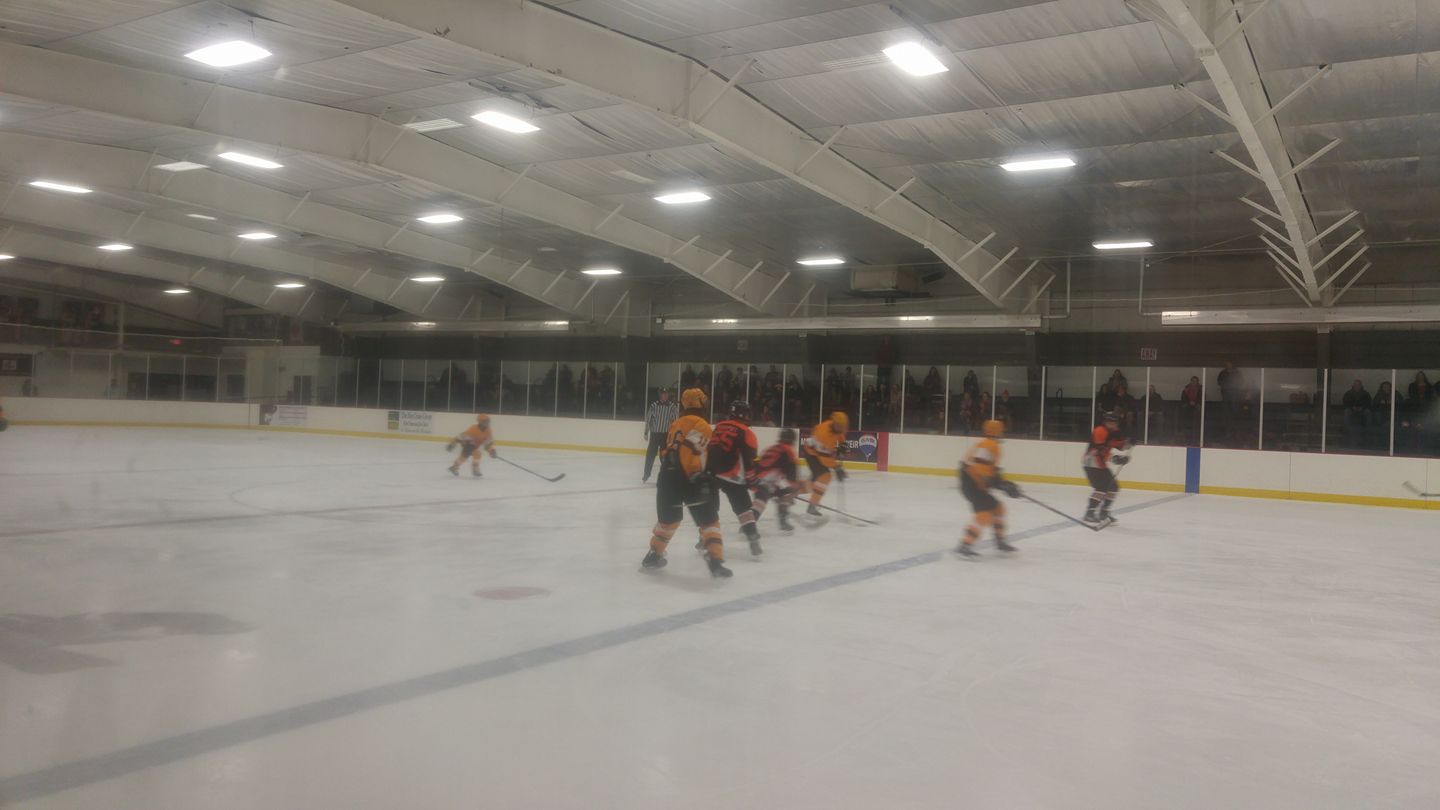 ROCKY RIVER – In a game filled with feisty play on both sides of the ice, it was young Connor Koncelik stealing the show with another huge Hat Trick as Avon Lake rolled to a 11-2 victory over North Canton Hoover.
North Canton didn't have an answer for the blitzkrieg of goals put on by Avon Lake all game long.  Joining Koncelik with two goals each, were Tommy Kacmarcik, Patrick Graney and Jared Aslaksen.  The Shoremen got pulled into some rough play at times as both teams were called for double roughing calls several times. However, the Shoremen kept their composure long enough to cruise to the easy win.
It was an interesting game to say the least.  After jumping out to a 2-0 lead less than 6 minutes into the game with quick goals by Matt Tomaselli and Murphy Mohar, Avon Lake cooled off a little bit and actually looked sluggish at times.
North Canton Hoover took advantage and kept the deficit at 2-0 heading into the second period.  It was then that North Canton Hoover actually made it a game for a brief moment as they scored.  Jon Murphy put it in at the 12:12 mark of the second period.  This was only seconds after Tommy Kacmarcik missed the chance to convert a one on one break away with the Canton Hoover goalie.
That one goal from Murphy seemed to do more to motivate Avon Lake then it did his own team however, because from there, it was all Shoremen.  Avon Lake would spend the rest of the game scoring at will.  Four in the second period, then five more in the third period.
With the combination of Koncelik, Graney and Kacmarcik, this Shoremen team is hard to beat.  When they are focused, rested and attacking, there is no one in the SWC that can hang with them.
Despite all the penalties, most of them were double calls, thus the game only saw powerplay.
Box Score
Hoover 0 2 0 = 2
Avon Lake 2 4 5 = 11
Goal Summary
FIRST PERIOD
14:14 Tomaselli from Kelly. AL
9:42 Mohar from Kacmarcik. AL
SECOND PERIOD
12:12 Murphy from Usnek NCH
11:26 Koncelik unassisted AL
10:34 Aslasken from Koncelik AL
2:10 Koncelik from Aslaksen AL
0:41 Aslaksen from York AL
THIRD PERIOD
12:56 Graney unassisted AL
11:45 Kacmarcik from Share AL(SH)
5:02 Kacmarcik from Kelly
1:02 Graney from Koncelik AL
:44 Koncelik from Mohar AL
Power Play Summary
10:36 of the third period Avon Lake – converted

NEO Sports Insiders Newsletter
Sign up to receive our NEOSI newsletter, and keep up to date with all the latest Cleveland sports news.