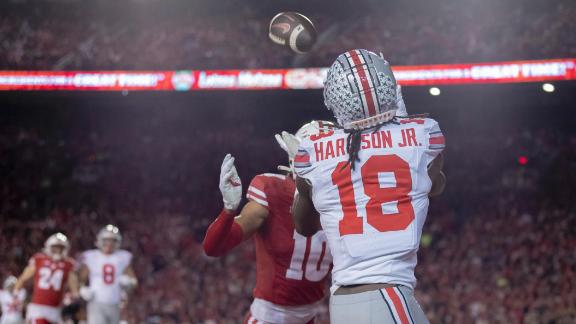 The third-ranked Ohio State Buckeyes' offense struggled last night in Madison, but the effort was enough to secure a 24-10 victory over the Wisconsin Badgers. With the win, Ohio State's record improves to 8-0 overall and 5-0 in Big Ten conference play, and the loss drops the Badgers to 5-3 (3-2).
Ohio State is ranked 3rd, but the Buckeyes don't look like a top-10 team. It's understandable why Ohio State is ranked so high, they're benefiting from a lofty preseason ranking. They nearly beat the national champion Georgia Bulldogs in last year's College Football Playoff semifinal game. Ohio State likely would have won if Marvin Harrison, Jr. hadn't dropped a touchdown catch and gotten knocked out of the game in the third quarter. Ohio State was arguably the better team but lost the game.
Ohio State also lost to Michigan in 2022, but the Wolverine's victory over the Buckeyes is clouded in doubt now that Michigan's sign stealing operation has come to light. Video evidence from the Michigan sideline during the game shows Connon Stalions picking up Ohio State's audible to CJ Stroud. By the time Ohio State snapped the ball, the entire defense knew the play was going to be a pass. 
If both teams were playing on equal footing and no sign stealing, there's a chance Ohio State would've won this game in addition to defeating Georgia. The Buckeyes lost both games, but the college football world could see they were one of the best programs in the country.
Ohio State returned a bunch of talent from last year's team: TreVeyon Henderson, Emeka Egbuka, most of the defense, and most importantly, Marvin Harrison, Jr. The Buckeyes lost a good amount of talent to the NFL, including starting quarterback CJ Stroud who was taken by the Houston Texans as the #2 pick overall. But as the adage says, Ohio State doesn't rebuild, it reloads. Junior quarterback Kyle McCord was waiting in the wings for his opportunity.
So naturally, Ohio State was highly ranked in preseason polls, a consensus top-five. Two-thirds through the 2023 season Ohio State is unbeaten, so naturally their ranking in the polls hasn't gone down. In reality, the Buckeyes aren't as good this year. Although 8-0, Ohio State hasn't played a very tough schedule. Let's look at the Buckeyes' opponents two-thirds through the season.
Ohio State opened the season with a paltry 23-3 win over Indiana. A bit rusty, but excusable considering the game was a season opener on the road, with new quarterback was under center. Fast forward to week 8, Indiana is 2-6 and with wins only against Indiana State and Akron (in 4 OT). They were beaten badly by Maryland, Michigan, and Rutgers. But they did give Penn State a good game.
After two games against nothing opponents, Ohio State traveled to Notre Dame where they knocked off the Fighting Irish 17-14 in dramatic fashion. This was a gutsy win, and McCord looked to find himself on the game-winning touchdown drive. Notre Dame is a decent team, currently 7-2 with a loss to a ranked Louisville team and a signature win over rival USC.
Maryland was 5-0 when they took on Ohio State in the Horseshoe. The Terps are now 5-3; they followed up the loss to OSU with losses to Illinois and Northwestern, both bad teams. Ohio State then went to West Lafayette and beat Purdue 41-7. Purdue is currently 2-6 with wins over Virginia Tech and Illinois.
The victory over Penn State was a good win, but Penn State doesn't look that good even at 7-1. The Nittany Lions struggled to beat a bad Indiana team at home yesterday. Then there was the game last night in Madison. Ohio State won the game 24-10, but McCord and the offense were really exposed. McCord continues to make bad decisions under pressure. When it comes time to play good teams, the pressure is going to be much higher. Let's look at the remaining schedule.
Ohio State travels to Piscataway to take on Rutgers next weekend. Rutgers has seen a resurgence as of late with the return of Greg Schiano as head coach. The Scarlet Knights are 6-2 with losses to Michigan and Wisconsin. But they have no quality wins. Zero. Ohio State needs to watch out though because Rutgers had a bye this week, which means one more week to prepare for the Buckeyes.
After Rutgers, Ohio State plays Michigan State and Minnesota at home. Michigan State is a program in turmoil, and the Golden Gophers haven't been good at football since the 1960's.
Ohio State should win the next three games, they are playing easy opponents. It looks quite likely the Buckeyes will be 11-0 when they travel to Ann Arbor to take on Michigan two days after Thanksgiving. Will Ohio State be the turkey?
The Buckeyes must figure things out on offense. If it means burning Dallan Hayden's redshirt season in to get him in form for the Michigan game, Coach Day needs to pull the trigger and do it. Henderson looked great against Wisconsin, running for 162 yards on 24 carries and adding 45 receiving yards. TreVeyon iced the game with a 33-yard touchdown run with just over five minutes remaining.
Unfortunately, Henderson has been injury-prone his entire career at Ohio State and had missed the three games prior to the Wisconsin game. Ohio State needs a healthy running back in the wings and put their best foot forward, this is what Hayden represents. I understand the coaching staff wants to try and survive without using Hayden this year, because they didn't land a top RB recruit in last year's class. But this team isn't good enough not to put the best players in the game. Hayden needs to be ready and gelling with the offensive line.
Ohio State has three weeks to figure things out on offense, otherwise it might be another long day in Ann Arbor. Michigan looks to be a legitimate top-5 team. The Buckeyes are not looking that way, but there's still time. The opportunity is there for Ohio State to earn their lofty ranking one month from now.

NEO Sports Insiders Newsletter
Sign up to receive our NEOSI newsletter, and keep up to date with all the latest Cleveland sports news.