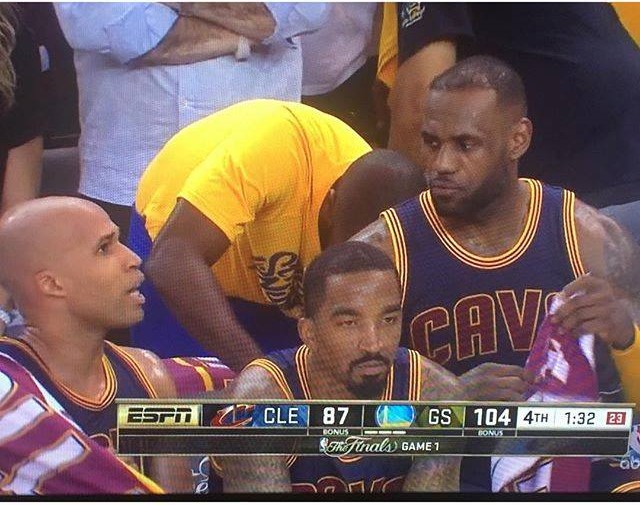 After Thursday's game one, some people (NEOSI Writer Matt Medley) already feel like this series is over and Golden State will win it sooner than later. I'm not saying it just yet.
Honestly I think there are more positive takeaways from the 15 point loss than people are giving credit for. The Cavs are still in decent position to compete in the series.
First off, let's remember this is Golden State the Cavs are playing. This is not Detroit, Atlanta, or Toronto anymore. The level of competition has jumped tremendously. This team was the best team in regular season history for a reason but the Thunder taking a 3-1 lead in their series prove that the Warriors are not invincible like some have come to believe.
Home games might be the biggest advantage a team can have in the playoffs. Road wins are hard to come by especially later in the playoffs, so for the Cavs to come in and lose game one should have been expected. The Warriors are really good at home and they did their job, but there are some things from game one that should change that gives the Cavs a better opportunity to win game two and so forth.
The biggest accomplishment the Cavs had in game one was shutting down Steph Curry and Klay Thompson to the fewest points they have combined to score in the last two seasons with 20 points. They shot just 8 of 27 with eight assists to five turnovers. Overall they did not have a good game and that's big.
Some people have told me that shouldn't you be even MORE concerned about that happening and still losing by 15? My answer is no. I'd rather live with Steph and Klay scoring 20 and forcing their bench to beat me than giving up easy shots to two of the best shooters in the game right now, further opening up things for the rest of the players after putting added extra attention to Klay or Steph.
Golden State's bench scored 45 points in game one but they should not be able to consistently score that much. Shaun Livingston for example made eight field goals yesterday compared to 11 in the entire Thunder series. Iguodala, Livingston, and Barbosa came into the game and shot the ball well for them (18-24). In a series of odds I'd rather force their sixth and seven men to put up 15-20 points because it's much more difficult for them to do it than Curry and Thompson, that's why they come off the bench. Continuing to take their best players out of the game should give the Cavs a better chance to win in the long run.
Going back to the Cavs, two obvious points stand out and that was the inside scoring and the bench. The Cavs missed 28 shots inside the pain in game one. If they were to make half of those shots, they would win by 13 coincidently speaking instead of losing by 15. Even if they made ten, they would shoot the same percentage practically as Golden State and still won. As a team they only shot 38% from the field which is very low for them.
The length of the Warriors caused a lot of problems for the Cavs. Watching the game it looked as if they tried to keep the same strategy that worked against Toronto and that was to be aggressive and go inside the paint. Of their 87 shots, only 27 were from three. When they got inside the length especially with the guards of Golden State made it difficult to get the easy shots off.
Shaun Livingston is 6'7", Harrison Barnes 6'8", Klay Thompson 6'7", Andre Iguodala 6'6", and Draymond Green 6'7". These guys are athletic enough to go inside and stay with their man and their height makes it difficult to easily get over them. Iguodala, Green, and Barbosa are also really good defenders that are very good with their hands. The Cavs had 15 turnovers and the Warriors had nine steals.
Game one showed that the Cavs are going to have difficulty getting inside and making a lot of high percentage shots. The Cavs only had one person on their team shoot over 50% and that was Iman Shumpert who was 1-1. Seven three pointers against a high scoring team may not be enough either as scoring 89 points against Golden State is almost a guaranteed loss.
What I would expect the Cavs to start doing is to look at kicking the ball out sooner than later. The Cavs still have to be aggressive and get inside to prevent the Warriors from sticking to the outside shooters. However when they got inside, granted I felt they were fouled a lot more than called, they had difficulty getting the ball up clean. Once they start getting into the paint rather than around the rim, I would look for a kick out to the corner and then look to move the ball back up top for an open person waiting for three or a pump fake and drive it along the baseline for an easier shot. If that fails then just reset the offense. The Cavs can't settle for contested inside shots all game long.
By kicking the ball out, the team can also get the bench more involved. In game one, Tristan Thompson had more shot attempts (11) than the entire bench (10). That simply can't happen. Some of the best shooters on the team in the playoffs have been Channing Frye and Richard Jefferson.
They got a combined 19 minutes Thursday. While the focus on the Golden State bench has gotten a lot of credit, they did most of their work against the Cavs starters. Each starter played 31+ minutes and on the bench Iman Shumpert had 17, Jefferson 12, Matthew Dellavedova 11, and Frye 7. The bench got nothing going. With the size of Golden State I'd like to see more of Shumpert and Jefferson as they are still quick enough to guard the backcourt of Golden State but also offer some decent size compared to somebody like Dellavedova or Frye who may not be tall or fast enough. The double digit negatives from the bench have to improve and once again the Warriors bench was hot and that likely won't last forever.
Another thing that has to happen is J.R. Smith needs to be involved. He was my X-factor going in and he needed to be big for the Cavs to win. While he helped stop Klay Thompson, he contributed almost nothing to the stat line. He was 1-3 in 36 minutes with just one rebound and block. With so much focus in the paint, JR simply looked like an afterthought.
The Big Three took 60 of the Cavs 84 shots. That's over two thirds of the offense going through three players and it showed. The ball movement seemed to slack, isos seemed to happen more often than they should and one of three players shot the ball every time. Most of Trsitan's 11 shots that I didn't include came off his six offensive rebounds that would really bring it to somewhere around 75% of shots from the Big Three when running the offense. Golden State can just lock into guarding the Big Three like Cleveland did with Steph and Klay but instead Golden State turned to their other guys to make plays while Cleveland relied on the same three to try and bring them back.
It also brings me to one more point and that was the transition offense. It was non-existent. I'm guessing it was part of the gameplan to try and slow things down and not play into the way Golden State wants to play by moving quick, but it took away opportunities. With the Cavs struggling to get into the paint from the halfcourt offense, they have a much better chance in transition with the defense struggling to get set. LeBron might be the best transition player offensively due to the inability to stop him when he gets going to the basket.
If I was the Cavs I would live with losing a higher scoring game by taking advantage of some Golden State turnovers and pushing the ball a little bit instead of taking on an underrated defense that showed the Cavs they can't do what they did against Toronto. Granted they need to keep it slow from time to time but when the opportunity presents itself I can't watch the team continue to jog down the court.
Overall, I'm alright after one game. The Cavs didn't win, but I didn't expect them to. Yes a 15 point loss is disheartening but the Warriors also lost games three and four by 28 and 24 before winning three in a row to win the Western Conference Finals. Tyronn Lue has done a great job at making adjustments during the postseason and I'm sure he won't have his team play like they did on Thursday.
Look for the Cavs to try and get the ball moving again (the Warriors had 12 more assists) to create better opportunities and set up the outside shot. While I don't expect Curry and Thompson to score 20, I don't expect the bench to score 45 either. The Warriors win had more flukey things happen that would be above the standard deviation in a series.
I'm not taking away anything from them as they are the favorites and defending champs for a reason, but the Cavs didn't do a lot of things right on offense that can be fixed going forward. The Cavs really shot the ball bad and the benches were very mismatched in game one. Those are uncharacteristic things that when fixed should lead to a win.
They were down 14 before coming back to take the lead in the third, so it can be done with four great quarters and limiting the Warriors runs. I wouldn't be surprised if they can sneak one out in the Bay for game two after the embarrassing loss Thursday before returning home to defend their home court. Don't worry just yet Cavs fans, we still have more at least three more games in the series to go and there's still this year.

NEO Sports Insiders Newsletter
Sign up to receive our NEOSI newsletter, and keep up to date with all the latest Cleveland sports news.