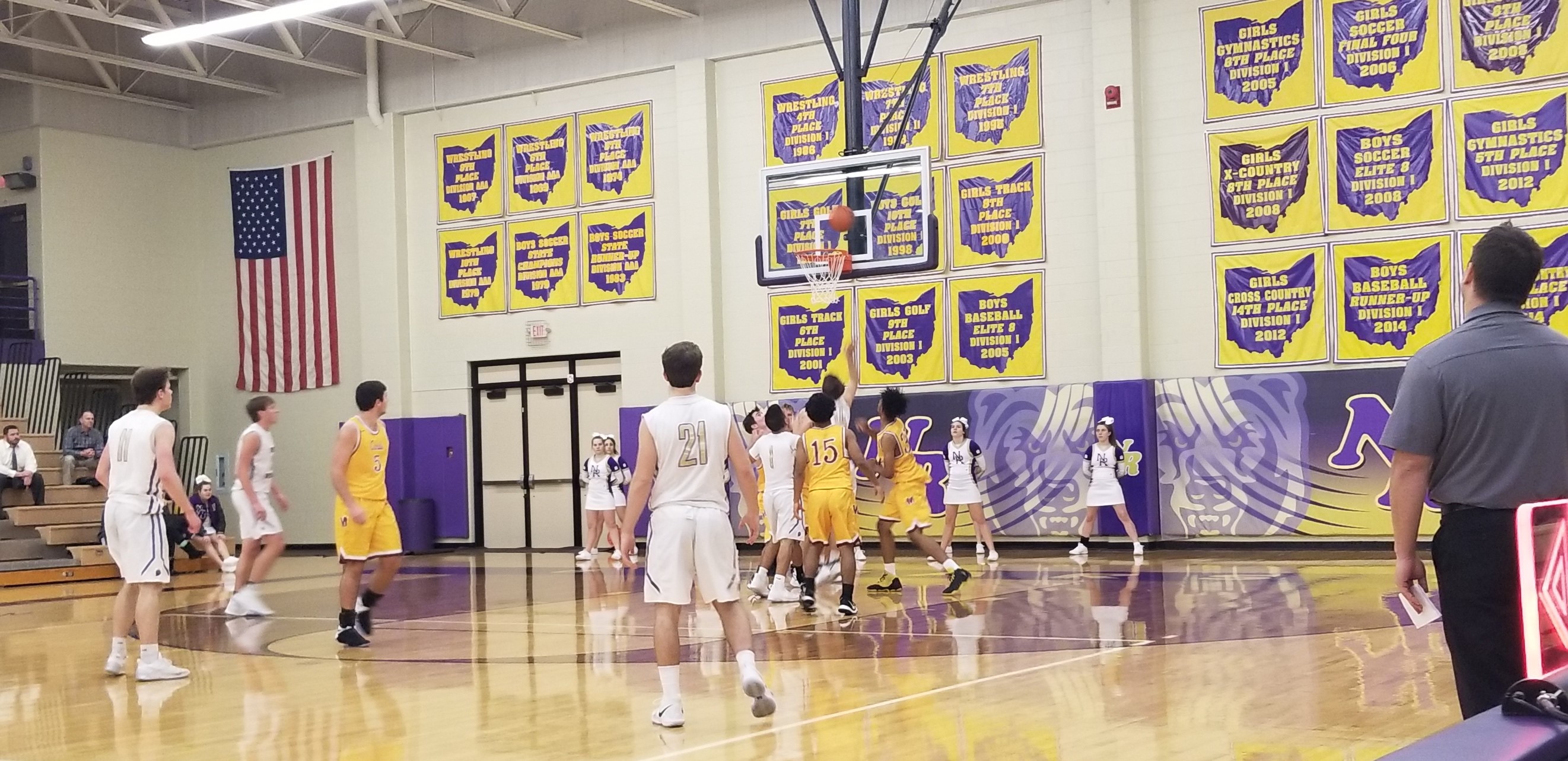 By Gabby Ortiz
NORTH ROYALTON, OHIO— North Royalton Bears varsity basketball defeated Cardinal Mooney in a non-conference game, 71-60 Tuesday night. The Bears are 2-0 to start the High School Basketball season while Cardinal Mooney stands at 0-3.
The Bears came out ready to play, and got off to a fast start by going on a 6-0 run early in the first quarter, outscoring Cardinal Mooney 9-2 with four minutes left in the first quarter. The Cardinals scored their first basket of the game midway in the first on a three-point shot by guard Pete Haas.
The Cardinals would go on a small run to bring them within seven at 20-13, but the Bears gained defensive stops to increase their lead to 25-13 to end the first quarter. The Cardinals would quickly gain momentum heading into the second quarter by tightening up their defense. They would bring the score within three to 29-26 by the lapse on defense by the Bears, and back to back 3-pointers by Haas.
The Bears would take back the lead by the end of the second quarter, 38-34, with an offensive rebound and a steal by Bears guard, Omar Abuhamdeh. Abuhamdeh was the second leading scorer for the Bears, and finished the game with 14 points, one rebound, two steals and one assist.
In the second half of the game the Cardinals would try to go on another run, by playing the Bears up-tempo pace. By the end of the third quarter, the score was 44-44. The Bears would quickly match the Cardinals' offense and increase their lead to 54-49 by the start of the fourth quarter.
The Bears fast-paced offense would seem to be too much for the Cardinals as they struggled to keep up pace in the fourth. The Bears increased their lead to 63-54 with three minutes left in the fourth, and the Cardinals would score their last buckets of the game with two 3-pointers by swingman Jordan Stanford. The final score of the game was 71-60 bringing the Bears to 2-0.
The player of the game was Cardinal guard, Haas, who finished the game with 21 points, one steal and two rebounds. The Bears leading scorer was guard Jack Bunsey, who finished with 19 points. Cardinal forward, Anthony Fire also had a big game with 14 points, two rebounds, one assist and one steal.
The Bears head to Twinsburg on Friday, Dec. 15 to take on Twinsburg High School in their first conference game at 7:30 p.m. The Cardinals will look to get their first win of the season as they head home to take on Canton Central Catholic on Friday, Dec. 15 at 7:30 p.m.