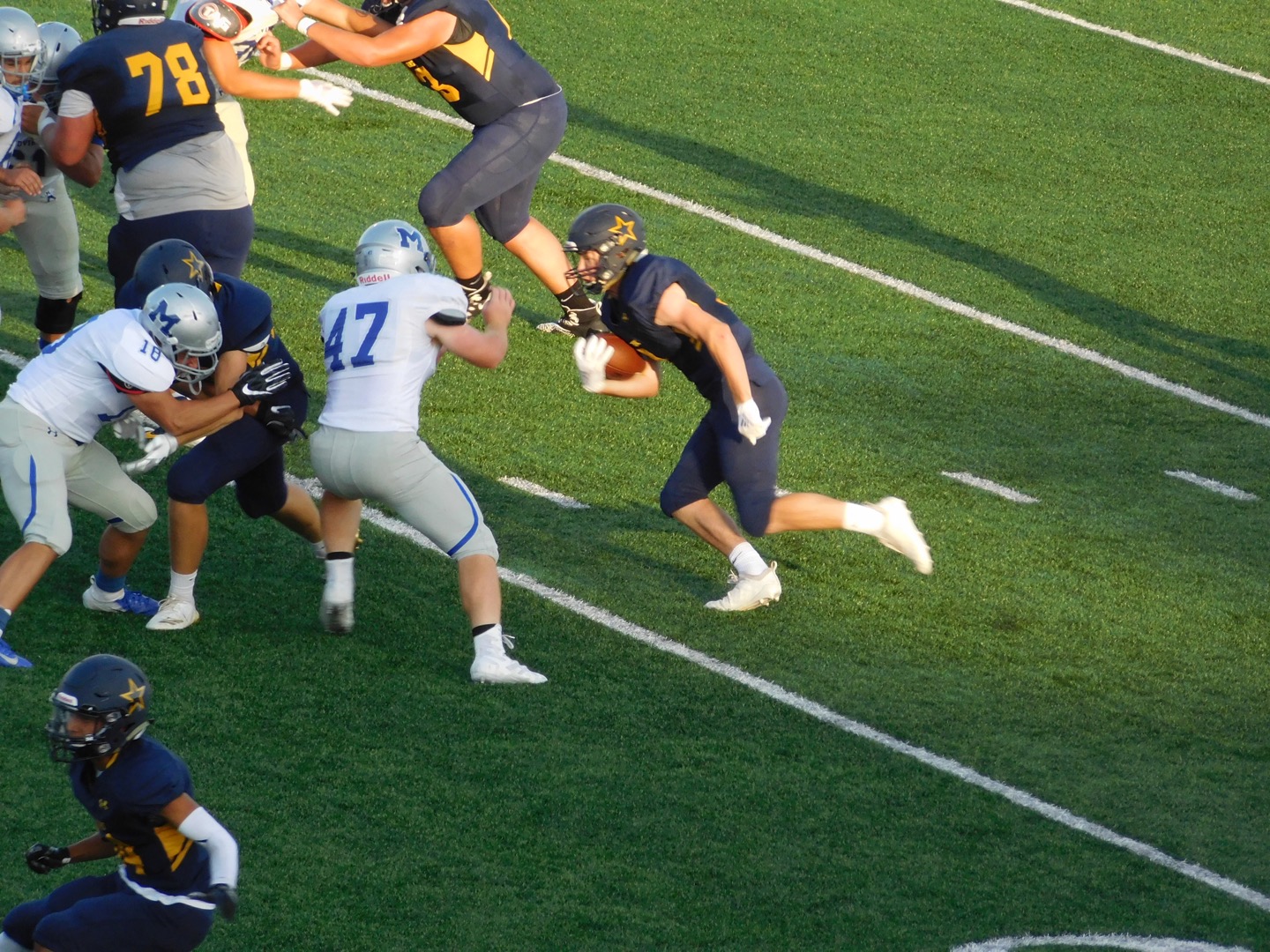 NORTH RIDGEVILLE, OHIO – It was eight years in the making, but for coach Luke Durbin and the North Ridgeville Rangers, it couldn't have been any sweeter.
The Rangers rallied from down nine in the fourth quarter, shocking the now 0-2 Midview Middies 31-30 in a wild west shootout that saw the two teams combine for over 900 yards of offense.
In the end, it was the Rangers making a late stop to force a botched snap of a field goal to seal the win to give them the victory over their biggest rival.
"It's very sweet, it's been eight long years, a long time coming," Durbin said after the win.
The Middies last year pounded the Rangers 38-0, but this time around North Ridgeville went toe-to-toe with Midview, matching them each time it looked like Midview was closer to pulling away.
After a missed field goal midway through the fourth quarter, the Rangers defense stopped the Middies, and on their next possession quarterback Matt Steinmetz (10-for-18, 223 yards, three touchdowns), hit wide out Jeremy Sanchez with a 55-yard score to draw the Rangers to 30-28 with less than five minutes to play.
Two plays into the next Midview drive, quarterback Andrew Gooch fumbled, giving North Ridgeville the ball at the Midview 31.
After a five play drive, kicker Aden Vanover nailed a 31-yard field goal giving the Rangers a 31-30 lead with 1:44 left.
The Middies would not go down easily, as they drove from their 20 to the Rangers 30, and were set up for a possible 47-yard go-ahead field goal from Chris Roig, but the snap was bobbled and the Rangers swarmed in to make the play to end the final Midview threat.
"We kept putting them back out there, and in the end they really gave us a chance to win," Durbin said of his defense in the second half.
The first half was tale of two quarters, as Midview held a 3-0 lead after one, but in the second quarter the game turned into a track meet, as the teams combined for five touchdowns as the Rangers took a 21-20 lead at the half.
Steinmetz went in from four yards out to give the Rangers a 7-3 lead, but then the Middies came right back with an Isiah Johnson 75-yard touchdown pass from Gooch to make it 10-7.
Not to be outdone, the Rangers took the lead back on a 42-yard touchdown pass from Steinmetz to Sanchez making it 14-10.
Zac Gill put Midview up 17-14 as he scored on a 52-yard touchdown score from Gooch. Mikey Richmond then gave the Rangers the 21-17 lead on a 33-yard scoring strike before Roig's 28-yard field goal made it 21-20 at half.
The Middies scored the next 10 points, with Roig nailing a 27-yard field goal to make it 23-21 in the third quarter, and then in the fourth they went up 30-21 after a double pass that saw Edwin Ralat catch a 26-yard scoring strike from fellow wide out Seth Sanders.
The Rangers took the game over from there, as they missed a field goal, but held Midview and then scored the final 10 points to take home the emotional win.
Gooch was 21-for-38 throwing for the Middies for 348 yards and two scores, and Johnson had five grabs for 133 yards and a touchdown for Midview.
The Rangers piled up 210 yards rushing, with Cade Riley pounding out 83 yards on 17 carries in the victory.
Midview will look to get on track in week three against North Olmsted on the road. The Rangers will be at home to host Amherst.
@MiddieUpdates can't get the potential 47-yard FG off due to a low snap – @NR_Rangers will get the wild 31-30 win here in North Ridgeville in a huge win @NEOSportsInside @FOX8FNTD @HSHysteria @AM930WEOL pic.twitter.com/yljfRpESa5

— Matt Loede (@MattLoede) September 1, 2018
Aden Vanover a 32-yard FG w/ 1:44 left & @NR_Rangers goes up 31-30 on @MiddieUpdates here in North Ridgeville @FOX8FNTD @NEOSportsInside @HSHysteria @AM930WEOL pic.twitter.com/SYvesGH0Q0

— Matt Loede (@MattLoede) September 1, 2018
Huge pass from Sanders to Ralat and the @MiddieUpdates go up 30-21 on @NR_Rangers w/ 11:53 to play 4th Q @NEOSportsInside @FOX8FNTD @HSHysteria @AM930WEOL pic.twitter.com/Ea3FbHsRYO

— Matt Loede (@MattLoede) September 1, 2018
Matt Steinmetz with a 4-yard TD run makes it 7-3 @NR_Rangers over @MiddieUpdates with 11:17 left 1st half in North Ridgeville @AM930WEOL @FOX8FNTD @NEOSportsInside pic.twitter.com/grxgkbsKRw

— Matt Loede (@MattLoede) August 31, 2018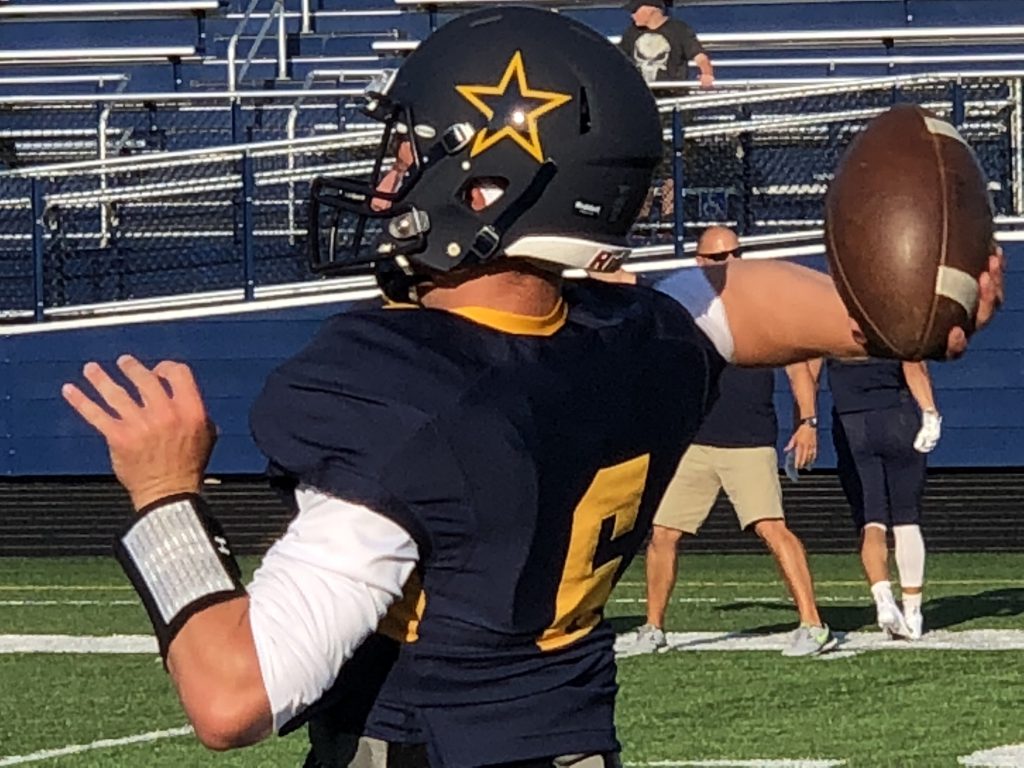 Player of the Game:
North Ridgeville QB Matt Steinmetz
Steinmetz didn't have the huge numbers like fellow QB Andrew Gooch who threw for 348 yards, but made the big plays when they counted, and was a huge factor in leading the Rangers back as they trailed 30-21 in the fourth quarter.
"He's our leader, he's cool and calm and made a great read to hit Sanchez for a score," Rangers coach Luke Durbin said of his senior quarterback. "I'm very proud of him and the way we played."
Steinmetz went 10-for-18, 223 yards and threw for three touchdowns in the one-point win. He also ran the ball 11 times for 19 yards and score in the win.
Here's a photo gallery from North Ridgeville as the Middies and Rangers went at it in week two action.