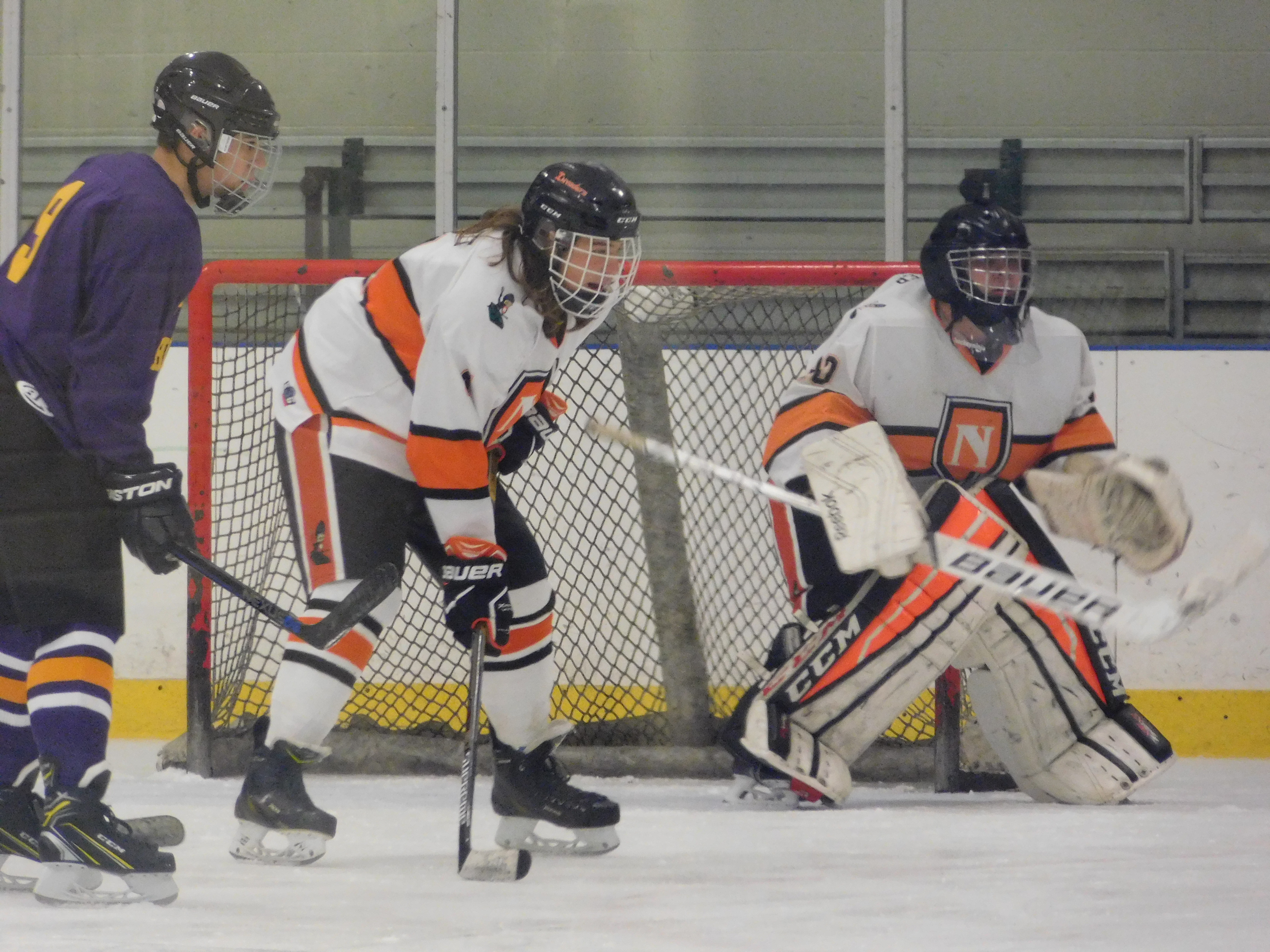 PARMA, OHIO – The Normandy Invaders used a strong start and plenty of time in the opponents end on Tuesday night to record their first league win of the 2018-19 season, shutting out the Lakewood Rangers 6-0 at Ries Rink in Parma.
The Invaders went 24-7 last year in the Blue North Division of the GCHSHL, and despite losing a number of senior players again look poised to being a force this season.
Normandy enjoyed a whopping 55-10 advantage in shots on goal, peppering Lakewood (0-2-0) goalie Rob Holden, who did his best to keep the Rangers in it for the full 45 minutes.
The shutout in net went to junior Derek Billiter, but it was total team effort as Normandy was just too much for the Rangers, and kept the puck in the Lakewood end most of the evening.
The Invaders got a pair of goals in the first from junior forward Lukas George, as he lit the lamp twice past Holden to give Normandy a lead they would never give up.
The first period saw Normandy establish dominance on the offensive end, as they outshot the Rangers 22 to 3 in the first 15 minutes of play.
It was another George who made it 3-0 with 8:52 to play in the second period, as Freshman forward Logan George got in the scorer's book with a goal, getting assists from fellow freshman Tyler Beck and junior defensemen Jared Crawford.
Beck himself got a goal later in the period, as with :46 ticks left in the second he pushed one past Holden to make it a 4-0 affair.
His goal saw assists from Logan George and Senior forward Brennan Sutton. The shots on goal after two periods was a rather lopsided 43-5 in favor of the Invaders.
The final 15 minutes again saw the Invaders score twice, with the first goal to make it 5-0 going to Logan George, with assists going to Beck and Sutton.
Sutton wrapped up the scoring at 6-0 as he scored with 7:21 left on the third period clock. Logan George collected another point with the assist, as well as Beck.
Holden made 49 saves in the effort for the Rangers, while Billiter had to turn away just 10 Lakewood shots on the night.
The Invaders (1-1) will play in Mentor at 6:15pm on Saturday night against NDCL. The Rangers will be back on the ice at 5pm Sunday in Gilmour as they will take on Mayfield.
Click the Pages for Some Pics of the Action Between Lakewood and Normandy!