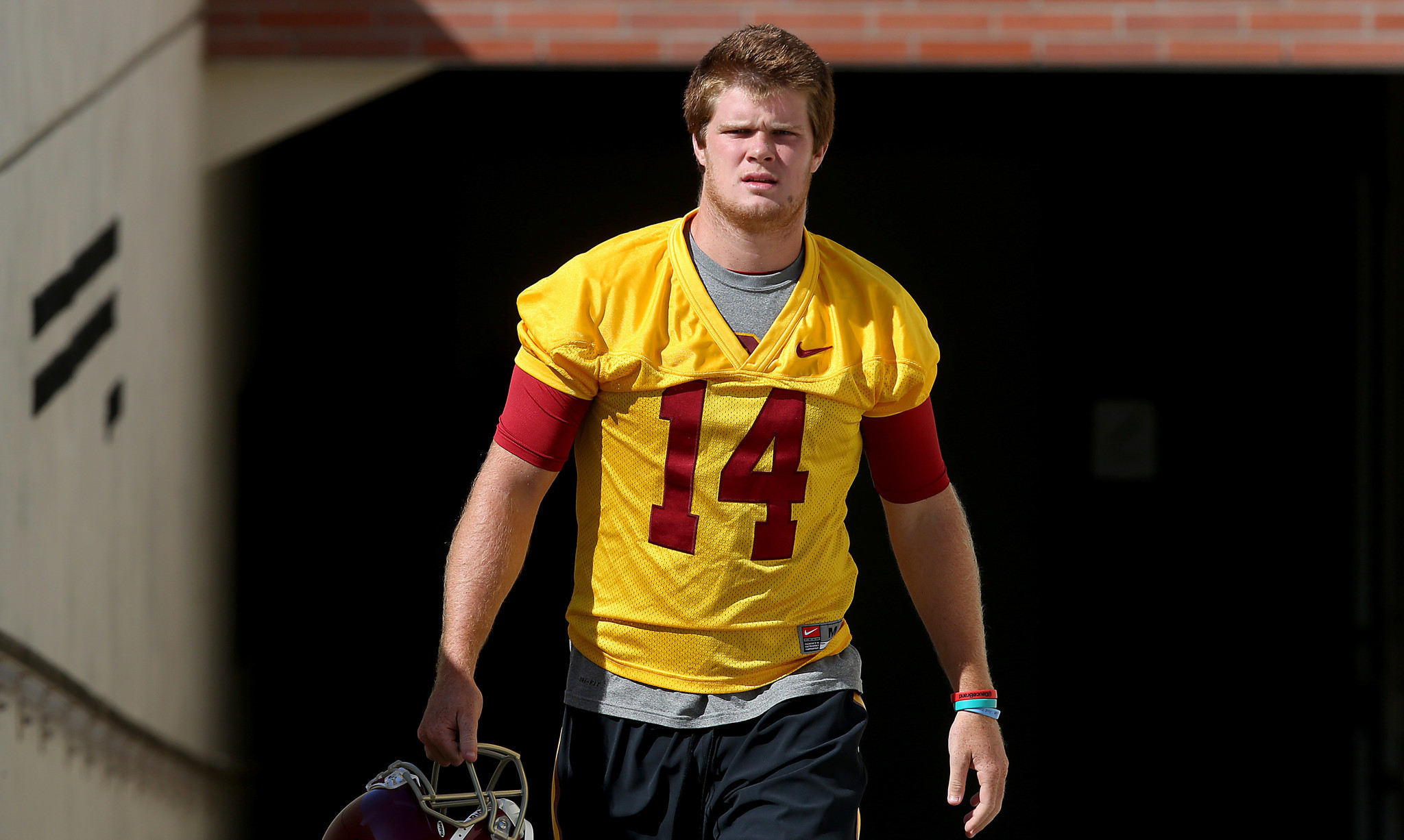 by Nick Broulis
CANTON, OHIO– Saquon Barkley and Sam Darnold have The Broulis Beat Report talking about the draft.
1. I want to make something perfectly clear about my thoughts on the Browns and their drafting for 2018, after I posted my thoughts about Barkley and Darnold lately.
2. I've been saying all season long, that Saquon Barkley is THE BEST PLAYER in college football and has been.
3. I've wanted him as the Browns first pick in 2018 for quite some time now.
4. If it were up to me, Cleveland would select the best WR or defensive back with their second pick in the first-round of the draft.
5. I highly doubt Cleveland passes on a QB in the first round, so therefore, if they draft a QB, which they will, I would prefer Sam Darnold.
6. Darnold isn't NFL ready right now, but I plan on the Browns signing a veteran QB, that way, they can keep Darnold and Kizer on the bench.
7. Darnold has no offensive line to protect him and when you're going up against a top 3 defensive line, which Ohio State has, of course the QB is going to be forced into bad decisions and turnovers.
8. If given good protection, I'm a firm believer that Darnold could be a great NFL QB. That's my opinion.
9. I was wrong about Carson Wentz, right about Jarod Goff and the book is still out on Watson. Watson hasn't been in the NFL long enough to judge despite his early success.
10. If I was drafting for the Cleveland Browns, I'm taking Barkley with my first pick, then the best WR or DB. But Cleveland is going to take a QB. If they don't, I'll be shocked. So, again, I'd prefer Darnold. And he wouldn't be starting. Darnold displayed good foot work, accuracy and made every throw that is required at the NFL level. I could be wrong about Darnold, but the fact is, every player drafted is nothing but a prospect. No player, in the history of the draft, is guaranteed to make it in the NFL. There have been plenty of misses on players who were stars in college that failed and failed miserably in the NFL.
11. Let's take a look back at Trent Richardson. All the hype in the world. Almost everyone thought Richardson was the second coming of Jim Brown or some of the other greatest running backs of all-time. Then, he flopped.
12. If anyone reading this tries to tell me they've never had a player becoming a star in the NFL, who was a star in college, then failed at the NFL level, you're lying. We've all made the statement that so and so was going to be a game changer in the NFL, then he turned out to be an average player. It happens.
13. I think way too many people get caught up in one season or, worse yet, one game at college and make an assumption of that player. There have also been players that weren't good or great in college and turn out to be very good players in the NFL. Every team hopes that the players they draft become productive players for them, but there are no guarantees.
14. Whoever drafts Sam Darnold will have to sit him a year and must have a quality veteran QB for him to learn from. You could argue that most quarterbacks need to follow that path. In my opinion, most quarterbacks should sit a year before playing. There have been a few exceptions.
15. For those that think Cleveland should reach at least 5 or 6 wins in 2018, I've got news for you, their schedule is very difficult in 2018. Cleveland plays their usual AFC North rivals plus the NFC South, AFC West and the last place teams in the AFC East and AFC South. For anyone to say the Browns should win 5 games in 2018, really needs to remember how the roster will shape out and keep in mind the opponents. Pittsburgh will still be very strong and Baltimore isn't going anywhere. Cincinnati could go either way. But the NFC South will be a very strong division again next year and the AFC West should be better than it was this year.
16. I understand people having a problem with the Browns retaining Hue Jackson as head coach. He's won 1 game since being named the head coach. But, if you fire Hue, you better have someone better already lined up and they better bring an offensive and defensive coordinator with them. And they better run a similar system to the one Jackson runs, or else these players are going to have to learn a new system. Can a team be successful after making a lot of changes with the coaching staff? I'm sure it's been done before, but I'm not too sure that's the best road to take with this team. Jackson is going to hire an offensive coordinator and that alone, makes me feel better about him being retained next year. But, that may not make any difference. Time will tell.