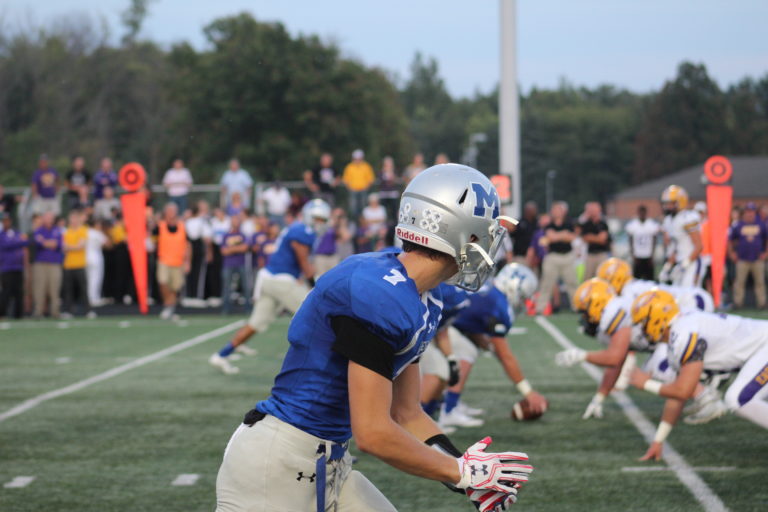 Week three of SWC play concluded last night.  Here are the NEO Sports Insiders SWC Power Rankings.
1) Avon (3-0) – The Avon Eagles are having an impressive season and look to be the favorites to win the SWC for the second consecutive season.  The Eagles have impressive wins this season but none more impressive than beating Merritt Island in Florida week one.  Avon have outscored their opponents this season 82-29.  Last night the Eagles beat Avon Lake 31-6.
2) Midview (3-0) – Midview have adjusted very nicely to life after Dustin Crumm.  The Middies dominated North Olmsted last night 42-6.  Connor Wolfe ran for 115 yards on just 13 carries while Sean Higley threw for five touchdowns.  If any team can knock off Avon, Midview has the best chance of all these teams.
3) Olmsted Falls (2-1) – Olmsted Falls nonconference win over Brecksville 28-18 is extremely impressive.  Olmsted Falls lost to Avon in what was anticipated to be a close game, this was not the case as Olmsted Falls got blown out at home 31-7 last week.
4) Berea-Midpark (2-1) – Berea-Midpark's offense has been absolutely explosive this season.  The Titans have scored 169 points in 3 games led by Junior Quarterback Trevor Bycznski and Runningback Bryce Agnew.  The defense has struggled this season giving up over 30 points in two of the three games they've played this season.  The Titans' offense can dominate any defense in the SWC.
5) North Olmsted (2-1) – Fresh off a beating from Midview the Eagles' schedule doesn't get any easier as they have Avon next week.  North Olmsted got a big win over Avon Lake week two.  North Olmsted's defense has allowed less than 20 points in two of their three games.  The Eagles should finish middle of the pack in the very competitive SWC.
6) Amherst (3-0) – Amherst's record looks good on the surface.  If you dig a little deeper though you will notice that the two SWC teams the Comets have played are North Ridgeville and Lakewood who are both 0-3.  Amherst has a very big test this week against Midview.  If they can win this game against Midview they will move way up in these power rankings.
7) Avon Lake (1-2) – The Shoremen were one play from being 2-1.  In week two the Shoremen lost in overtime to North Olmsted and turned the ball over three times inside North Olmsted's 20 yard line.  Avon Lake lost to Avon yesterday in a rivalry game 31-6 in a game that Avon dominated.  It looks like it is going to be a down year for Avon Lake.
8) North Ridgeville (0-3) – The Rangers have been the most competitive of the three 0-3 teams in the SWC.  In week one North Ridgeville lost a heartbreaker to North Royalton 24-21.  The Rangers proceeded to get blown out their next two games only scoring 7 points over those two games.
9) Lakewood (0-3) – Lakewood have allowed less than 40 points in two of their three games.  Obviously, that is not a great accomplishment but it is much better than Westlake's defense.  Lakewood went 0-10 last season and it does not seem like they will be much better this season.
10) Westlake (0-3) – Westlake's defense has been unbelievably horrible.  The least points their defense has allowed in a game this season is 47.  They have given up 161 points in only three games.  That comes out to 53.7 points allowed per game.  Just one year after making the playoffs, it looks like it will be a rough year for the Demons.

NEO Sports Insiders Newsletter
Sign up to receive our NEOSI newsletter, and keep up to date with all the latest Cleveland sports news.