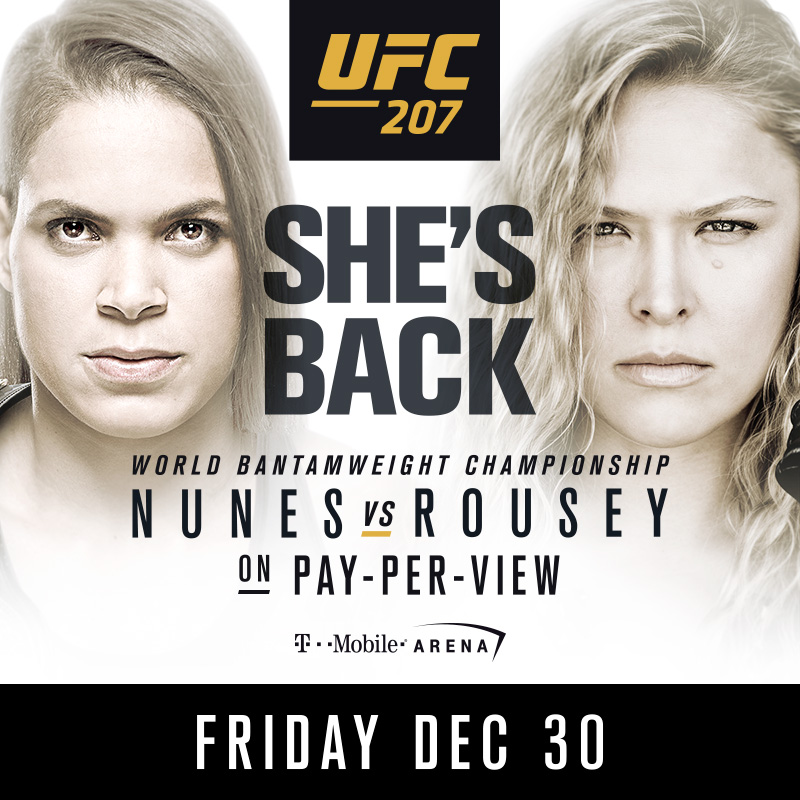 It's the last fight card of 2016 for the UFC this weekend, as Ronda Rousey makes her return to the Octagon against the current UFC Women's Bantamweight Champion Amanda Nunes. Rousey was last seen on November 15, 2015 when she was knocked out by Holly Holm in her UFC Women's Bantamweight Championship defense. Since the stunning loss, Rousey has rarely been seen, making an appearance every once in a while. She has been given time to get herself prepared for a return when she felt fit and now seems to be the time. This time, she will be facing a different opponent. The woman Rousey will have to dethrone is Amanda Nunes.
Nunes is the current UFC Women's Bantamweight Champion and is the fourth woman to hold it in the last twelve months. She won the crown when she defeated Miesha Tate at UFC 200 rather easily by rear-naked choke in the first round. Nunes has not defended it since then, so she has had the proper time to heal up. When her and Rousey collide this Friday, they will both be at full strength.
Another intriguing fight on this card includes the UFC Bantamweight Champion Dominick Cruz defending his title against the undefeated Cody Garbrandt. Cruz last successfully defended his title against longtime rival Urijah Faber at UFC 199, while Garbrandt took out Takeya Mizugaki in the first round emphatically. The true test will be Garbrandt's durability if he needs to go further then the first few rounds. Championship Rounds are something that "No Love" has never experienced and Cruz has grown accustomed to striving in. One advantage for Garbrandt is having Team Alpha Male coach Urijah Faber helping him prepare for a guy he has fought numerous times over the year. That can also be an advantage for Cruz, as he's had Faber's number for awhile now. This fight is the co-main event of the evening and should be exciting.
There are four more fights that also stand out, so let's get to some picks for this UFC 207 card.
Johny Hendricks vs. Neil Magny-This isn't the Hendricks that took Georges St. Pierre to the limit in a UFC Welterweight title fight, a fight that many believe he won. This isn't the Hendricks that won the UFC Welterweight Championship in a fantastic fight against Robbie Lawler. What we are seeing now is a man that seems to be losing interest in fighting. After missing weight for this fight, many wonder if Hendricks is going to be physically and mentally ready to fight Magny. Magny is about to fight for the sixteenth time since 2013, as he is an incredibly active fighter. That makes this a dangerous situation for Hendricks. I see a dominant performance by Magny carrying him to victory.
Winner: Neil Magny via Unanimous Decision
Louis Smolka vs. Ray Borg– Last time we saw Smolka, he was on the receiving end of a guillotine choke by youngster Brandon Moreno. He will look to rebound when he faces fellow Flyweight Ray Borg, who is coming off of a decision loss to Justin Scoggins back in February. Both fighters love to finish their fights with submissions and will be trying to make a bounce-back statement after their last loss, so the thought process is that this fight will not go the distance. I think Smolka will submit Borg in the second-round after laying into him with some physical ground work.
Winner: Louis Smolka via Second-Round Submission
Dong Hyun Kim vs. Tarec Saffiedine-Two fighters looking for a bounce-back win in this fight. Kim and Saffiedine are both veterans in the sport, so this should be a fun one to watch. I think that "Stun Gun" Kim is going to be able to pick Saffiedine apart each round, leading to a knockout in the final five-minute round of this fight.
Winner: Dong Hyun Kim via Third-Round Knockout
T.J. Dillashaw vs. John Lineker– Dillashaw is getting the exact opposite treatment that a former UFC champion should be getting. Dillashaw has yet to recieve a rematch against Dominick Cruz after losing his Bantamweight Championship earlier this year. Dillashaw looked like he would get his title shot after putting on a good performance against Raphael Assuncao at UFC 200 but Cody Garbrandt was able to jump over him. Now looking at a fight with the formidable force known as John Lineker, Dillashaw must put in another good performance to try to lock in a title shot. Lineker is in the same situation. After earning two big wins over Michael McDonald and former Flyweight contender John Dodson, Lineker has proven his toughness and striking ability can make him a top contender. One major concern whenever Lineker does get into big fights is the battle of making weight. Lineker has a very tough time making weight and must be able to make championship weight to compete for a title. If he continues to miss weight, he should consider moving up and fighting at Featherweight to have no problem making weight. All of the backstage politics aside, the winner of this fight should be the next contender for the Bantamweight Championship. I believe that will be John Lineker by way of Unanimous Decision, as he continues to prove why his nickname is "Hands Of Stone". Dillashaw will have trouble accessing his striking game against Lineker and lose the majority of exchanges on their feet. Unless T.J. resorts to his ground game, this fight will be favorable for Lineker all three rounds.
Winner: John Lineker via Unanimous Decision
UFC Bantamweight Championship: (C) Dominick Cruz vs. Cody Garbrandt– Garbrandt has done everything right to get here. He has fought very well, knocking out Thomas Almeida and Takeya Mizugaki on the way to this championship opportunity. He has also been very vocal on the mic, making it very obvious how he feels about Cruz. Those two elements will usually get you to a title shot. Now, he looks to take out a man that has only one blemish on his record. At 22-1 and victories over Demetrious Johnson, Urijah Faber and T.J. Dillashaw, Dominick Cruz is an all-time great. His unconventional style of fighting and takedown ability makes him super dangerous to any fighter. He has seen pretty much everything that can be thrown at him, so Garbrandt isn't anything he hasn't seen before. Garbrandt does have a wrestling background, something that could come in handy if needed to cause scrambles against "The Dominator". Garbrandt's future is super bright win or lose, so this could be the greatest night of his life or another building block in his climb to greatness. I think Cruz tests the cardio of Garbrandt and outscores him over the course of five rounds.
Winner: Dominick Cruz via Unanimous Decision
UFC Women's Bantamweight Championship: (C) Amanda Nunes vs. Ronda Rousey– The return of one of the greatest women's MMA fighters is finally here. Ronda Rousey looks to reclaim her championship, the same one she lost in stunning fashion against Holly Holm. Since her loss, the title has had trouble finding a steady home. Holm would lose her first title defense to Miesha Tate, who would lose the title to Amanda Nunes in her first title defense. That is where we stand right now, as "The Lioness" is the woman to take on Rousey in her return fight. Ronda has denied almost any media interviews, so the state of where she's at is still to be seen. Nunes has a chance to become a household name on Friday. To do that, she has to come out firing on all cylinders early. Nunes has powerful striking and though she can hold her own on the ground, she should try to avoid that against Rousey. I think that this fight is tough to call with all of the unknown about Rousey, but I think that Nunes is a very good fighter and can stun her early. I have Nunes knocking out Ronda Rousey in what could be Rousey's last fight in the Octagon.
Winner: Amanda Nunes via Second-Round Knockout

NEO Sports Insiders Newsletter
Sign up to receive our NEOSI newsletter, and keep up to date with all the latest Cleveland sports news.