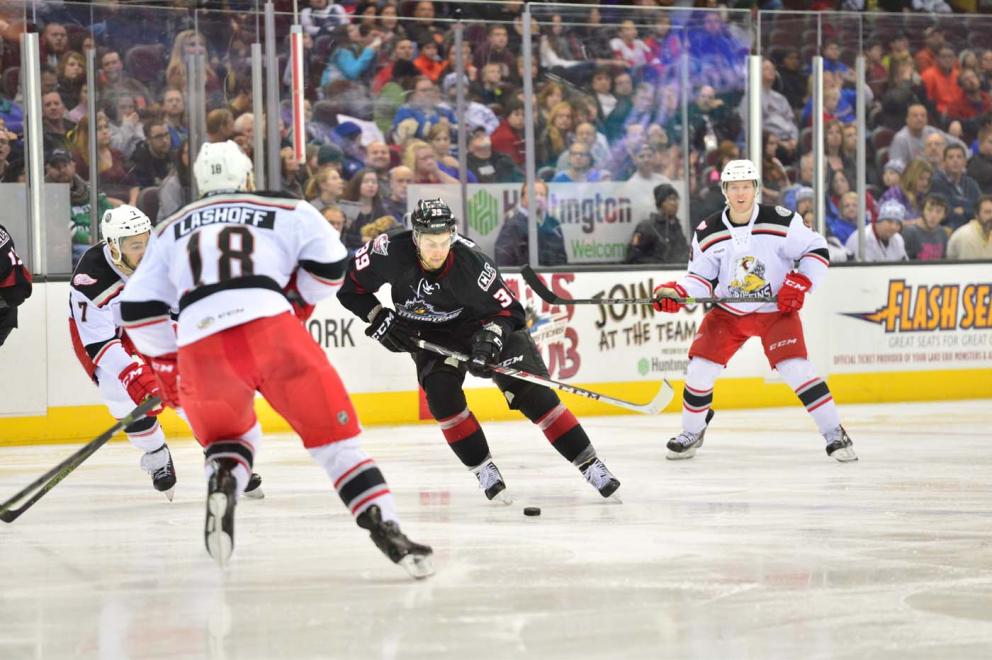 CLEVELAND – The Monsters have their backs against the ropes for a second straight night as they take on the Grand Rapid's Griffins who look to extend their win streak to 16. And tensions would run high from last night's beat down, so the monsters came out with energy and in the attack mode.
The Griffins would appear to be a bit sluggish in their approach, and the Monsters would take advantage. Six minutes into the opening period, Michael Chaput would handle the puck through the Griffin's defensive zone to poke a pass to Josh Anderson who would send a backhand pass into the crease for a ready and waiting Daniel Zaar to bury home his 9th goal of the season to put the Monsters up 1-0.
Since this Griffins team put in 7 goals against the Monsters last night, Lake Erie would be anxious for more insurance goals. And with 5:30 left in the first period, Lake Erie's Jaime Sifers would score on a long distance upper 90 slap shot after a quick assist from T.J. Tynan that would put the Monsters up 2-0 going into the first intermission.
The Monsters would maintain control throughout the majority of the middle frame, but grand Rapid's Martin Frk would try to rally his team back by scoring his 9th goal of the season with 10:18 left in the middle period. Andy Miele and Xavier Ouellet would record the assists for the Griffins.
The second period would finish as such leaving the Monsters up 2-1 on the Griffins heading into the final period.
The Monsters could sense the vulnerability of the Griffins and looked for more early insurance as the final period would open with a scoring play by the Monsters 1:16 into the period that would be reviewed but ultimately confirmed for Joe Devin's second goal in as many games, getting the assist from Kerby Rychel to put the Monsters up 3-1.
But the Griffins would go down without a fight to the bitter end. With 2:24 left in the game, the Griffin's Colin Campbell would score his 7th goal of the season to bring the Monster's lead back to 1.
But by the final buzzer, the Monsters had not only ended the Griffins 15 game winning streak, but also ended their own 4 game losing streak in front of a well deserving Sunday evening crowd.
The Monsters improve to 16-9-2-2 with Anton Forsberg getting the win for the Monsters with 22 saves on the night. The Monsters take on the Toronto Marlies next, at home on December 29th for Cleveland Cavaliers night; puck drops at 7 PM.

NEO Sports Insiders Newsletter
Sign up to receive our NEOSI newsletter, and keep up to date with all the latest Cleveland sports news.