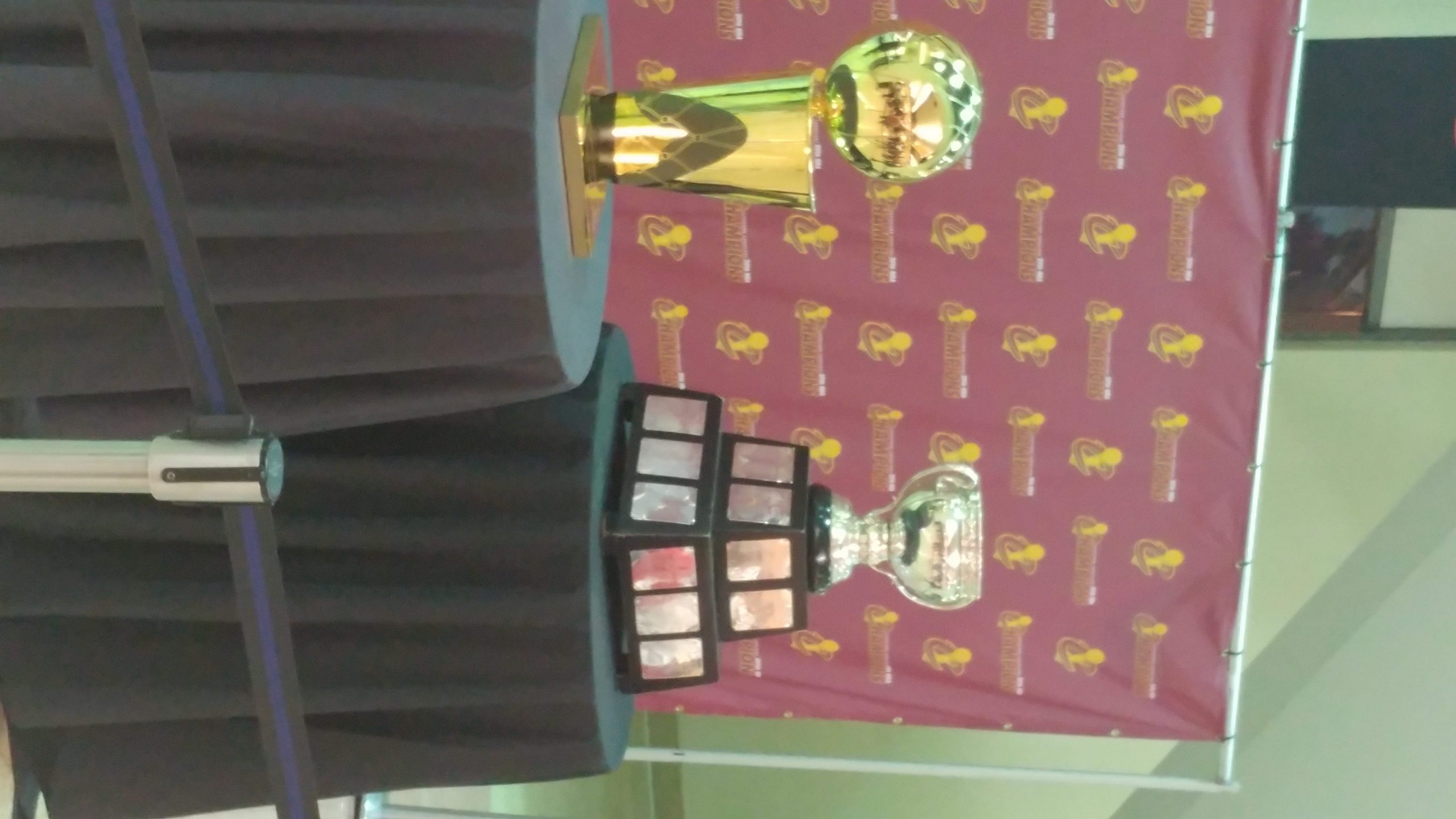 CLEVELAND, Ohio- Though the outcome on the ice was not what the home crowd at Quicken Loans Arena wanted on Wednesday night, it was still a very fun night for everybody at the game.
The Cleveland Monsters honored the Cleveland Cavaliers on Wednesday night during Cleveland Cavaliers Tribute Night. During the event, the Scream Team, Cavs Girls, Moondog, Sir CC and past Cavalier greats all made appearances before the game.
Fans had the opportunity to meet and greet past Cavaliers such as Austin Carr, Campy Russell, Larry Nance, Bingo Smith and many others. They also had a chance to talk to the Scream Team and Cavs Girls, all while Moondog was strolling around the Main Concourse on a pair of roller skates. Along with all of that fun, there were stations for sign making, hair painting and so much more.
To make the time even more special, the Larry O'Brien Championship Trophy and the Calder Cup were available to take pictures with.
During the game, the Scream Team performed and threw t-shirts out to the crowd, Moondog and Sir CC performed with the Monsters Girls and fans used their thundersticks to make noise throughout the night. All while the Monsters rocked their gold jerseys for the first time this season.
Cavalier legend Campy Russell put it best when asked about the special night.
 "Well you know, first of all we both are world champions. And then, it's always good to be a part of a family. The Monsters are a part of the Cavs' family and we're apart of their family as well."
Another Cavalier great Larry Nance spoke on the excitement of the city during one of the best sports years in the city's history.
"It's a blessing really because the fans are the ones that deserve this. Every player says that their fans are the best, but the Cleveland fans really are the best…They really stick by their teams no matter what. They're the ones that deserve this and that's what I'm most happy about.
Below are some photos from tonight's game and festivities.










Of course, the Christmas Day game between the Cavs and the Golden State Warriors had to come up.
"That was super" said Cavaliers color commentator Austin Carr when asked about the game's craziness.
Campy Russell would add this about the showdown:
"Spectacular game. A game that a lot of people will not forget. That's another great Christmas present."
It was a night filled with good times for Cleveland fans on Wednesday, as they got to celebrate both the Calder Cup Champions and the NBA Champions all in one night.

NEO Sports Insiders Newsletter
Sign up to receive our NEOSI newsletter, and keep up to date with all the latest Cleveland sports news.