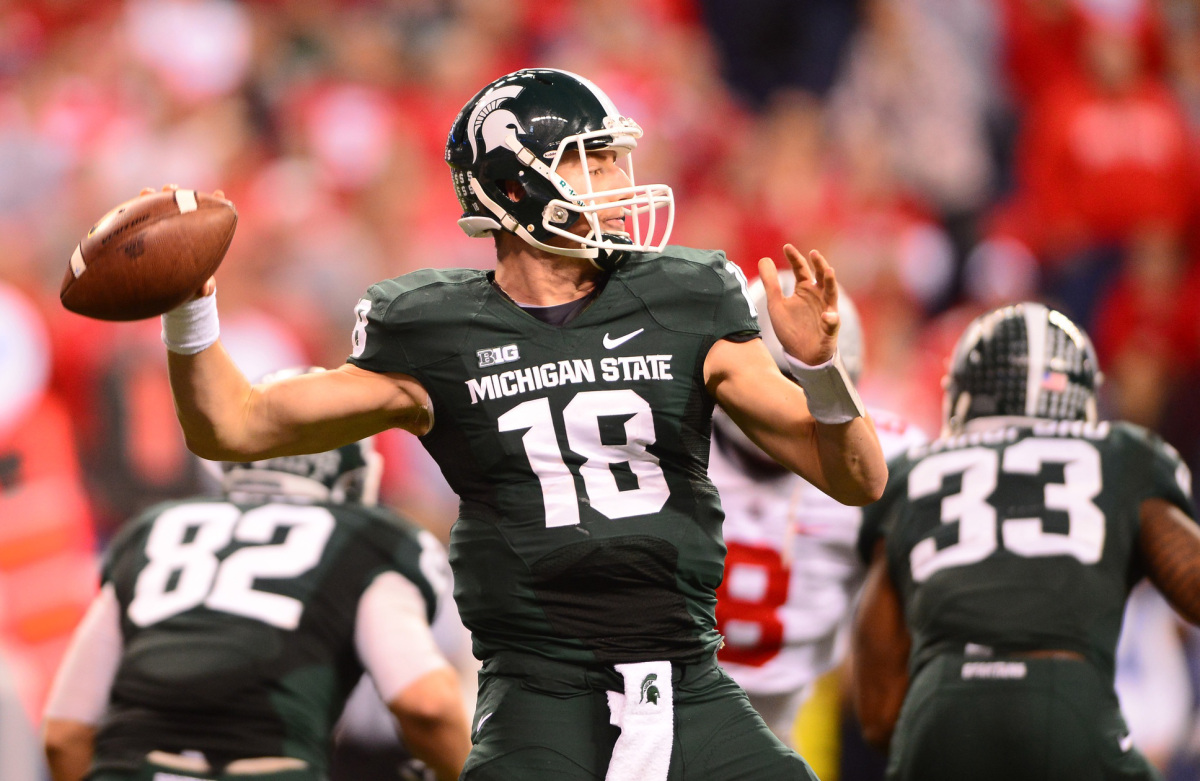 Some people love mock drafts, others see them as nothing but huge wastes of time. However, when there is some thought put into them…you know, actually weighing the actual needs of NFL teams against what is available in the Draft…they can open some eyes and give some clarity to what to expect when the teams start handing in the cards.
One thing is certain, here in Cleveland we have a lot of needs. The addition of Robert Griffin III will have no bearing on who the Browns will take at No. 2 overall…they weren't going to take a quarterback before they signed the former Baylor star and they aren't going to take one now. They simply have too many needs and the available signal-callers do not provide good value that high in the Draft.
Yes, there has been a lot of talk about Carson Wentz…how he dazzled the Browns decision-makers at the NFL Combine. Tell me something…how many teams actually tip their hands like that? How many times have we heard about a team falling in love with a prospect after the combine, and that team actually selecting that player? The weeks between the Combine and the Draft are nothing but a huge game of Liar's Poker, and all the teams participate. Don't believe anything you hear or read.
Here is how the first round of the Draft, plus one pick, should unfold. The Browns will bag a defensive play-maker at No. 2 and snag their quarterback of the future at the top of the second round while the Chargers (Myles Jack) and Giants (Ezekiel Elliott) will get the biggest steals in the first round.
As an aside, I think Jack and Elliott are the best two players in the Draft, and it isn't even close. Jack is a defensive force and teams are going to be sick to their collective stomachs when they look back at when they passed on Elliott, who is a fantastic talent who will slip because of the Trent Richardson Effect (teams are afraid of running backs in the top five). The former Buckeye is going to take the league by storm.
Round One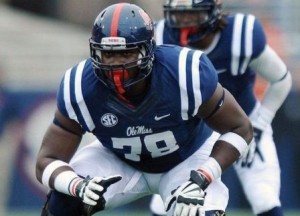 #1 Tennessee – Laremy Tunsil, OT (Ole Miss): The 6-5, 310-pound Tunsil was dominant at the NFL Scouting Combine, then put together an amazing performance at the Ole Miss Pro Day. He snapped off 34 reps of 225 pounds on the bench press like it was nothing. His footwork was impeccable during the position drills. The Titans are looking for a tackle to protect Marcus Mariota's blind side, and Tunsil is a perfect fit.
#2 Cleveland – Jalen Ramsey, CB (Florida State): The Cleveland Browns need play-makers, and Ramsey is a
disruptive force on the defensive side of the ball. At 6-1 and just shy of 200 pounds, Ramsey is big and strong. He excels in trail coverage and has the size and speed to develop into an above-average press coverage corner as well. As a long-jumper and sprinter on the Florida State track team, and with a 40-inch vertical leap has the kind of athleticism essential for NFL defensive backs. Ramsey will go a long way towards making Browns fans forget the Justin Gilbert debacle. Draft him, sign him and pencil him in to shut down one side of the football field for five years.
Many Browns fans want a quarterback here…but the signing of Robert Griffin III was an indication that the decision-makers in the front office don't see a quarterback in this draft worthy of the second overall pick. Sure, there is a lot of talk of Carson Wentz and Jared Goff, but the NFL Draft is all about smoke-screens and deception. Don't buy the hype, Ramsey is the pick.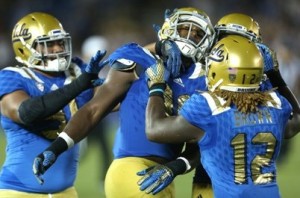 #3 San Diego – Myles Jack, OLB (UCLA): The Chargers struggled against the run last season, allowing 2,005 rushing yards (sixth-worst in the league) and 4.8 yards per carry. On a defense lacking leaders, Jack is the player San Diego is looking for. His explosive lateral quickness and solid tackling is one thing, but his on-field leadership is the reason the Chargers will select the 6-1, 245-pound outside linebacker. Jack also excels in pass coverage with three interceptions and 18 passes defended in the last two seasons. It would not surprise me if the Browns decide to take Jack over Ramsey. San Diego will be thrilled if they don't.
#4 Dallas – Joey Bosa, DT (Ohio State): There is a lot of talk that the Cowboys, specifically, are not enamored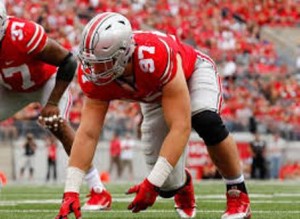 with Bosa…reason alone to pencil him in here. Greg Hardy is gone and second-year defensive tackle Randy Gregory suspended for four games, Dallas needs a player like Bosa…one that can step in and contribute immediately. Bosa has a nasty streak and is the kind of defensive player that sets the edge and collapses the pocket. He isn't going to be a speed-rusher, but is strong enough and has the hand strength to do plenty of damage going through offensive tackles, not around them.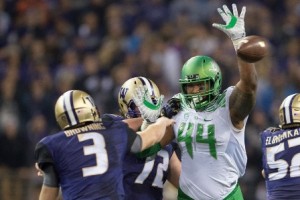 #5 Jacksonville – DeForest Buckner, DT (Oregon): A HUGE defensive end at 6-7, Buckner is an above-average pass rusher that is effective against the run (163 tackles over the last two seasons). Buckner knocks down a ton of passes when he does not get to the quarterback and is a very intelligent defender with above-average hand strength, quickness off the snap and ability to shed blocks. The Jags need help with the pass rush…they only sacked the opposing quarterback 36 times last year and were led by Jarad Odrick's measly 5.5 sacks. Buckner will contribute immediately and has the potential to be an elite defender for a long time.
#6 Baltimore – Ronnie Stanley, OT (Notre Dame): While Ezekiel Elliott makes a lot of sense here, the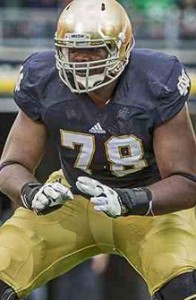 Ravens will not be able to pass on Stanley, a mammoth offensive tackle that many feel is a better player than Laremy Tunsil. With 40 career starts at the fish bowl that is Notre Dame, Stanley is not going to be overwhelmed with the move to the NFL. At 6-6, 312 pounds he has good size and strength and will give the Ravens what they need in the meat-grinder AFC North…a road grader that can blow open holes for a Baltimore running game that struggled last season. Stanley tends to get the pads up and will have to work on his pad level, but that is an easily correctible flaw. Baltimore averaged just 4.0 yards per carry last year and had just 80 first downs via the running game. Stanley is a perfect fit.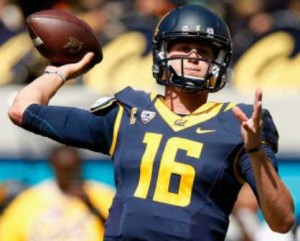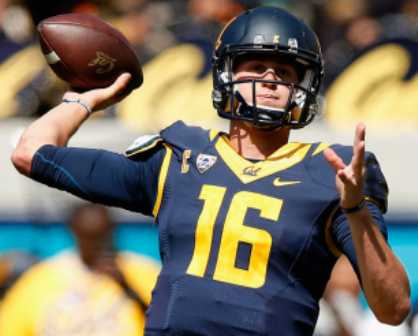 #7 San Francisco – Jared Goff, QB (Cal): There has been murmuring that the Niners are trying to move up to the #1 overall spot to ensure they get their quarterback. That's not going to happen, but they will get their man anyway. Goff started as a true freshman at Cal and had a strong career despite the Golden Bears' struggles as a team. Over 99 percent of the snaps Goff took in college were out of the shotgun or pistol, so he will have to learn the footwork that comes with taking snaps from under center in the NFL. Goff has a strong arm and can make all the throws but can have streaks of inaccuracy where his throws sail high…a dangerous proposition in the NFL. Goff will sit for a year while the 49ers find out exactly what they have in Blaine Gabbert, but make no mistake…Goff is the future of the franchise.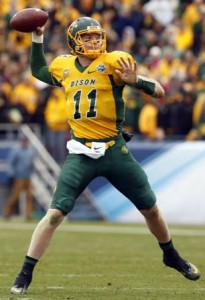 #8 Philadelphia – Carson Wentz, QB (North Dakota State): Draft experts have said Goff is the most "NFL-ready" quarterback in the draft, but does that really matter? Wentz had a strong career against inferior competition, but he dazzled at the Combine and has plenty of fans among NFL personnel people. The Eagles have hinted at taking a quarterback lately and newly-hired head coach Doug Pederson deserves to start his tenure with the Eagles with a clean slate. Pederson was awful as a player, but Philadelphia owner Jeffrey Lurie is hoping his more traditional approach will make fans forget the Chip Kelly debacle. Wentz is the foundation upon which Pederson's career will be built at first.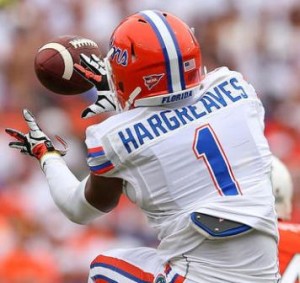 #9 Tampa Bay – Vernon Hargreaves, CB (Florida): Hargreaves is a Tampa native and after his time in Gainesville will have a homecoming, being drafted by the Buccaneers. Earned first-team All-SEC honors all three seasons he played for the Gators and is a smooth, confident player. Although not blessed with great size, Hargreaves has a high motor and has plenty of athletic gifts. A very explosive defender with among the best ball skills in the draft. Hargreaves is the kind of player that doesn't make critical mistakes. People question his closing and recovery speed, but a player does not put together the kind of career Hargreaves did in the SEC by being slow.
#10 NY Giants – Ezekiel Elliott, RB (Ohio State): The first running back will come off the board here. The Giants got just five rushing touchdowns from running backs last year and were led in rushing by Rashad Jennings with a marginal 863 yards. Elliott will give opposing defenses something to think about other than Odell Beckham. Elliott is the complete package. He was fast enough in high school to win a 100-meter state championship. He was named the Big Ten offensive player of the year following a 2015 season that saw him rish for 1,821 yards and 23 touchdowns. Elliott can also catch the ball out of the backfield, grabbing 27 passes for 206 yards last season. Outstanding burst and bounce with incredible quickness and little wasted motion. Big and physical, Elliott finishes his runs with controlled violence. Teams are going to regret passing on Elliott, who would be a good fit in the offensive backfield of every team that is drafting in the top 10. Elliot will be the biggest steal of the first round.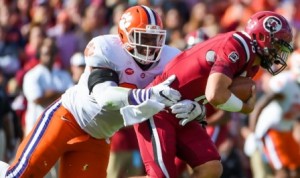 #11 Chicago – Shaq Lawson, DE (Clemson): Lawson is a tank at 6-3, 270 pounds. The consensus All-American led a stingy Clemson defense with 25.5 tackles for a loss and 12.5 sacks. Although he was primarily a defensive end in college, most experts expect Lawson to play outside linebacker in the NFL and make things miserable for tight ends trying to control him in the running game. Not an outstanding pass rusher, Lawson used his physical tools to dominate over-matched tight ends and offensive tackles in the ACC. These sacks will not be there for him in the NFL. Plays very well with his hands and as above-average burst at the snap. Might be a bit of a reach this high, but the Bears are desperate for help in getting to the quarterback. Lawson is a good fit.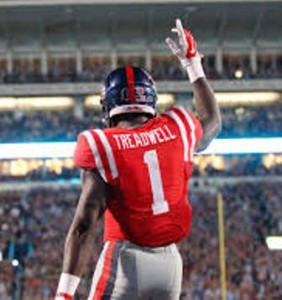 #12 New Orleans – Laquon Treadwell, WR (Ole Miss): Treadwell isn't the biggest or fastest receiver in the draft, but he is the consensus top receiver available. His 40-yard dash time of 4.63 isn't head-turning. At a shade under 6-3 his size isn't off the charts. His 33 ½ inch vertical leap is pretty pedestrian. The thing is, Treadwell is the kind of player that can't be measured by the simple numbers. On paper most NFL personnel men wouldn't give him a second look. However, when you watch film on Treadwell you will notice something important…he is always open. Always. He caught 82 passes for 1,153 yards and 11 touchdowns last season after his sophomore season was ended early with a fractured fibula. Treadwell works hard for his quarterback, coming back for the ball and winning in the air because of top-notch ball-tracking skills. He does have a couple of potential problems…he isn't the greatest blocker and can struggle to get free in press coverage. With his lack of outstanding speed Treadwell takes a lot of hits. Treadwell should do well in a dome on turf despite not possessing blazing speed. It will come down to Treadwell or Will Fuller from Notre Dame, and the Saints will go with the Ole Miss product.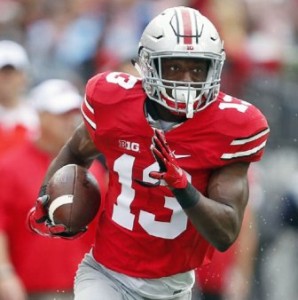 #13 Miami – Eli Apple, CB (Ohio State): Apple started 14 of 15 games during his redshirt freshman season, helping Ohio State to win the national championship. The transition to the NFL won't be a big problem for him mentally. Physically, however, it could be a different story. Apple has the size and strength to play corner at the next level, but he has some noticeable flaws in his game. He isn't a very good tackler, tends to grab when beaten on coverage and lacks NFL-level ball skills. Is more of a "position" player in a defensive system than an athlete that reads and reacts. Playing cornerback for an Ohio State team that had a stellar defensive front and outstanding pass rush meant, in college, Apple didn't have to cover receivers for as long as he will be asked to cover them in the NFL. Apple has all the physical tools. He needs improvement from the neck, up.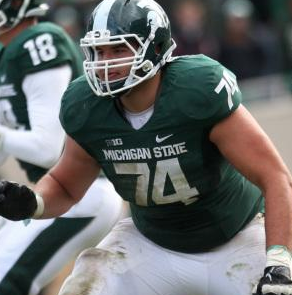 #14 Oakland – Jack Conklin, OT (Michigan State): Conklin is a monster, an elite NFL left tackle prospect who, at 6-6, 308, fits all the physical requirements. Mentally, Conklin is off the charts. He is strong as a bull and plays with a mean streak that Big Ten defensive ends could tell you all about. Some scouts think his feet are too slow and he has trouble in space, but Conklin is the kind of offensive lineman that, if he gets a hold of a defender, that defender is out of the play. Dominated Ohio State in the fourth quarter of the Spartans' 2015 win over the Buckeyes, a game where he was clearly the best player on the field. Some scouts think Conklin is better than Laremy Tunsil, and his lasting to No. 14 will be a God-send for the Raiders, who will scoop him up without hesitation.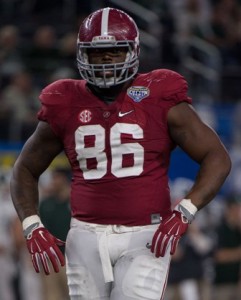 #15 Rams – A'Shawn Robinson, DT (Alabama): Robinson is the anti-Jack Conklin. If a football coach asked God to design the perfect defensive lineman, A'Shawn Robinson would be the result. 6-4, 307 pounds with tree-trunk legs and a powerful upper body. Started as a true freshman at Alabama and played everywhere on the Crimson Tide's defensive line…from nose tackle to defensive tackle to defensive end. Robinson has a couple of issues…first, he lacks the mean streak that makes Conklin such a great prospect. Second, his pad level is all-too-often way too high. Interior linemen know, in almost every instance the low man wins. Robinson has the body and flexibility to play low…he just chooses not to. He struggles fighting through double-teams and can be blown off the line at the point of attack by the big, strong NFL linemen who understand leverage. This kid could be one of the best to ever play defensive line in the NFL…if he decides he wants to play lower and unleash some fury when he's on the field. The Rams, with their stellar defensive line, will be a great landing spot for him. He can learn by watching Aaron Donald and Eugene Sims.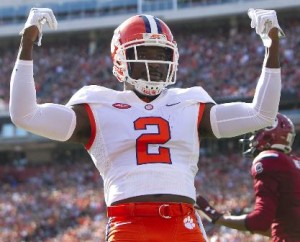 #16 Detroit – Mackenzie Alexander, CB (Clemson): It is hard to gauge Alexander's college career because, to put it simply, Tigers' opponents NEVER threw his way. He was not tested because he locked everyone down. A freshman all-American during his redshirt season, then a third-team all-American selection as a sophomore. He is a touch short for a corner at 5-10, but has great recovery speed, an above-average vertical leap and tons of confidence. He was one of the most hyped recruits ever to sign with Clemson out of high school and had an outstanding two years in the ACC. His confidence borders on cockiness, but he backs it up time after time. Will become a fan favorite in Detroit.
#17 Atlanta – Darron Lee, OLB (Ohio State): Buckeyes fans will never forget his performance in Ohio State's national championship victory over Alabama, where he was all over the field (seven tackles, three for a loss, and two sacks in earning defensive MVP honors). He had a solid sophomore season as well, earning second-team all-Big Ten honors. Lee is small for a linebacker (6-1, 232) but gets off blocks consistently and diagnoses plays with the best of them. Deone Buchanan, at 6-1, 216, became a linebacker/safety hybrid for the Arizona Cardinals and excelled in their defensive scheme. Lee is a similar player who should put up similar results.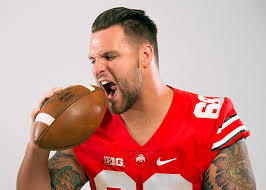 #18 Indianapolis – Taylor Decker, OT (Ohio State): The fifth Buckeye to come off the board in the first round will be Taylor Decker to the Colts. They will pick him and pencil him at right tackle for the next decade. Decker is mammoth (6-7, 310) and has an edge to him. A team leader at Ohio State, has the intangibles to become a leader at the next level in a short period of time. Decker is a brawler outside that is as good in space as he is in close quarters. He tends to pop up during the play and struggles with quickness, but Decker, the 2015 Big Ten Lineman of the Year, has incredible power and hand strength at the point of attack. Not the sexiest pick but incredible value here.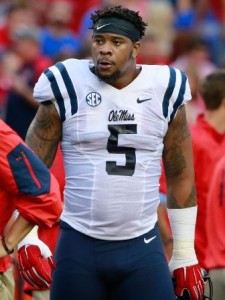 #19 Buffalo – Robert Nkemdiche, DE (Ole Miss): Very much a high risk-high reward prospect. Was the top-rated defensive lineman in the nation after his high school career in Georgia with outstanding size (6-4, 296), strength and quickness. Never put up big numbers in his Rebels' career, finishing with just 6.5 sacks in three seasons. As an interior lineman he has the quickness and hand strength to play outside. Increased his quarterback pressures from 13 as a sophomore to 26 as a junior. Clogs up the running lanes and is a sure tackler, but does not make a ton of tackles. An outstanding lineman with plus technique and leverage. His Ole Miss career ended after an arrest for possession of marijuana. Was suspended and decided to leave for the NFL. Though this arrest has caused him to fall on some teams' draft boards it was his only real red flag as far as character is concerned during his three-year stay in Oxford. Buffalo is thin on the interior defensive line and Nkemdiche will slide right into the starting lineup.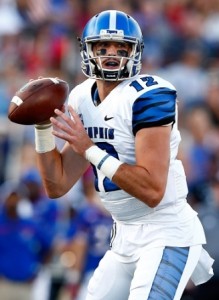 #20 N.Y. Jets – Paxton Lynch, QB (Memphis): Growing up in Deltona, Florida…just 105 miles southeast of Gainesville, you have to wonder how Lynch didn't end up a Gator. A knee injury prior to his senior season in high school caused Lynch to fall off the radar of many recruiters and Lynch ended up in Memphis, where he put together a solid career. Lynch has great size (6-7, 244) and exceptional speed for a big quarterback. A three-year starter for the Tigers, led Memphis to a 10-win season and conference title in 2014, throwing for 3,031 yards and 22 touchdowns. As a junior led the Tigers to an 8-0 start. He ended the year as a first-team All-ACC performer and Manning Award finalist. Makes solid decisions and has shown the ability to make pre-snap adjustments to get his offense into advantageous plays. Doesn't force throws and has plus arm-strength. Does tend to stare down receivers, but what young quarterback doesn't? As a junior completed 296 of 443 passes for 3,776 yards and 29 touchdowns against just four interceptions.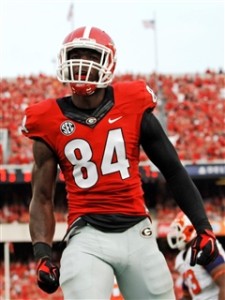 #21 Washington – Leonard Floyd, OLB (Georgia): Another tall linebacker out of the Deone Buchannon mold, although at 6-6, 231 is quite a bit taller and heaver than the Arizona Cardlinals Pro Bowler. As a junior in 215 Floyd had 68 tackles and 4.5 sacks for the Bulldogs. The 2015 Butkus Award finalist had a 35-inch vertical leap at the NFL Combine and is a nightmare for opposing offenses when blitzing off the edge. Has shown the ability to get to the quarterback and is nearly impossible to throw over. Has great chase speed and excels in man coverage. His problem in the NFL will be strength. Floyd is wiry and won't overpower anyone. If he adds significant weight he may lose some of the quickness that makes him such an appealing prospect. Is a perfect NFC East defender because it is a division that relies on speed more than power. His slight frame will scare some teams away, but is an absolute steal this late in the first round.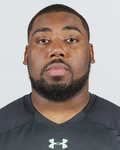 #22 Houston – Sheldon Rankins, DT (Louisville): The defensive line is definitely not a position of need for the Texans, but at 22nd overall Rankins' value is too good for them to pass on him here. At 6-1, 299 points many scouts do not see him as having the size to be an every-down player, but Rankins is a disruptive player that, along with J.J. Watt, Brian Cushing and Jadeveon Clowney, will give Houston a front seven that could be historic. In his last two seasons at Louisville Rankins had a total of 26.5 tackles for a loss, 14 sacks and two interceptions. First-team all-conference as a senior. Rankins has incredible burst, a strong motor and outstanding balance. Plays with controlled violence. A good bull-rusher that can hold the point of attack. Teams will struggle to run against the Texans.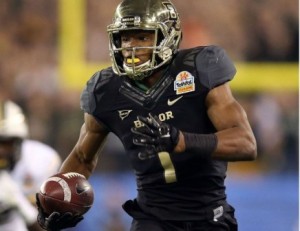 #23 Minnesota – Corey Coleman, WR (Baylor): Explosive receiver with off-the-charts athleticism. Ran a blazing 4.37 40-yard dash at the NFL Combine. Also showed off a 45-inch vertical leap. Has never met a defender that could keep him from getting vertical separation. Outstanding body control that will fight for the 50-50 balls. Can also return kicks. In 2015 had 74 receptions for 1,368 yards and 20 touchdowns. Demands double-teams and can make defenders miss after the catch. The big problem? Hands. Has dropped passes in the past and will lose focus and concentration. A very dangerous offensive weapon that will be Teddy Bridgewater's best friend in Minnesota.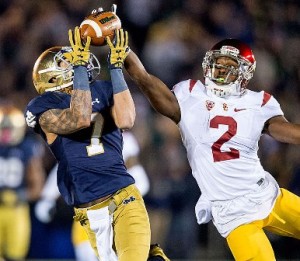 #24 Cincinnati – Will Fuller, WR (Notre Dame): Fuller isn't a "singles hitter," he's more a home run threat. Made the big play at Notre Dame, coming up big for the Irish time after time. Put up solid numbers as a sophomore (76 rec., 1,084 yard, 15 touchdowns) and a junior (62-1,253-14), but wasn't an "every play" receiver. A smart route runner with precision cuts that sets up cornerbacks…he will lull them to sleep, then blow by them. Doesn't have outstanding hands, makes the majority of catches against his body. The Bengals need a big play guy on the other side of A.J. Green and Fuller will fit that role perfectly.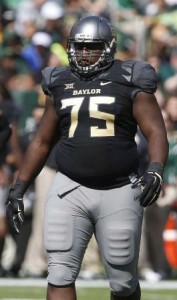 #25 Pittsburgh – Andrew Billings, DT (Baylor): A human wrecking ball, Billings will fit perfectly in the Steelers' physical defense. A championship power lifter in high school that set a record with a combined 2,010 pounds as a senior (805 squat, 705 dead lift and 500 bench press). Consensus all-conference performer as a sophomore after posting 37 tackles, 11.5 for a loss. Followed that up by earning co-conference defensive player of the year honors in 2015 after leading the Bears with 15 tackles for a loss and 5.5 sacks from his nose tackle position. Quick for a nose tackle (ran a 4.96 40 at the NFL combine) that plays low. Very quick off the ball, Billings dominates single blockers and is a sure tackler. Can struggle to recover once his momentum is going one way and also tends to slow down if the play is extended. A very young player. He just turned 21 in March. Billings is a good fit in the physical AFC North.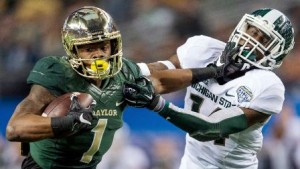 #26 Seattle – Josh Doctson, WR (TCU): This 6-2. 202-pound receiver ended his career as TCU's all-time leading receiver despite starting his career at the University of Wyoming. Caught 65 passes for 1,018 yards and 11 touchdowns as a junior before breaking out as a senior with a school-record 79 receptions for 1,337 yards and 14 scores despite playing just 11 games because of injury. A confident, mature route-runner that consistently gets open and creates late separation. Possesses above-average ball skills and is also a physical runner after the catch. Does need to get stronger because he will struggle against press coverage at the next level.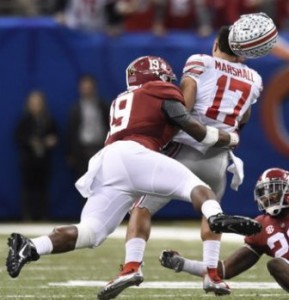 #27 Green Bay – Reggie Ragland, ILB (Alabama): Led the national champion Crimson Tide with 97 tackles and broke up six passes in being named the SEC Defensive Player of the Year. Also a unanimous All-America selection. Instinctive linebacker that is stellar against the run. A nasty hitter that plays downhill. A throwback linebacker that some do not think has the speed to dominate at the NFL level. Loves to hit and should dominate against the run but needs work in pass coverage.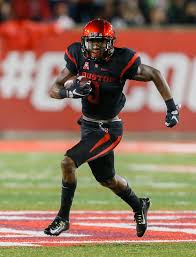 #28 Kansas City – William Jackson, CB (Houston): A junior college transfer that became a second-team all-conference performer for the Cougars despite a history of knee injuries. Led the nation in passes defended in 2015 with 23. Great size for a corner with solid speed and burst. Also has flashed brilliant ball skills and a nose for the end zone, scoring a pair of defensive touchdowns last season. Needs to be more physical in press coverage and against the run, where he is very blockable. He does not attack the block in run support, often choosing to run around the block and give ground.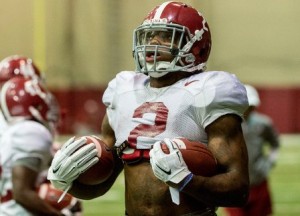 #29 Arizona – Derrick Henry, RB (Alabama): Think Earl Campbell, only bigger and with more speed. Henry is a wrecking ball of a man that has excelled at every level of football he has ever played. His high school numbers were something out of a video game…12,124 career yards with 153 touchdowns, 4,261 of those yards during his senior season when he won the Maxwell Club High School Player of the Year. Led the nation with 2,219 yards and 28 touchdowns in winning the 2015 Heisman Trophy, Maxwell Award and Walter Camp Player of the Year. At 6-3, 247 pounds he ran a 4.52 40-yard dash at his pro day, put up 22 reps of 225 pounds on the bench press and displayed a 37-inch vertical leap. He is a punishing rusher with outstanding forward lean that fights for every inch. Henry's immense high school and college workload could be viewed as a problem for those who might question how much he has left in the tank.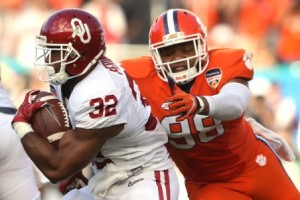 #30 Carolina – Kevin Dodd, DE (Clemson): Dodd has prototypical size for a defensive end at 6-5, 277 pounds. Last year at Clemson played opposite All-American Shaq Lawson and put up huge numbers…23.5 tackles for a loss with 12 sacks. A relentless worker that excels at shedding blocks and pursuing the ball, Dodd had 46 quarterback pressures in 2015. A very effective speed-to-power pass rusher. Some question his NFL-readiness as he started for only one season at Clemson, but he has a strong motor and plays to the whistle consistently. Carolina is a perfect fit for Dodd…it is local for him and there will not be immediate pressure to produce right away.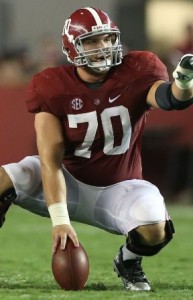 #31 Denver – Ryan Kelly, C (Alabama): Denver needs a quarterback but Kelly is too good to be passed up. The 6-4, 311-pound Rimington Trophy winner is a mauler and brawler in the trenches that not only blocked for the Heisman Trophy winner, Derrick Henry, as a senior, he did not give up a quarterback sack. Plays with a good pad level and loves to finish blocks. Kelly was a leader on and off the field at Alabama that thrived on the big stage. Ran a 5.03 40-yard dash at the NFL Combine and put up 26 reps of 225 pounds on the bench press. Will anchor Denver's offensive line for a decade.
Round Two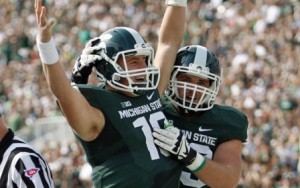 #32 Cleveland – Connor Cook, QB (Michigan State): The Browns, if they don't move up into the middle of the first round to steal Paxton Lynch, will go with Cook at the top of the second round. Many Browns fans weren't thrilled with Cook after he seemed to brush off Ohio State legend Archie Griffin after the Big 10 championship game, but Cook's leading Michigan State past the Buckeyes during the regular season…effectively ending Ohio State's national championship hopes…had them not exactly in his corner anyway. The thing is, Cook grew up around Browns football as a Cuyahoga Falls resident that played in high school at Stow Walsh Jesuit. He understands the mindset in Cleveland. However, his past and college career is pretty similar to a quarterback the Browns already ran out of town…St. Ignatius graduate and former Michigan State quarterback Brian Hoyer. Comparisons to Hoyer should make Browns fans wary, but they are misplaced. Hoyer had a weak arm and was never much more than a game manager. Cook has a strong arm and can make plays. He has more upside than Hoyer and the only real similarity between the two quarterbacks is that they both went to Michigan State.
Hall of fame coach Bill Parcells has seven rules he uses to evaluate college quarterbacks to determine their NFL potential:
Be a three-year starter (Cook was the Spartans' starter for the 2013-15 seasons)
2. Be a senior in college (Cook just completed his redshirt senior season)
3. Graduate from college (Cook is on-target to graduate with a degree in media and information)
4. Start 30 games (Started 39 games at Michigan State)
5. Win 23 games (Compiled a 34-5 record as a starter for the Spartans)
6. Post a 2-1 touchdown-to-interception ratio (Threw 71 touchdown passes against 22 interceptions)
7. Tally a completion rate of 60 percent or higher (Career 57.5 completion percentage)
As you can see, Cook stacks up pretty favorably to what Parcells wants from a college quarterback, lacking only in completion percentage. His gaudy 3.5-1 touchdown to interception ratio more than makes up for that. Cook is going to battle Robert Griffin III for the starting not in Cleveland, probably sitting for a year and learning from the former Heisman Trophy winner.

NEO Sports Insiders Newsletter
Sign up to receive our NEOSI newsletter, and keep up to date with all the latest Cleveland sports news.