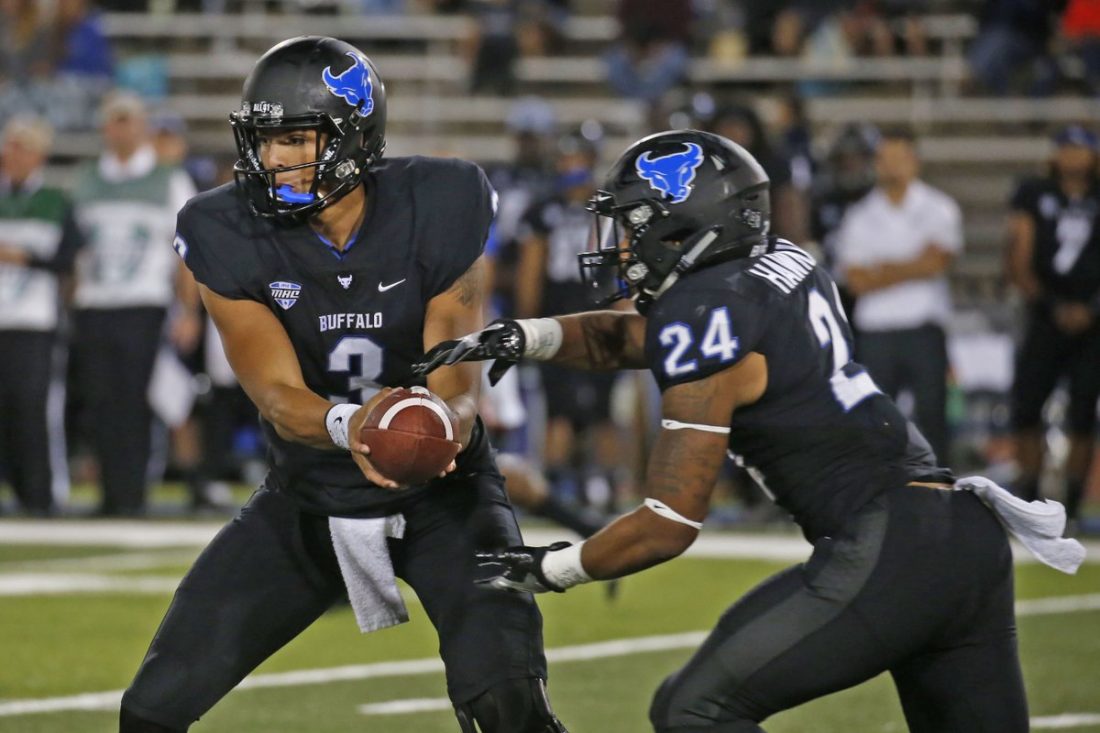 East Division
Offensive Player of the Week: Buffalo QB Tyree Jackson
Buffalo junior quarterback Tyree Jackson (Norton Shores, Mich.) finished 26-of-45 for 275 yards and three touchdowns, including the game-winning score with less than a minute to play to lead Buffalo to a 36-29 win over Temple at Lincoln Financial Field on Saturday. Jackson opened the scoring with a 33-yard touchdown pass to Charlie Jones late in the first quarter to give the Bulls a 6-0 lead.
However, most of his heroics came in the fourth quarter. With the game tied at 22-22, Jackson drove the Bulls 58 yards on eight plays and hit Antonio Nunn with a five-yard touchdown pass to give the Bulls a 29-22 lead with 7:43 left. Then after Temple tied it again, Jackson drove the Bulls 81 yards on 10 plays and hit Anthony Johnson on a 29-yard touchdown pass with 59 seconds left to win the game.
Defensive Player of the Week:  Buffalo DB Cameron Lewis
Buffalo senior defensive back Cameron Lewis (Detroit, Mich.) had four tackles and two key interceptions in Buffalo's 36-29 win over Temple at Lincoln Financial Field on Saturday. His first interception came in the end zone to thwart a Temple scoring threat. Later, with the Bulls trailing 14-12 in the third quarter, Lewis made his second interception at the Owls' 26-yard line. It led to a touchdown that put the Bulls ahead, 19-14.
Special Teams Player of the Week:  Akron K/P Nick Gasser
Akron senior kicker and punter Nick Gasser (Liberty Township, Ohio) converted two field goals and four extra points for a total of 10 points in a 41-7 win over Morgan State. His field goals were from 24 yards and 30 yards.  He also had one punt for 47 yards which landed within the 20.
West Division
Offensive Player of the Week:  Eastern Michigan QB Tyler Wiegers
Eastern Michigan graduate transfer Tyler Wiegers (Lake Orion, Mich.) was 20-28 passing for 312 yards and one touchdown in leading the Eagles to a 20-19 win at Purdue on Sept. 8. His 312-yard performance at Purdue was the most for any Eastern Michigan quarterback since Brogan Roback's 328-yard performance in the Bahamas Bowl, Dec. 23, 2016. Wiegers' 75-yard touchdown pass to Mathew Sexton was the longest toss since the 2016 campaign, and it was only the third reception of 75-or-more yards since 2010 for Eastern Michigan.
With the victory at Purdue, the Eagles have beat a Big Ten Conference opponent in back-to-back seasons, including last year's 16-13 victory at Rutgers.
Defensive Player of the Week:  Northern Illinois DE Sutton Smith
Northern Illinois junior defensive end Sutton Smith (St. Charles, Mo.) was an unstoppable force for the Huskies defense in a 17-6 loss to Utah as he led with eight tackles, six solo, and made 4.5 tackles for losses totaling 17 yards to go with a pair of quarterback sacks.  Smith was disruptive the entire game, with focus on him also allowing the defensive ends playing opposite him to make three sacks and six tackles for loss.
As a team, the NIU defense held Utah to just 10 points with 14 tackles for loss, six quarterback sacks and did not allow the Utes to score until 8:21 of the third quarter.  Smith ranks tied for fourth in the country in tackles for loss (2.8/game) and is tied for third in quarterback sacks (1.50/game).
Special Teams Player of the Week: Eastern Michigan K Chad Ryland
Eastern Michigan freshman kicker Chad Ryland (Lebanon, Pa.) drilled a 24-yard field goal as time expired for a 20-19 win at Purdue on Sept. 8. For the game, Ryland added two field goals and pair of PATs to his collegiate resume. The win was Eastern Michigan's second-ever victory over an 'Autonomous Conference' opponent. With the victory at Purdue, Eastern Michigan has beaten a Big Ten Conference opponent in back-to-back seasons as last year's win came in a 16-13 victory at Rutgers.
The last time Eastern won on the final play of regulation, Eastern Michigan Athletics and MAC Hall of Famer Charlie Batch found Ontario Pryor for a 16-yard touchdown as the clock hit zero as the Eagles soared past Toledo, 40-37, Nov. 19, 1994. Additionally, Ryland's kick was Eastern Michigan's first walk-off field goal in more than 40 years. That year, the Eagles used a 38-yard field goal from Ken Dudal to nip Central Michigan, 30-27, on Nov. 6, 1976. The victory was the program's first-ever Mid-American Conference win.
For Immediate Release—Monday, September 10, 2018 per Mac Communications