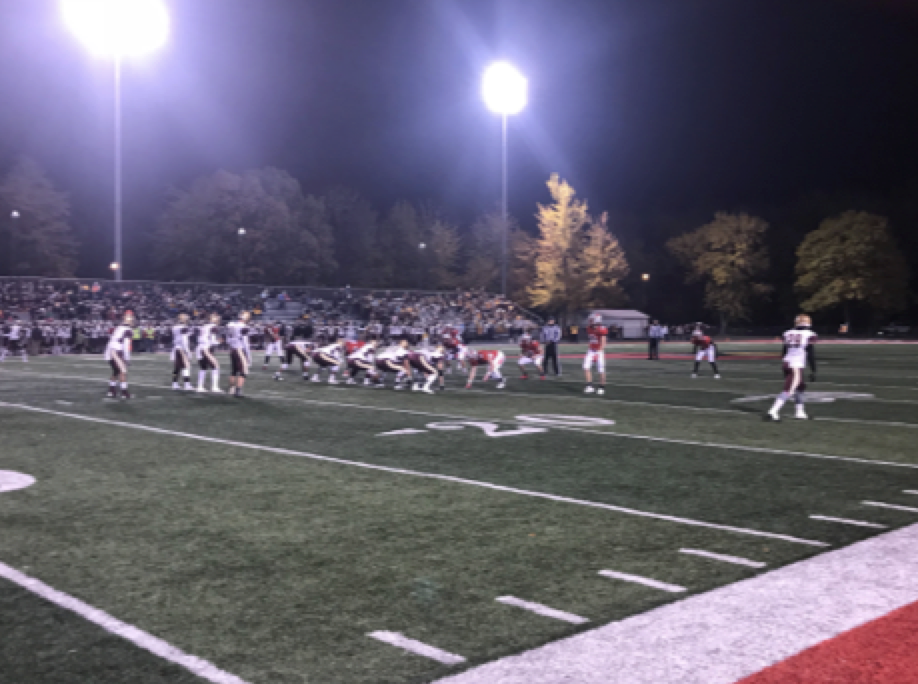 MENTOR, OHIO– The long wait for playoff football is finally over in Northeast Ohio. the Mentor Cardinals and Stow Bulldogs faced off for the Divison 1, Region I, quarterfinal at Jerome T. Osborne Sr. Stadium Friday night.
When all was said and done, Mentor would walk away victorious and live to play another week with a 49-17 win.
The game started off quickly between these two high-powered offenses as Mentor got on the board first. It was an impressive drive by Tadas Tatarunas as he found one of his favorite receivers all year in Logan Shea standing open in the end zone from 20 yards out.
How would Stow respond? Well just over a minute after Mentor got on the board, the Bulldog offense made its way down the field quickly. This was all thanks to the heavy-duty running from senior running back Terrian Wray. He finished the drive off with a three-yard touchdown run.
Stow took the lead late in the first quarter after a fumble from the offense of Mentor. It was a short drive that led to a 38-yard field goal from the senior kicker Gavin Costello.
The Mentor defense as a whole has been one of the best in the area all year long. Friday night they were faced up against one of the most athletic players they've faced all year in Coryon Rice. The senior quarterback was very impressive all night as broken plays in the offense turned into positive gains due to the athleticism and quickness he possesses.
He finished the game completing 18-of-23 passes for 178 yards. He also ran the ball 22 times for a team-high 113 yards. Rice had 291 of the teams 352 total yards against Mentor.
"It was a great effort by them," said head coach Steve Trivisonno after the win. "Their coach does a great job over there and they play hard."
The Mentor defense began to improve as the first half went on. After finding out just how big of playmakers Wray and Rice were, the defensive front, as well as the secondary, found ways to limit the big play. It's surely a tough task for any offense against guys like Noah Potter and Michael Brey leading the Mentor defense respectively.
The second half was all Mentor. Tatarunas and the Cardinals scored less than a minute into the third quarter and they never looked back after that. The defense was stronger than ever as they stopped the Stow offense, forcing a lot of turnovers and punts.
"A great effort by the defense all night," Trivisonno said. "They held them in some situations and I was really proud of them. It was a good effort by the seniors."
The story all night was the magical connection Tatarunas had with Logan Shea. The two connected for a total of four touchdowns on the night. The accuracy was there all night from Tatarunas as he put the ball where only Shea can catch and it and it paid off big time.
"It all started up front with the o-line," Tadas Tatarunas said. "The receivers were catching everything I was throwing at them. I am blessed to have them out there and I trust them to make a play."
Mentor shutout the Stow Bulldogs in the second half, leading them to a victory one last time at the JTO this season. It won't be an easy week as the Cardinals have to get prepared for a tough game next week against St. Edward's. Coach Trivisonno and Tadas Tatarunas know the challenge that lies ahead of them.
"We'll get after it and we'll see how we do," Trivosonno said. "We're looking forward to anybody and you got to play them all to get there."
"Tomorrow morning we're going to get in early and watch their film," Tatarunas said. "We will start preparing early and we will see them Friday."
| | | | | | |
| --- | --- | --- | --- | --- | --- |
| Team | 1 | 2 | 3 | 4 | Final |
| Mentor | 7 | 21 | 14 | 7 | 49 |
| Stow | 10 | 7 | 0 | 0 | 17 |
Tadas Tatarunas 20-yard TD pass to Logan Shea 7:35 left in 1st Q 7-0 Mentor
Terrian Wray 3-yard TD run 6:26 left in 1st Q 7-7
Gavin Costello 38-yard FG 4:04 left in 1st Q 10-7 Stow
Tadas Tatrunas 1-yard TD run 11:13 left in 1st Q 14-10 Mentor
Coryon Rice 35-yard TD pass to Tyler Shaver 6:23 left in 2nd Q 17-14 Stow
Tadas Tatarunas 23-yard TD pass to Logan Shea 4:31 left in 2nd Q 21-17 Mentor
Tadas Tatrunas 2-yard TD pass to Logan Shea 0:28 left in 2nd Q 28-17 Mentor
Tadas Tatarunas 37-yard TD pass to Logan Shea 11:06 left in 3rd Q 35-17 Mentor
Chris Edmond 11-yard TD run 1:49 left in 3rd Q 42-17 Mentor
Elijah Mcdougall 7-yard TD run 9:18 left in 4th Q 49-17 Mentor
Player of the Game: Logan Shea, WR, Mentor Cardinals
It wasn't the first time Shea has caught four touchdown passes at Mentor before, but it was the first time he's done it as a member of the Mentor Cardinals football team.
Shea and Tatarunas were a wrecking force all night against the Stow defense. Shea went on to catch six passes for 103 yards and four touchdowns during the win. Growing up and playing with Tataruans all throughout his childhood made this night even more special for the senior.
"I grew up playing Bama football during the Mentor Youth League," Shea said about his chemistry with Tatarunas. "I'm just glad I was able to do it my last time here and it was a great memory and I am going to cherish it for a long time. I love this."