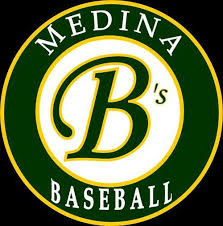 JACKSON, Ohio – The red hot Medina Bee's finally cooled off tonight with their first loss in several weeks at the hands of the Jackson Polar Bears. Richardson of Jackson pitched a masterpiece, holding the Bee's to only 1 hit over 7 innings and tossing the 4-0 shutout.
There have been times of struggles at the plate this year for Medina, and tonight it reared its ugly head again. It hasn't helped matters that the Bee's have endured several rain outs and haven't been able to play multiple games in a week as often as they would like. They need that repetition to help keep the bat's in rhythm.
Baldwin Wallace recruit Spencer Ackerman looked sharp but wasn't helped with the tight strike zone and some sloppy defense behind him. Jackson jumped on Ackerman in the second for two runs to make it 2-0 early and added on two more insurance runs throughout the game with one in the third and their fourth and final run coming in the fourth inning.
The Bee's had something cooking early when Winters singled up the middle in the top of the first, but couldn't do anything with it despite Peterson drawing a two out walk later in the inning to put two men on base. Sadly for the Bee's, they never again threatened to score.
The Medina Bee's will get a chance at redemption as early as tomorrow night when they play day two of a four straight days with games. Tomorrow night they host Euclid, before traveling to Strongsville on Friday and then hosting Willoughby South on Saturday afternoon at 11am.
With the loss, Medina's record drops to 6 – 3.
Tonight's starting lineup was
C – Peterson
P – Ackerman
3B – Fryer
SS – Pipoly
2B – Winters
1B – Curtis
LF – Munoz
CF – Fultz
RF – Alfano
DH – Hansen
You can contact Vince McKee at coachvin14@yahoo.com or on Twitter at VinceTheAuthor