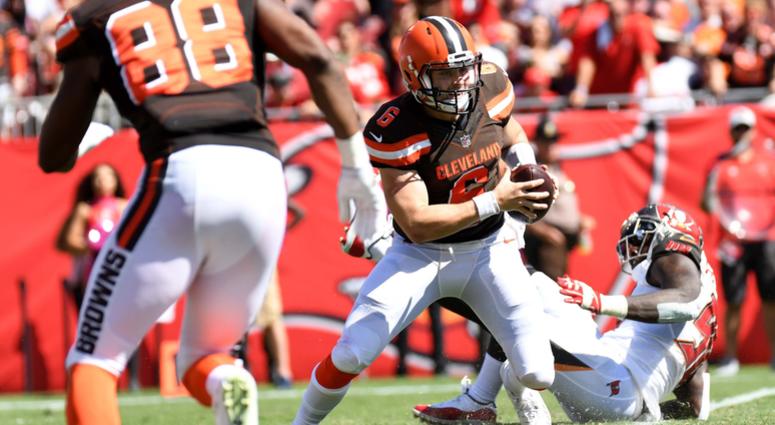 CLEVELAND – Browns head coach Hue Jackson finds zero satisfaction in hearing the NFL admit that the referees botched another call against his team. This latest officiating blunder came during in Sunday's loss to the Buccaneers and was maybe the most egregious of the season.
Trailing 23-16 in the fourth quarter, Baker Mayfield and the Browns were on the move looking to tie things up. A penalty had Cleveland backed up in second-and-24, setting the stage for an awe-inspiring 35-yard scramble by Mayfield for a first down and then some. But the play ended in controversy after Bucs safety Jordan Whitehead dove head first into the rookie quarterback, striking Mayfield's helmet with the crown of his own.
It was an act and a hit that the NFL is apparently trying to eliminate from the game. So when referee Shawn Hochuli announced that the hit was legal because "Mayfield was a runner" and allowed to be hit in the head, it left everyone perplexed.
"I do not want to get into too much that, but I will say this – I just think that we have to officiate it the right way," Browns head coach Hue Jackson said of the situation Wednesday. "We have to see it for what it is and make the call. I think that the league and the officials want to get it right so to me anything that is questionable in that way, I just think that you take a real good look at it. Let's not just move on from it. Even if you have to review it, let's make sure that those things are correct as those calls are being made when it is something that is that vicious, that kind of hit, especially on a quarterback."
As Jackson eluded to, allowing coaches to challenge those hits and sending them to review might be the most obvious solution to avoiding a egregious missed call like we saw on Sunday. In a season where the NFL is really harping on hits identical to the one between Whitehead and Mayfield this past weekend, consistency is key. Sunday's ruling that "Mayfield was a runner and free to be struck in the head isn't even close to consistent with the way similar hits have been called this season.
Another solution could be adopting the college rule for targeting, which allows for a player found guilty of targeting via review to be ejected from the game and suspended for the first half of the next game. Jackson spoke for his coaching peers in saying he believes that would be a bit extreme.
"I think that we all stand united in that way that we do not want to see anybody lose a player because some young man is targeted and then all of a sudden, he is out for a while," the Browns head man said.
Mayfield, who saw that version targeting implemented during his time at Oklahoma, thinks enforcing that interpretation of the rule would make defenders adjust the way they to avoid suspension.
"Absolutely," he said. "It makes you hesitate sometimes, yeah.
"Anytime you have guys that are flying around trying to impose their will on an offense and a hit like that could take them out of not only that second half but then the first half of the next game: that could affect a lot of guys. It is something you could think about."
The No. 1 overall pick let Whitehead know that he took exception to the hit afterwards, swiftly jumping to his feet and getting in the face of the reckless defensive back to let him know that he'll have to hit him harder next time. Moments later though he was left speechless when Hochuli gave his absurd explanation for picking up the flag.
Expectedly, he takes no solace in NFL saying they got it wrong after the fact and may fine Whitehead.
"After the fact it does not really matter," Mayfield said. "It is just one of those things that in the moment you have to be able to call that."
Treading lightly, Jackson feels the same way and reiterated that he just wants to see officials getting the call right from the start.
"I can't say much about what the league has said," Jackson stated. "I just know this – I like the dialogue that we have had. I like the conversations that we have had. I like how we have been able to talk about certain things back and forth. I think that the most important thing for the league, for teams for coaches and for everybody, we just want to get it right. Games are won and lost on these things."
Follow: @Spencito_

NEO Sports Insiders Newsletter
Sign up to receive our NEOSI newsletter, and keep up to date with all the latest Cleveland sports news.