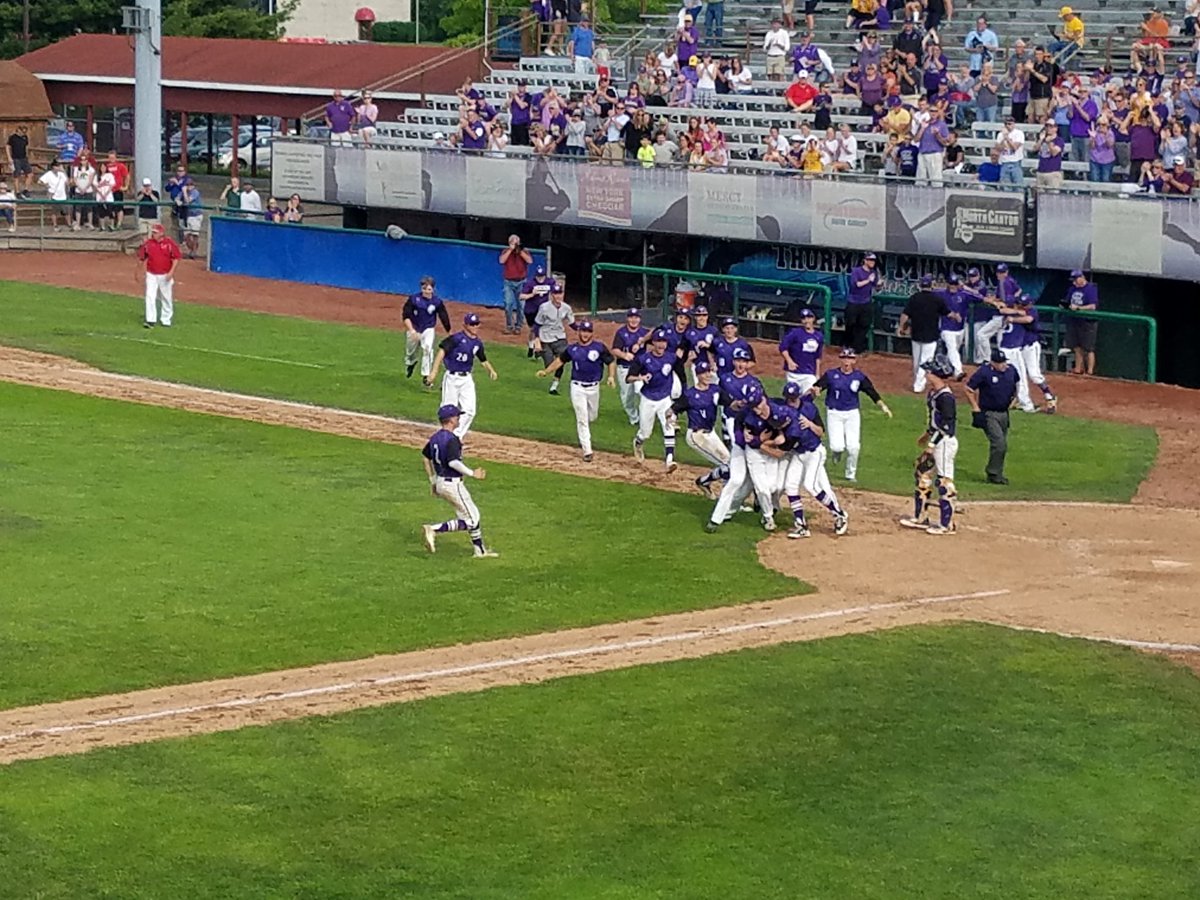 Massillon Jackson earned a trip to Columbus with a 9-2 victory over Mentor in the Canton Regional Final at Thurman Munson Stium on Saturday, May 27.
The game was a textbook example of how the Bears (28-2) got to this point: The top of the order set the table. The middle of the order brought them home.
Jackson received contributions up and down the lineup. The Bears played stellar defense, including a few spectacular plays from behind home plate and benefited from another dominant outing on the mound.
As for the top of the order, senior leadoff man Cade Mottice scored the first run of the day, when his twin brother Jake Mottice drove him in with an RBI single in the top of the first.
Jake went on to go 3-for-3 with a double, two singles, a walk, two runs batted in and two runs scored.
The senior had been scuffling the past few games, but credited his turnaround to a two-run triple from the day before in the regional semifinal against Walsh Jesuit.
"I've been struggling lately in the Playoffs and I just wanted to do something to help my team," the No. 3 hitter said.
"I made some adjustments at the plate and I was locked in. That (triple) was my slump-buster. It got me going and made me have confidence in myself."
Jackson coach Bill Gamble was glad to see him get back on track.
"He was struggling a little yesterday and through the district tournament, but he lasered one and you just saw it come back, like he just found it again and got going. It only takes one at bat and we know that."
Kyle Nicolas came through with the second clutch hit of the day, plating a two-run single to score Dillon Dingler and J. Mottice in the top of the third, extending the lead to 3-0.
Nicolas (7-0) is known more for his arm, as the hard-throwing right hander owns a 0.50 ERA and is committed to play college ball at Ball State, but hitting cleanup in a lineup as impressive as Jackson's tells you all you need to know about how complete his game is.
The senior went on to score after hitting the two-run single, as Nicolas and Trey Wright attempted a double steal. Wright was thrown out at second, but Nicolas scored to make it 4-0.
Nicolas finished the day 2-for-3 with 3 RBI and now owns a batting average above .350 with 20 RBI on the season.
He struck out nine in a complete game shutout in the regional semifinal against Walsh Jesuit and Gamble is still undecided on how the Bears will use their pitching rotation for Friday's state semifinal – whether to go with Nicolas or sophomore Yianni Skeriotis, who's been phenomenal all year and continued his dominant season in the regional final.
Skeriotis (8-0) worked six innings and did not allow an earned run until the sixth, receiving some great defense behind him for the vast majority of the day.
A few of those plays came from Dingler, a senior catcher, who will play college ball at The Ohio State University.
In the bottom of the third, Dingler ended the inning with a snap throw to first base, catching a runner off guard.
B4: @dillondingler17 shows why he's considered one of, if not the top catch and throw guys in the state as he ends the Cardinal 3rd pic.twitter.com/apbbb8jG54

— PBR Ohio (@PBR_Ohio) May 27, 2017
Those types of plays are not uncommon in Dingler's game and it would be the first of more to come on the day.
"That dude's just a flat out stud," Jake Mottice said after the game.
"Nothing he does surprises me at all."
"I like keeping active behind the plate," Dingler said.
"I don't know if I get a little bored or what, but I like to throw it around."
Mentor's offense had another opportunity in the bottom of the fourth, when junior outfielder Will LaGanke and senior Nick Smith hit back-to-back singles to start the inning off.
Jackson stifled the rally, as Skeriotis induced a groundball to shortstop Josh Romans, who started off the 6-4-3 double play to get two outs, and the right-hander went on to finish out the inning unscathed.
Jackson's middle infield combination features Romans and Wright, a freshman and a sophomore, respectively, and with sophomore standout Skeriotis on the mound, the underclassmen of the Bears were on display in the regional final – not something that would necessarily be expected out of a powerhouse program.
"It's great and I also think it's a credit to the seniors we have for accepting them," Coach Gamble said.
"We can only run nine guys out there, ten with a DH, but that's been the ownership of the seniors and the team. Guys like Jack White going to the back end of the pen. Cooper Pastorious going from a third starter to the pen, now. It's just trusting those guys, believing in them and that's elevating their own games, too."
In the top of the fifth, Dingler started the inning off with a bunt single. He stole second, advanced to third on a passed ball and J. Mottice drove him in with an RBI single.
Nicolas followed up Mottice with an RBI groundout to make it 6-0.
Mentor was able to get on the board in the bottom of the fifth, when Kyle Karchefsky reached base on an error and was batted in by Tommy Klepcyk.
Klepcyk attempted to stretch a single into a double and right on cue, Dingler gunned him out at second.
It took a great play and strong throw from senior right fielder Nick Harrison to set Dingler up for the chance to make the throw from home.
The Cardinals kept the Bears off the board in the sixth and Mentor's offense started to chip away at Skeriotis, as LaGanke mashed a double, Smith moved him over to third with a sac fly, and Tommy Noll delivered an RBI single to make it a 6-2 game.
Mentor couldn't add onto that rally, as once again, Dingler caught a runner on a back-pick at first base.
Right after shutting a rally down from behind the plate, Dingler started another one of his own at the plate with his third single of the day to lead off the seventh. He finished the day with three runs and two stolen bases.
Jackson would score three more runs in the inning, two of which came across courtesy of another underclassmen, junior outfielder Davis Graham, who plated a two-run single.
Wright also hit his second single of the day, going 2-for-2 with a walk.
Jackson's offense finished with nine runs on 14 hits, as seven different players recorded hits on the day.
"Our bats have come alive the past couple games," Dingler said.
"That's also due to Coach helping us get better at-bats. We're barreling the fastball and doing a lot of strategic things to get guys in scoring position."
Skeriotis' day came to an end after six innings and it was another big game performance for the young player.
"He's way beyond his years," his catcher said.
"He pitched like he was a senior. He spotted well, controlled well, threw with some velocity and overall, to give up two runs, he pitched great."
Senior Ben Warren finished off the game out of the bullpen, a role in which he has excelled all season, and set the side down in order to end it, prompting his teammates to mob him on the field in celebration of the regional championship.
.@JHSbaseball2014 wins the Regional Championship 9-2 over @CardsBaseball15 pic.twitter.com/G5D3FOHYGz

— PBR Ohio (@PBR_Ohio) May 27, 2017
Coach Gamble also received a Gatorade shower from his players shortly after the game ended.
While the Bears are obviously thrilled to reach the Final Four, especially after being eliminated in the 2016 regional semifinals by Stow, the team is well-aware of how much work remains.
"We used last year as a learning tool and learned from it," Jake Mottice said.
"We fixed our problems and have stuck to our plans."
Nicolas feels his team will head to Columbus with a workman-like attitude.
"It's an awesome feeling to know that you're a final four team, but we have to act like it's a business trip," the senior said.
"It's going to be fun, but we can't get caught up in the fun. We can have fun after we win two games."
Nicolas and Dingler were both key players on Jackson's 2017 State Championship basketball team and are leaders on the diamond, with a chance at bringing the school another State Championship.
The first baseball state championship in school history came in 2014. The Bears have won 107 of 122 games since the start of that 2014 season and are 57-3 over the last two years.
Jackson takes on Lakota West on Friday, June 2 at 4 pm at Huntington Park in Columbus, followed by Strongsville vs. Olentangy Orange.