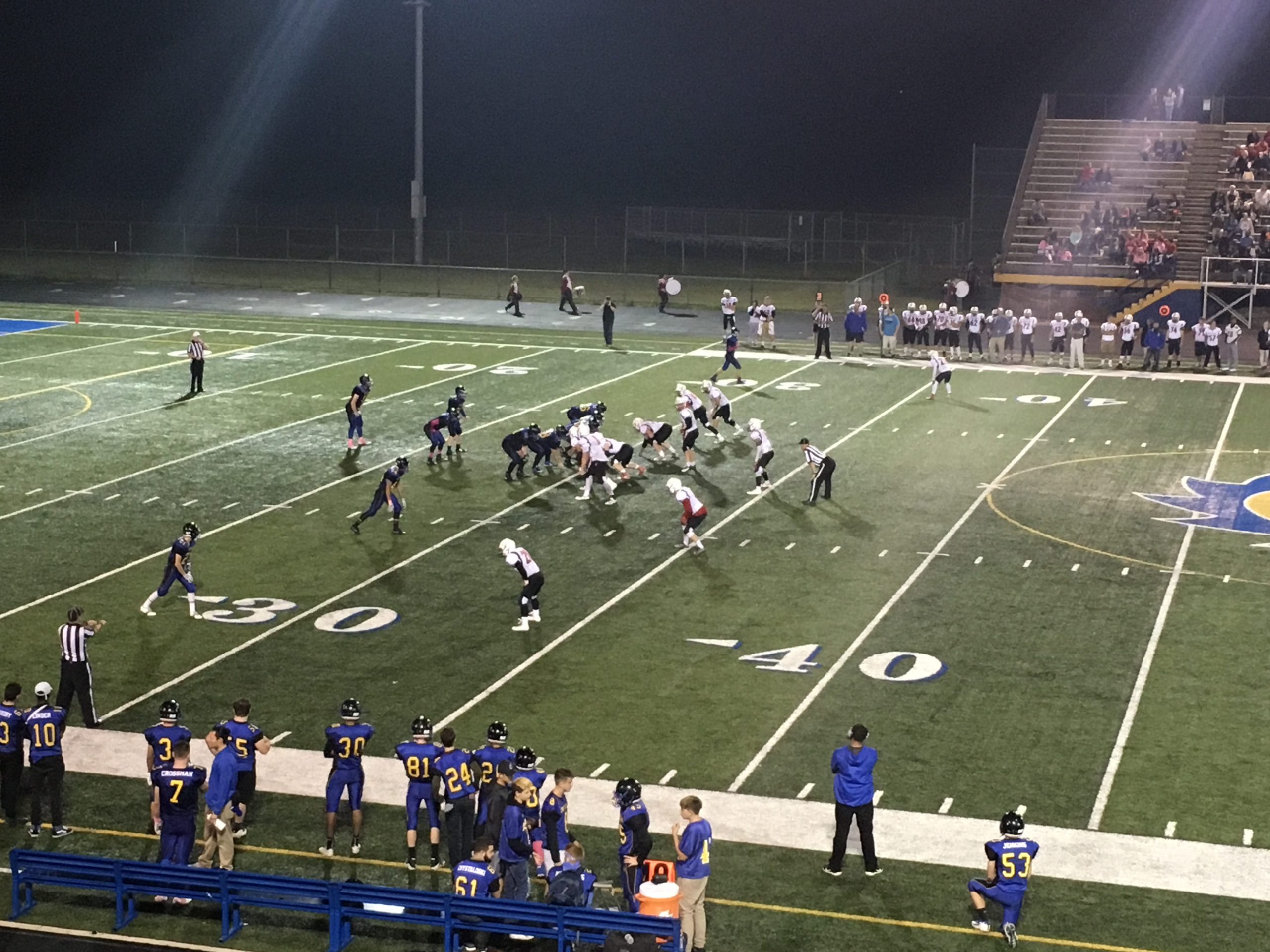 By Dave Alligood
BROOKLYN, OHIO– The Lutheran West Longhorns visited Brooklyn High School with the goal of getting back in the win column after a disappointing Week 6 loss at home.
They accomplished their mission with a 41-0 drubbing of the Brooklyn Hurricanes on Brooklyn's Homecoming Night.
The story for Brooklyn was a familiar one as they struggled all night to get any rhythm on offense.  Since the season-ending injury of QB John Kenderes in Week 4, Brooklyn has been unable to find a consistent identity.
And that search for an identity on offense continues after tonight.
Lutheran West held Brooklyn's offense to a total of 21 yards for the game in pitching a complete shutout.
Sticking primarily with a basic running game, Brooklyn found the going very rough against the bigger Longhorn defenders.  Seniors Joey Sullivan and Matt Crossman found minor success early on in attacking the middle of the Longhorn D-line, but the Longhorn defense closed the gaps as the game wore on.  Senior Yamil Rivera also was unable to use his speed on the edge as the Longhorn defenders were successful in stretching out his attempts on the jet sweep, where he had found success earlier in the season.
Crossman (five carries for 20 yards) and Sullivan (17 yards on 10 carries) were the offensive leaders for the Hurricanes, while Rivera ended up with negligible yardage.
Senior Andrew Zarins took most of snaps at QB, but was similarly unsuccessful in establishing a passing attack.  He completed only one of his eight attempts for a short seven-yard pickup.
The injury bug has been unkind to the Hurricanes this year.  They were missing five starters tonight, four of them on offense.  The injuries forced the coaching staff to try to piecemeal a coherent offensive unit.
Coach Sean Belveal spoke of his team's challenges at this point in the season due to the injuries after the game.
"We still have a lot of players out there who are new to football," Belveal said. "This is still about consistency.  We have guys playing out of position, but I'm not going to make excuses.  We still have to execute better."
While Coach Belveal felt his defense showed improvement, they were still over-matched against Lutheran West's size and power running on offense.  Senior QB Rory Zakareckis led a Longhorn offense that compiled 209 rushing yards on 42 attempts.  Zakareckis finished with 67 yards on 13 carries with one touchdown.  He also completed 3-of-10 passes for 48 yards, with two of the completions going to senior Brett Mather for 48 yards.
Other contributors on offense included junior Gerald McHenry with 41 yards and a touchdown on 12 carries and senior Owen Albers with 24 yards and three touchdowns on seven carries.
One bright spot for Coach Belveal was how some of the younger guys have been improving.  Belveal singled out junior offensive lineman Thomas Godley who found himself playing double duty at linebacker for the second week in a row.
Belveal said, '[Godley] went in tonight and made a ton of tackles.  He's a kid with a lot of heart, never played the game before [this year], and he comes out in a varsity game and is making plays."
Despite the challenges and injuries, Coach Belveal remains optimistic on the team's progress and outlook.
"The big thing for us is, you know, this game has to teach you more about just wins and losses," he said. "It's got to be about going through adversity and defeating adversity.  We're going out every game to compete and every game to win.  Also, we're going out trying to get better."
Brooklyn has three weeks left in the season to get better and build momentum for next year.
With tonight's loss, Brooklyn falls to 2-5 and goes on the road to Columbia next week.  Lutheran West improves to 4-3 and remains in the hunt for the Stripes Division lead with likely contenders Clearview and Columbia.  The Longhorns return home to face Oberlin next week.
Player of the Game:  Lutheran West senior QB Rory Zakareckis.  He led a balanced Longhorn rushing attack with 67 yards on 13 carries with a touchdown.  He proved both elusive and hard to tackle for the Hurricane defense.  On defense, he was in on numerous stops.  His impact on the game was significant in all facets.

NEO Sports Insiders Newsletter
Sign up to receive our NEOSI newsletter, and keep up to date with all the latest Cleveland sports news.