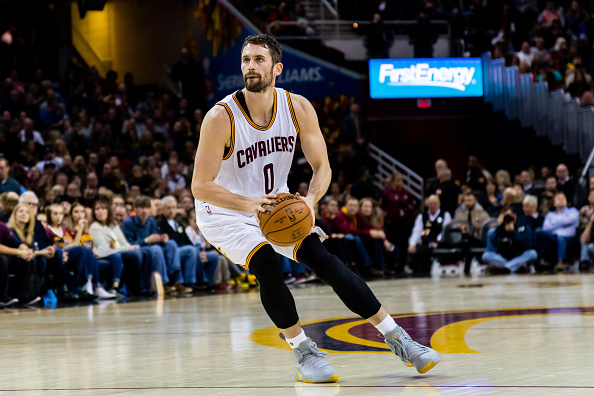 Special to NEOSI by Adam Schabel
Another week, another injury to add to the list for the Cavs. The victim this time is Kevin Love, who is expected to miss six weeks with an injured left knee after surgery.
The Cavs released a statement indicating that Love underwent surgery Tuesday morning to remove a "loose body" from the All-Star forward's knee.
This is tough news for the Cavs who are looking to repeat as NBA champions. The team is all too familiar when it comes to dealing with injuries.
Center Chris Andersen, who was traded to the Charlotte Hornets last Monday, was lost for the season due to a torn ACL.
J.R. Smith, their starting shooting guard, has been out since late December with a broken thumb. Iman Shumpert, who had been playing well in Smith's absence, has missed the team's last three games with a sprained ankle. Love has also missed games this season with recurring back spasms.
The good news is that Cavs coach Tyronn Lue announced that Shumpert would be returning to the lineup on Tuesday at Minnesota.
Other positive news involves the injured Smith. ESPN's Chris Haynes and Dave McMenamin reported on Monday that the guard was "progressing well in his recovery" and is on pace to return in mid-March, about three weeks from now. Smith has refuted the report, however, as he released a series of tweets and a video stating that there is "still a ways to go" in his recovery.
In the meantime, the Cavs have to pick up the pieces and play on, they have no other choice.
Since LeBron James returned to the team in 2014, the Cavs have dealt with significant injuries. In LeBron's homecoming season he missed two weeks in order to recover from an injured back and knee. Love missed the majority of the playoffs that same season with a dislocated shoulder.
Kyrie Irving then struggled throughout the playoffs with an injured knee and was eventually knocked out of the NBA Finals after suffering a broken kneecap.
Shumpert, who was acquired by the Cavs that season from the Knicks, had a dislocated shoulder and missed significant time at the beginning of his Cavs tenure.
Luckily, Smith and Love will both be back before the playoffs with just enough time to get re-acclimated with the team.
In January, Cleveland acquired sharpshooter Kyle Korver from Atlanta in order to help minimize the damage of Smith's absence.
The team also signed forward Derrick Williams to a 10-day contract last week in order to give them some depth.
The Cavs are used to playing undermanned so the team should not be worried, especially because they have James. He exerted confidence when he met with the media on Tuesday.
In a quote from ESPN's Dave McMenamin, James said, "as long as I'm in the lineup, we've got a chance. We good. Kev is out. Kev is out for an extended period of time. J.R. has been out. But I'm in the lineup. I'll be suiting up, we've got a chance against anybody. I ain't worried."
James is right, there is no need to panic, players just need to step up and have a "next man up" mentality.
Williams will inevitably have a larger role now that Love is out and he will most likely be retained for the rest of the season. Williams has played well since joining the team which warranted praise from James.
One thing the Cavs cannot do is overwork James because Love is out. Lue said that the team will still "go about their plan" of lowering James' minutes to around 32-34 per game.
Lue also mentioned that the Cavs will prioritize the health of their players, even if it costs the team the number one seed in the East. Cleveland currently holds a two game lead over the second seeded Boston Celtics.
Lue is right on point and as long as the Cavs are fully healthy when the playoffs roll around, they will be in great shape to defend their title.