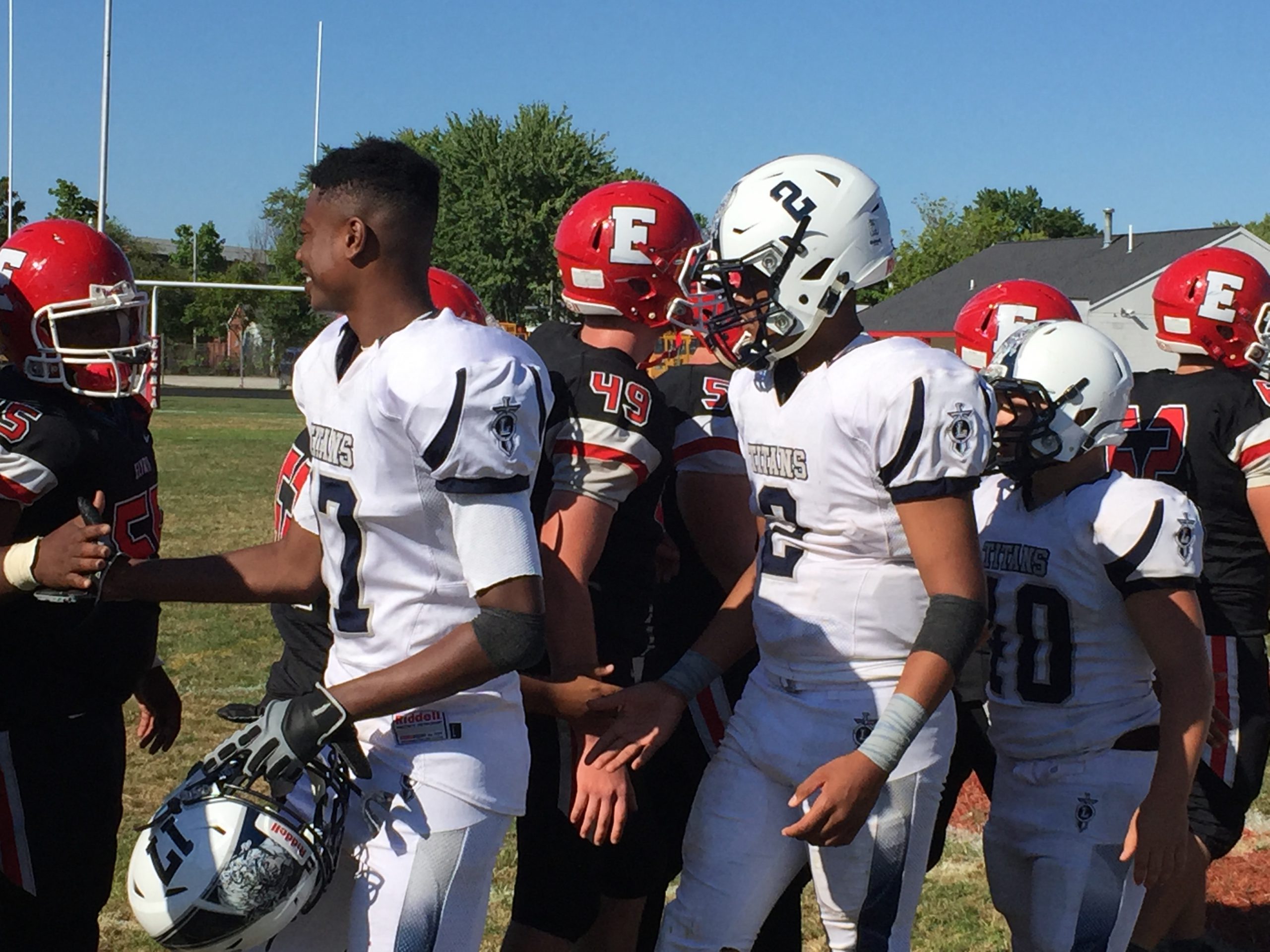 **This recap brought to you by b.a. Sweetie Candy Company, which you can visit HERE, or at 6770 Brookpark Road Cleveland, Ohio 44129**
LORAIN, OHIO– When it comes to Lorain County sports, there are few rivalries as good as the Lorain Titans and Elyria Pioneers.
Thursday night gave us another great installment, as the the two schools went head-to-head at George Daniel Field in Lorain. This year, it's Lorain (2-1) that will own the bragging rights, as they defeated Elyria (0-3), 38-17.
This year's contest was bound to be another physical affair, and fans got a taste of that as the game was scoreless after the first quarter, and largely paced by both teams' defense.
In the second quarter, however, the Titans came out and got two quick scores to go up 14-0. The first came when Daylin Dower punched the ball in for a two-yard touchdown run on a continuation of the Lorain drive that ended the first quarter. Dower's night ended with 96 yards on 18 carries.
The second came about four minutes later, when Mikey Harrell ran the ball in from the three-yard line. Quarterback Justin Sturgill was able to complete the two-point conversion to give Lorain a 14-0 lead.
On the ensuing drive, however, the Pioneers would answer the Titans and score a touchdown when quarterback Dontae Beckett found Deviian Williams on a 31-yard touchdown pass. Williams ended with 74 yards on seven receptions.
The next touchdown also came courtesy of Beckett, when he found Scott Ethington in the end zone during the closing seconds of the half.
Considering they allowed two quick scores, Lorain head coach Dave McFarland challenged his team to come out with more focus in the second half.
"I was just infuriated with the second quarter because it's about character, it's about doing the right things in life, and you get punched and you gotta keep fighting," McFarland said when asked about Elyria's comeback. "So, we challenged them at halftime to come out and play with energy and character, and just fight."
And fight they did. Following the break, Lorain struck first again. On the first play of their first drive in the half, Harrell ran the ball for a 78-yard touchdown to give the Titans a six-point advantage, 20-14. Harrell had a rather impressive evening for the Titans, ending with 92 yards and his two touchdowns on nine carries.
"I was excited after that because he came a long way, I grew up with him, played with him since eighth grade, and I knew he always had the potential to do special things like that," Sturgill said of Harrell's 78-yard run.
While the Titan offense came out after halftime strong, the Elyria offense was nowhere to be found.
"We come out, and we just laid an egg," Elyria head coach Sean Arno said. "We made too many mistakes on offense, various things and I'm not sure why."
The Pioneers opened the fourth quarter by getting their lone score of the second half on a field goal. Lorain, however, would once again answer immediately, as Sturgill found Tyshawn Lighty for a 70-yard touchdown pass to give the Titans a 26-17 lead.  Lighty contributed 114 total receiving yards to the Lorain offense.
Elyria began their next drive, but it was once again stopped short as the ball was fumbled near the Pioneers' own 30-yard line. Lorain's Isaiah McDowell, a 5'5" linebacker, would come away with it, and run all the way into the end zone to give the Titans a 32-17 point advantage.
"He's a tough kid, he wants to play football," McFarland said. "He's what high school football is all about. A small guy with a lot of toughness, a lot of want too, and he makes things happen."
At that point, lightning literally struck, and the game was sent into a lightning delay with just over nine minutes left to play.
When the game continued, Lorain was incredibly successful at running down the clock, but still scored one last touchdown when Dakota Mincy punched the ball in to make the final 38-17.
Sturgill ended the game going three-of-eight passing with 114 yards and one touchdown.
For the Pioneers, Beckett went 14-of-21 , with two touchdowns and 161 passing yards. He also rushed for 32 yards on 14 carries. Beckett also split time with Tristan Arno, who went two-for-nine with 43 passing yards and one interception.
As the Titans were able to overcome the Pioneers in the second half of the game, McFarland offered a pretty simple explanation for what he thought changed.
"I was really proud of the character of our kids in the second half, and I think that was the difference."
PLAYER OF THE GAME
While the Titans had plenty of guys get in on their offensive action, the honor this week goes to Mikey Harrell. His 92 yards on nine carries and two touchdowns were the standout performance of the game.
"Savon (Chavis) hurt his groin early on, and Mikey went in for him at fullback," McFarland said of Harrell's performance. "He's not a very big kid and he got beat up a little bit, and then he hit that seam. That was a great play for us. But that's part of running option football, you dive, dive, dive and then you hit one."
**This recap brought to you by b.a. Sweetie Candy Company, which you can visit HERE, or at 6770 Brookpark Road Cleveland, Ohio 44129**

NEO Sports Insiders Newsletter
Sign up to receive our NEOSI newsletter, and keep up to date with all the latest Cleveland sports news.