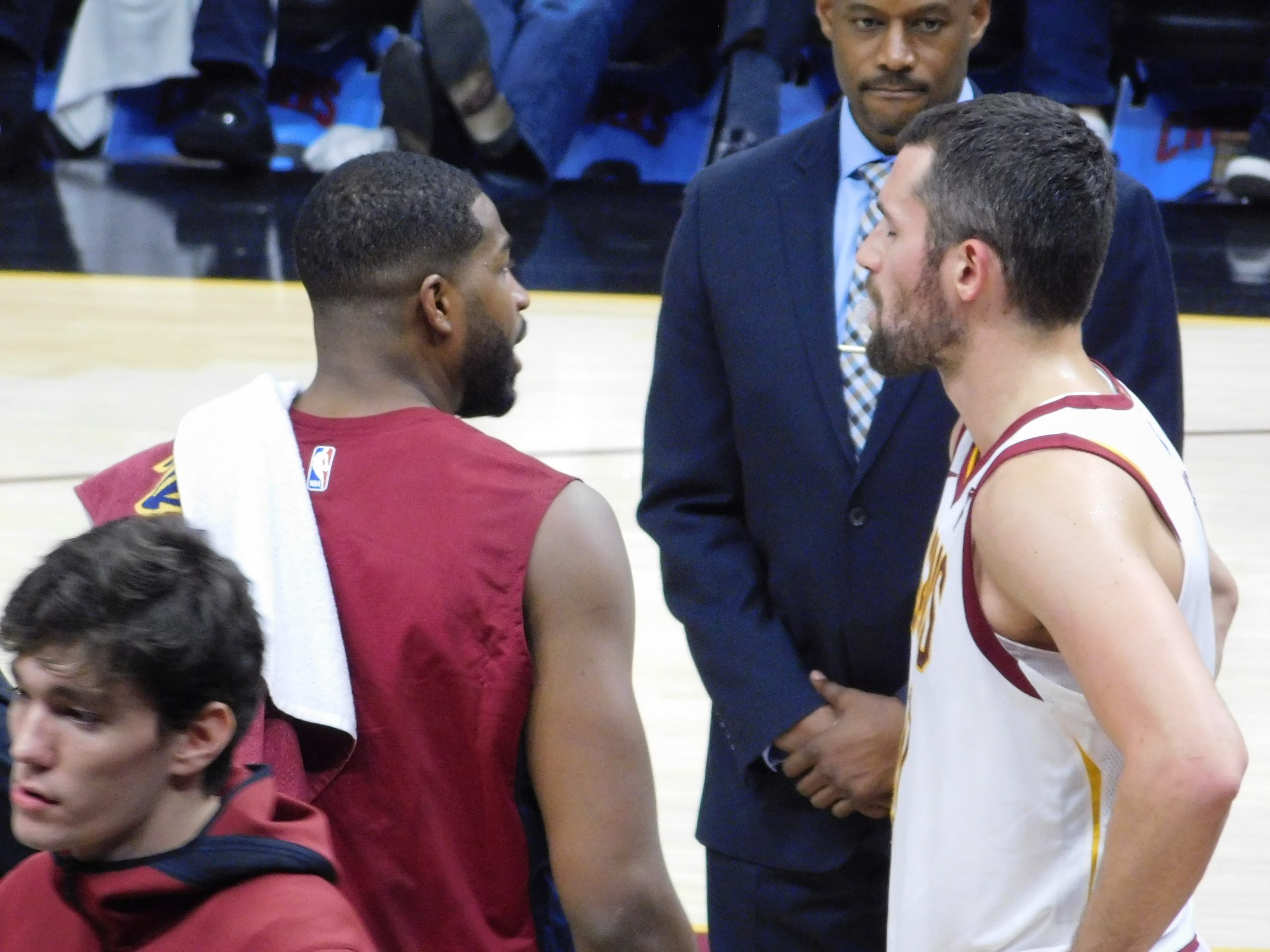 TORONTO– Deciding whether Kevin Love plays center or power forward is walking "a fine line," according to LeBron James.
"Obviously it's a fine line," he said after the team's Thursday morning shootaround. "We've been very successful with Kev at the 5, but we have to listen to what Kev needs as well. If there's times throughout the postseason or the game where he's feeling a little worn down because he's battling with a lot of bigs, then we've got to make the substitution properly.
"I think Coach Lue has done that, obviously with the start of Game 7, being able to start (Tristan Thompson) at the five and allow Kev to play his natural position. We're going to do what's best for the team, but we also want to do what's best for our All-Star as well. I think the coaching staff has done a great job of that."
Whether or not Love should remain at the 5 is once again up for debate following the Cavs' 113-112 overtime win against the Toronto Raptors in Game 1 of their Eastern Conference semifinal series. Love struggled in the game, particularly going up against Toronto's big man, Jonas Valanciunas.
The 7-footer put up 21 points and 21 rebounds against Cleveland in Game 1, and 11 of those points came when Love was guarding him. Love missed all four of his shots when guarded by Valanciunas, and shot 3-of-13 from the field for the game.
Against Thompson, Valanciunas shot just 1-of-7 from the field with two points. Starting Thompson at the center would seem to be the most obvious lineup adjustment for the Cavs to make, if they were to make any, so that Love could go back to power forward. But as of right now, it's an adjustment head coach Tyronn Lue isn't willing to make.
Part of that is because of the Cavs' success during the regular season with Love at the center against the Raptors. He averaged a double-double (17-12) and the Cavs took the season series, 2-1.
"We played Toronto twice, right? And he played the 5, right?" Lue asked rhetorically yesterday. "I think wrestling with big Valanciunas on the offensive glass and post-ups– and we got to do a better job of trying to protect Kevin on those post-ups so he won't get so worn down. He said he got tired around the six minute mark of that first quarter just from wrestling with Valanciunas.
"But we need Kevin to play the 5 for the spacing and I think it helps us offensively. And showing the tape and the film this morning with what we showed the guys, their bigs are coming to help. So when JR (Smith) drives or Bron drives or (George) Hill drives, their bigs are coming so we're going to have open shots on the perimeter. We just have to knock them down."
But if Love continues to struggle offensively in this series, Valanciunas will be able to sag off of him, and that floor spacing will be non-existent.
As James said, it's a fine line.

NEO Sports Insiders Newsletter
Sign up to receive our NEOSI newsletter, and keep up to date with all the latest Cleveland sports news.