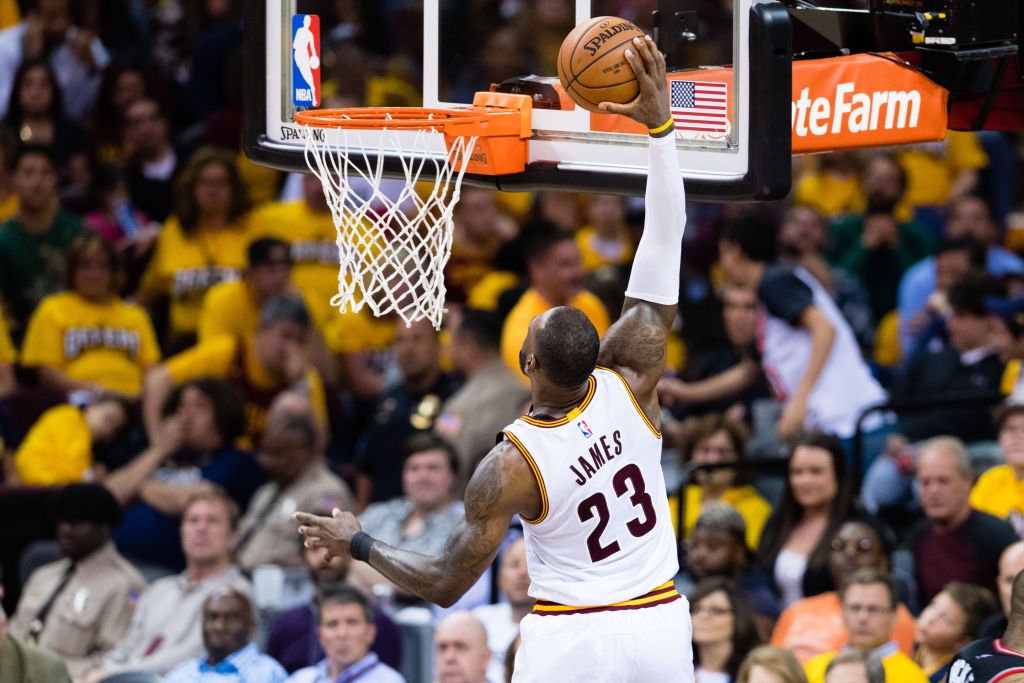 LeBron James has spent most of his career being compared to Michael Jordan in nearly every facet of his game.
Whether James or Jordan is the true GOAT will remain up for debate in the decades to come, but tonight, James added another bullet point to his résumé to help his case.
In Game 5 of the Eastern Conference Finals, James passed Jordan to become the all-time leading scorer in NBA postseason history.
Following the game, James was clearly still grappling to wrap his mind around the accomplishment.
"I think first of all, I wear the number [23] because of Mike, I think I fell in love with the game because of Mike," James said.
"When you grow up and you're seeing Michael Jordan it's almost like a god, so I didn't ever think I could be Mike."
He accomplished the feat with about 2:40 remaining in the third quarter, with a left wing three that gave him 5,989 points for his postseason career. Jordan's previous mark, 5,987, has stood since the 1998 NBA Finals.
"I think the biggest thing for me, sitting here today after breaking the all-time scoring record in playoff history is, I did it just being me. I didn't have to score the ball just to make an impact in a basketball game, and that was my mindset," James said.
"It's carried me all the way to this point now, and it's going to carry me for the rest of my career, because scoring is not number one on my agenda."
James finished the night with 35 points, (giving him 5,995 career playoff points) as the Cavaliers topped the Boston Celtics 135-102 and clinched their third straight NBA Finals appearance.
For James, it is his seventh straight Finals appearance. Along with teammate James Jones, this is the first time since the Bill Russell era Celtics that any players have reached seven straight Finals.
"He continues to perform and he continues to come back again, and again, and again, and that's the definition of greatness," Kyrie Irving said when asked about his relationship with James.
"There's so many different milestones and accolades that have come his way," Kevin Love said. "Having seen him accomplish so much is special."
The Cavs will play Game 1 of the NBA Finals against Golden State in Oakland on June 1 at 9 p.m. EST. This will be the first time in league history that the same teams meet for three consecutive Finals.

NEO Sports Insiders Newsletter
Sign up to receive our NEOSI newsletter, and keep up to date with all the latest Cleveland sports news.