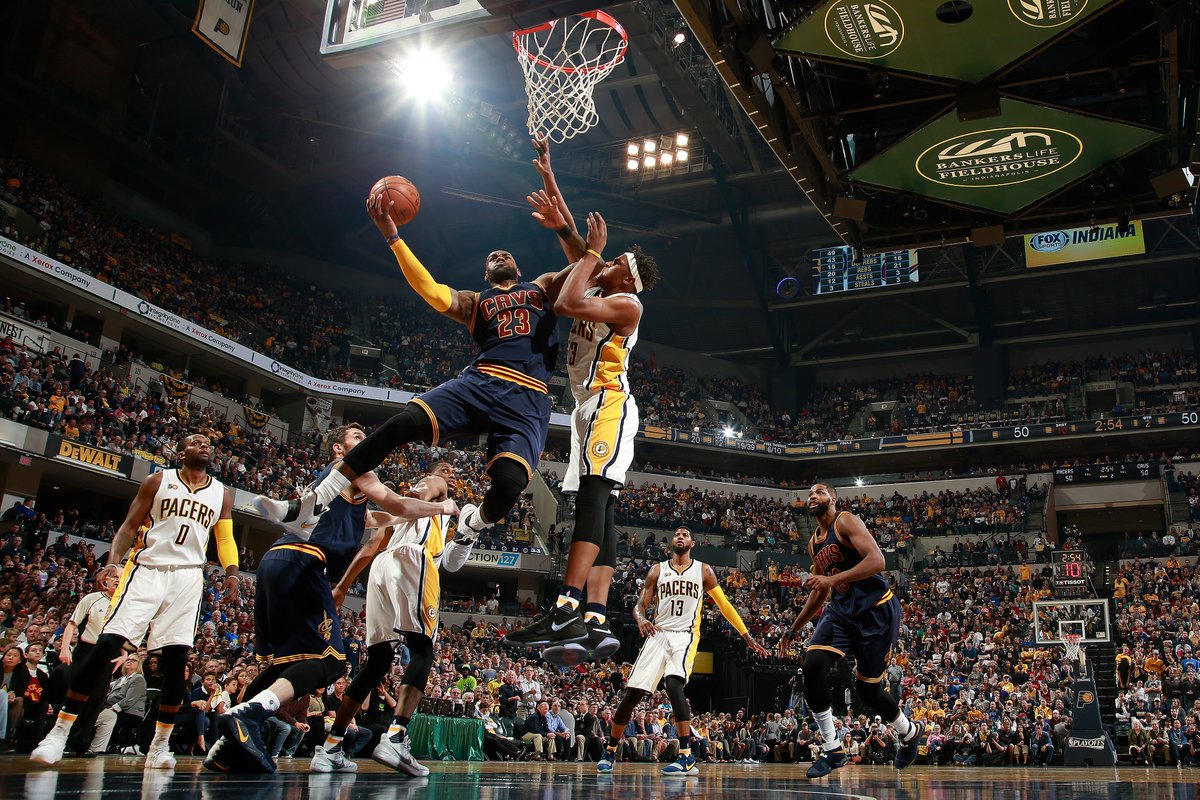 LeBron earned his 21st consecutive victory in the first round of the Eastern Conference Playoffs, sweeping the Indiana Pacers with a 106-102 win in Game 4 on the road.
Kyrie Irving and Kevin Love were on the court for the final two games, but frankly, neither of them played like the All-Stars who showed up for the first two games of the series.
There's a reason Love and Irving were on the bench in the fourth quarter of Game 3.
There's also a reason LeBron ended up making all the big plays in Game 4.
Irving shot 10-for-25 from the field (1-of-7 from 3-point range). Love scored five points on 2-of-13 shooting.
If anyone picked up the slack, it was Deron Williams, who scored 14 points off the bench, providing a spark in the second and third quarters, especially.
One of the positive aspects of Cleveland's series was seeing guys like Williams, Channing Frye, Iman Shumpert and Kyle Korver make big contributions.
Cleveland's second unit was not a strength during the regular season, but the reserves have played some solid basketball over the course of the last week.
Meanwhile, LeBron made one ridiculous highlight after another to put an exclamation mark on the series.
CHASEDOWN BLOCKS FOREVER pic.twitter.com/VzKNU8hUnx

— Cleveland Cavaliers (@cavs) April 23, 2017
When the Cavs blew another fourth quarter lead, which has been a trend for most of the last two months, LeBron had to put on his cape and bail the team out again, giving Cleveland a 103-102 lead with 67 seconds to play.
Big time Bron.#DefendtheLand pic.twitter.com/UDURBA5R5F

— Cleveland Cavaliers (@cavs) April 23, 2017
J.R. Smith almost threw the game away in the closing seconds.
J.R. Smith a goon for throwing this behind-the-back pass ? pic.twitter.com/UTtCyPgxeI

— PinPoint (@SportsPinPoint) April 23, 2017
It was an ugly finish to closing out the victory (which we should come to expect from the 2016-17 Cavaliers), but Paul George airballed a wide open three and the Cavs finished with the W.
A 4-0 sweep is a 4-0 sweep and this week off could do wonders for getting the Cavs much-needed rest before the second round, but some of the ugly trends the Cavs couldn't shake in March have still reared their heads in the postseason.
LeBron played two epic games to close out this series and we'll see if Kyrie and Love get back to their usual All-Star selves for the second round.