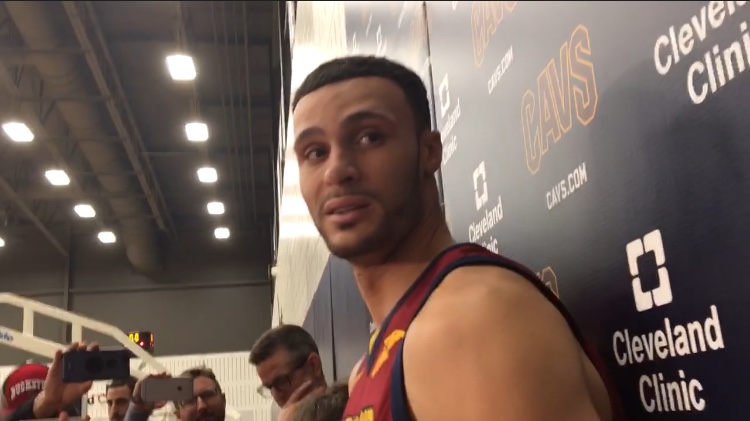 What would a by-committee approach look like for the Cleveland Cavaliers?
From 2014-2015 to 2016-2017, by-committee often meant relying on the Big Three of LeBron James, Kyrie Irving and Kevin Love to lead the team's scoring efforts while everyone else filled in as a spot-up shooter, rim-runner or defensive specialist. Last season, by-committee meant relying on LeBron, Love and a bench unit that started off the 2017-2018 as one of the best in the league.
This season, by-committee means relying on, well, everyone.
On Tuesday, various members of the Cleveland Cavaliers were asked about their new-look offense and what people should expect to see from a team that no longer relies on the isolation prowess of LeBron or Kyrie.
From Cavs head coach Tyronn Lue to Channing Frye to Larry Nance Jr., the answer was clear: the offense will, for the first time since the 2010-2011 season, be a five-pronged attack.
Quote transcribed by cleveland.com's Chris Fedor:
"Kind of like a five-man attack," Nance said. "Obviously, we are going to showcase Kev. That's our guy and that's who we are going to showcase early and often. But there's not a player that we can put on the floor this year that isn't a threat. You are going to see a whole lot of everybody."
Frye, per Fedor:
"It's going to be fun to watch. True basketball people are going to like the fact that we're using the corner, we're using the elbow, we're using the top of the key. It's not just a lot of one-on-one stuff, it's a lot of good actions, it's reads and it's going to be fun."'
A "five-man attack" that showcases Kevin Love from all over the floor "early and often." One with actions ran from every conceivable part of the floor and that doesn't rely on a player to thrive in isolation. A motion-based offense with plenty of ball and player movement, a quickened pace and guards that attack the rim.
The Cleveland Cavaliers won't be putting their new look offense on display until tonight at 8:00 PM (EST) at the TD Garden but it sounds as if Lue, assistant head coach Larry Drew and the rest of the coaching staff have instilled a system that every player will both thrive in and enjoy.

NEO Sports Insiders Newsletter
Sign up to receive our NEOSI newsletter, and keep up to date with all the latest Cleveland sports news.