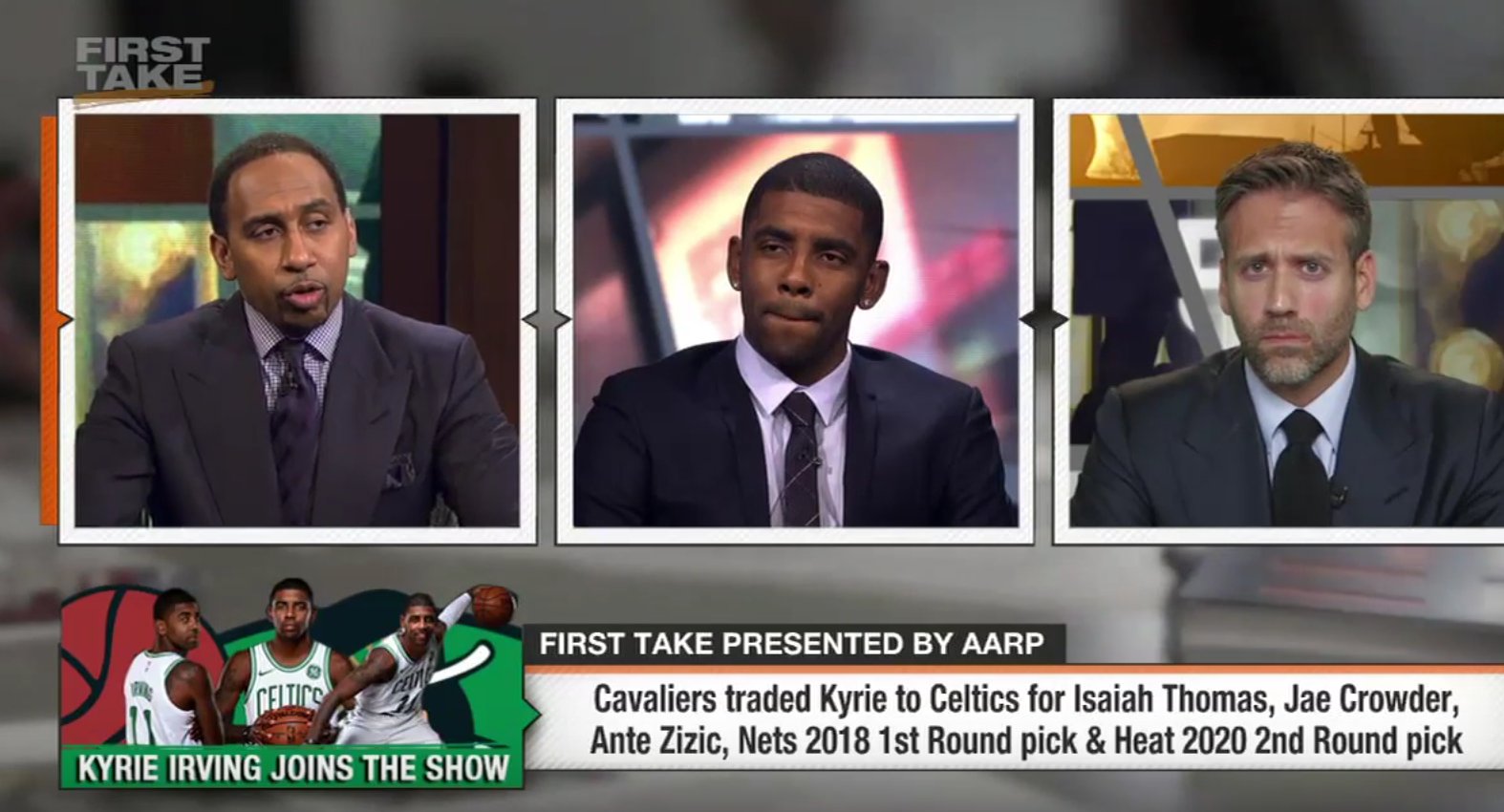 Celtics guard Kyrie Irving appeared on ESPN's First Take on Monday morning, and talked about everything from his desire to leave Cleveland, to his relationship with LeBron James.
It was and interesting interview, to say the least.
Of course, the first question that Irving was asked was why exactly he wanted to leave Cleveland in the first place.
"It was an interesting, interesting six years, and you think about how the journey transcended my career from starting the first three years, that was a picture in itself, to the last three years," Irving said.
"And, you think about those finite moment that have defined you as a player and as a man, you're very appreciative of it. Getting the chance to play with some unbelievable teammates, I had the chance to be with some unbelievable coaches as well. I got the chance to develop and evolve as a man, and I just felt it was best for my intentions to leave."
When pressed further on the topic, Irving said he knew he wanted to leave, but elected to make his trade request under the radar so as to not distract from the team. He also reiterated throughout the conversation his desire for an environment where he could be happier and improve his craft. He did not specify what made him sure that Cleveland was not that place.
"I was just very patient in my approach, understanding what the magnitude of the moment was. I wasn't going to allow anything else to get in the way of our team's success," Irving said. "I was just very diligent, very professional in terms of this whole entire process, and the request came at a time where I felt it deemed right for me. As a 25-year-old evolving man, coming in to perfect my craft every single day, I just wanted to be in an environment where I felt like I could be taught every single day, and have that demand from my coaching staff, and have the demand from a franchise that would propel me to exceed in my potential and seeing how far I could go."
"Like I said, I was just very patient in those moments, because I knew that the importance wasn't in my ego or anything that existed from that reasoning why I would come into work every single day and not give 100 percent, and not give my teammates everything that I had," he continued.
"I felt like when I was coming into that environment there were times where my energy was just a little off and I just had to figure that out. And there were times when after games I would go out and shoot. As any professional or any person knows, when you're in your workplace and you have those tough days there are questions that you ask yourself, is this the right thing for me right now? And I answered that question myself."
It also didn't take long for the topic of conversation to turn to James. It was well-publicized that James was blindsided by Irving's desire to leave Cleveland, and in Irving's introductory press conference with the Boston Celtics, he said he had not spoken to James since his trade request.
Smith asked Irving about this as well:
SMITH: Did you speak to LeBron James or talk to LeBron James before you or your representatives met with ownership and let them know that you wanted out?

IRVING: No.

SMITH: Why not?

IRVING: Why would I have to?

SMITH: No, no, no. I'm not implying that you have to at all, but he's the best player in the world, he's a superstar, he's considered the leader of the team, your teammate who you speak glowingly and very highly about, and if you don't want to play there anymore even though it was a personal decision, chances are if you don't speak to somebody about it they might take it personally.

IRVING: Yeah.

SMITH: Do you care about that at all?

IRVING: No.
Irving expanded on this in a way that was less curt, but nevertheless still somewhat of an odd explanation.
"I think we're forgetting one important thing," he said.
"Stephen A. as you sit up here, and Molly and Max as you guys are professionals. I don't think you owe anything to another person in terms of what you want to do with your own life. And it's not anything personal. I'm not here to tirade anybody, I'm not here to go at any particular person or the organization, because I have nothing but love for Cleveland. I have nothing but love for the times that I spent there. There comes a time when you mature as an individual."
Smith and Irving had another similar exchange when Irving was asked whether or not he thinks he can win a championship without James on his team:
SMITH: Do you believe you can win without LeBron?

IRVING: Time will tell.

SMITH: I asked you what you believe.

IRVING: Oh absolutely.
Can you win a championship without LeBron? @KyrieIrving: pic.twitter.com/kQmnwy09eU

— First Take (@FirstTake) September 18, 2017
This was by far the longest interview Irving has given since being traded. However, based on the substance, it appears as though we won't be getting the full story from Irving anytime soon.

NEO Sports Insiders Newsletter
Sign up to receive our NEOSI newsletter, and keep up to date with all the latest Cleveland sports news.