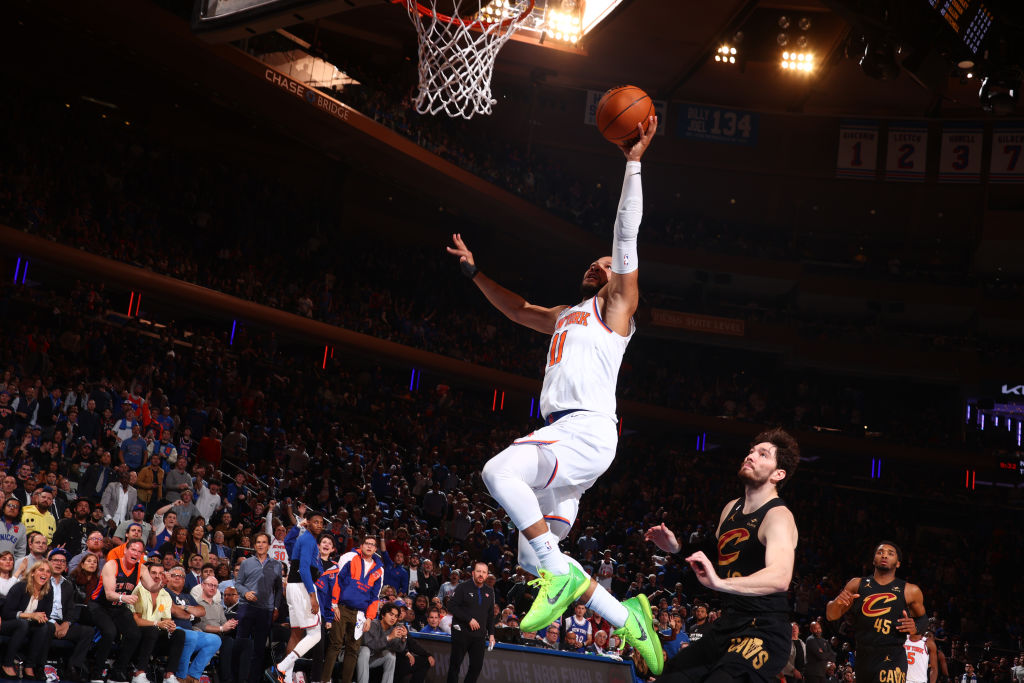 Game three of the Cavs vs Knicks series was dominated by New York Knicks as they routed Cleveland 99-79 in front of a sold-out crowd at Madison Square Garden on Friday night.
The first quarter was the most competitive quarter for Cleveland, as that quarter ended in a 17-17 tie. Neither team shot the ball well with the Cavs only shooting 33 percent from the field and 1-10 from 3-point range. New York actually shot worse from the field at 26 percent. Again, this was not a good quarter for either team.
Spida wasting no time.🔥 #LetEmKnow pic.twitter.com/vE1vyQviw7

— Cleveland Cavaliers (@cavs) April 22, 2023
Offense disappeared
Now, the second quarter was very different and not a good different for Cleveland. This was the quarter that the Knicks used to create separation for, what would end up being a route of Cleveland. The Cavs only scored 15 points, while New York tallied 28 points. Cavaliers guard Donovan Mitchell was the only player saving Cleveland from getting completely blown out earlier. At the half, Mitchell had 12 points. No one else scored more than 6 points. The bench once again did nothing to help, only adding 5 points from forward Isaac Okoro.
Turnovers
One of the things that hurt Cleveland in game one was points off turnovers. In game three, at the half, the Knicks scored 18 points off turnovers. In general, you have to protect the ball, regardless of if you're home or on the road, but especially on the road. You must protect the ball. The Cavs committed 12 turnovers in the first half alone. New York – 7. Also, when I recently mentioned the Cavs bench production, how about New York's bench chipping in 11 points?
Outmatched
The scoring in the third quarter was closer, but I must say, Cleveland's lack of experience really showed itself. They had multiple chances in the first half to not only take the lead but extend it. The Cavs couldn't hit shots when they needed to. They had plenty of good open looks but weren't hitting them.
Once the fourth quarter hit, the game was pretty much over. The damage had been done and game three was over, just like that.
Who scored other than Mitchell?
Donovan Mitchell finished with 22 points in 37 minutes, going 9-19 from the field and 2-8 from 3-point range with 5 assists and 6 turnovers. Caris LeVert scored 17 points in 35 minutes, going 7-17 from the field and 3-11 from 3-point range.
For 3️⃣. #LetEmKnow https://t.co/uNb9S3GJ2O pic.twitter.com/yQOuhCKL0Z

— Cleveland Cavaliers (@cavs) April 22, 2023
It was not a good night for Darius Garland, Evan Mobley or Jarrett Allen. Garland and Mobley both only scored 10 points, and both committed 3 turnovers each. Allen only had 6 points and 5 rebounds.
The starters have to be better, especially Garland, Allen and Mobley, but the bench must step their game up as well. This happened in game one back in Cleveland and New York ended up winning that game. The bench must be better.
Knicks stars stepped up & their bench did as well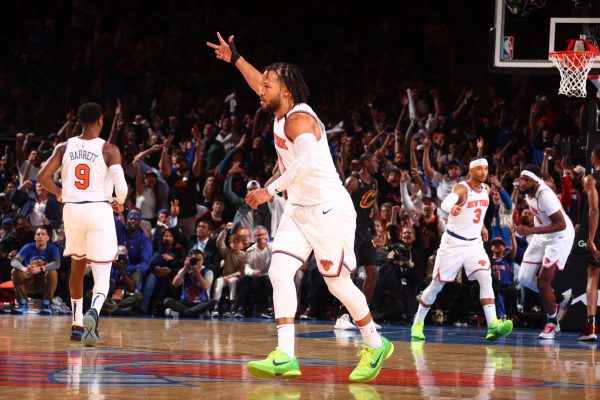 Knicks guard Jalen Brunson had himself a great night, scoring 21 points on 10-18 shooting and 6 assists. New York shooting guard R.J. Barrett had his first good game of the series, shooting 8-12 from the field, scoring 19 points in 30 minutes on the floor and going 3-6 from deep range. Barrett also had 8 rebounds.
The New York bench really caused a lot of problems for Cleveland. Josh Hart added 13 points, guard Immanuel Quickley added 11 points, forward Obi Toppin had 8 points and former Cavalier center Isaiah Hartenstein even had 7 points.
Cleveland needs to regroup
The Cavs will have a day off to watch the film and practice some tomorrow and then, it's game four of this best of seven series, again from New York. With the Knicks winning game one, Cleveland has to win a game in Madison Square Garden, if they want to win this series. Tip-off is set for this Sunday. With this win, the Knicks now lead the best of seven series 2-1 and Cleveland will have to play much better if they want to come back home with the series tied at two.

NEO Sports Insiders Newsletter
Sign up to receive our NEOSI newsletter, and keep up to date with all the latest Cleveland sports news.