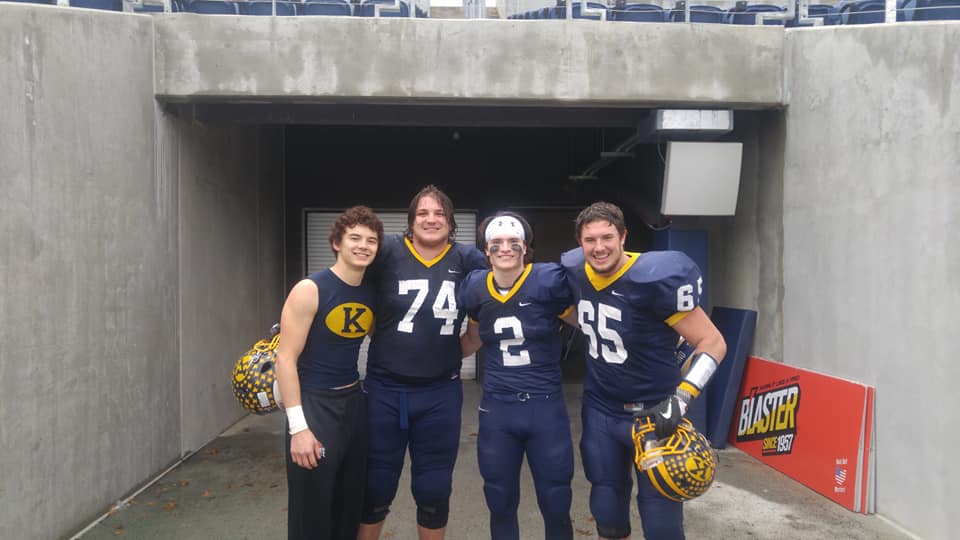 CANTON, OHIO – Kirtland used a strong running game and dominant defense to defeat Maria Stein Marion Local 16-7 to capture the Division VI state championship.
The Hornets only attempted 3 passes all game, and that is all they would need as the won the game in the trenches on both sides of the ball. They used a trifecta of runners, including quarterback Tommy Powers who ran the ball 17 times for 70 yards.
While the Flyers may have prepared all week to stop outstanding running back Joey Torok who went for 90 yards on 17 carries. It was Jake Neibecker who amounted for the most yards on the ground. He tallied 107 yards on 17 carries for 107 yards and a touchdown.
The games deciding go ahead touchdown came from Luke Gardner however. He only had 3 carries on the day, but by far the most important was his 7-yard touchdown run with 1:22 to go in the first half, putting the Hornets up for good at 13-7. They would eventually tack on a third quarter 32-yard field goal by sophomore Mario Rodin.
Kirtland Hornet head coach Tiger Laverde was happy for his team afterwards and had this to say about the motivation of avenging last years loss against the Flyers in the state title game, "It was motivation for us thinking back to what happened in the second half last year against them. Our guys work very hard, practicing 6 days a week, sometimes even seven days a week. We don't have open enrolment, we have a great school structure K-12, so these kids look forward to playing for a long time."
All conference running back Joey Torok echoed the sentiments of his head coach, "we wanted to win after what happened last year, and had that extra motivation coming into this one."
The Hornet defense was dominant today, holding the Flyers to just 41 yards on the ground. They also held Flyer quarterback Nathan Bruns in check, as he finished with 187 yards passing and 1 interception with no touchdowns.
After a defensive battle saw a scoreless first quarter, both teams were able to get on the board in the second. The Hornets started the scoring with a Neibecker 1-yard rumble. Capping off the 8 play 55-yard drive.
The Flyers would answer the Hornet score with one of their own as Brandon Fleck rushed in from a yard out to even the score. The Hornets responded with the pre-mentioned Gardner score, to go up for good.
For the Hornets, this is their fourth State Championship, and caps off a brilliant 15-0 season while the Flyers will finish at 13-2.