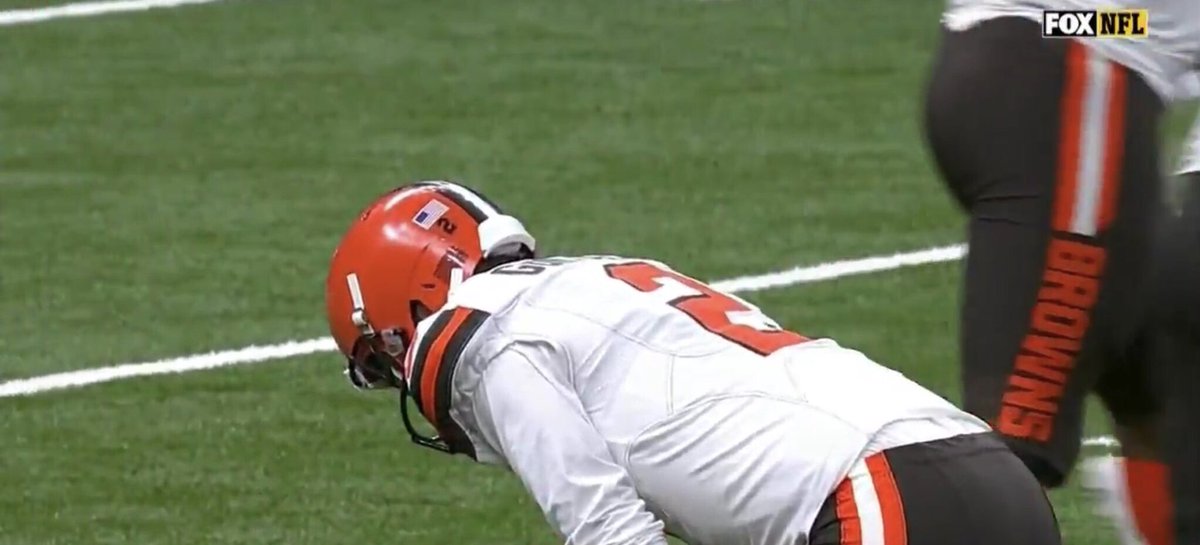 NEW ORLEANS – It's the latest on a long list of losses that Browns fans will remember for all the wrong reasons: Saints 21, Browns 18.
In a game where Cleveland was considered more than a nine-point underdog on the road, in a hostile environment, they kept things close. The defense held a high powered Saints offense to just three points going into the fourth quarter. The offense built a multi-point lead. And yet, with opportunities to potentially win and then tie the game at the end of regulation it ended the same way 32 of the last 34 games have for the franchise, in a loss.
Here are five takeaways from the Browns Week Two loss to New Orleans…
1) Kicking Ain't Easy

Next time you're having a bad day just remember that you could be Zane Gonzalez right now. After having his potential game-winning field goal blocked against the Steelers last week in overtime, the 23-year-old missed two extra points and two field goales, incldung the potential game-tying tying attempt at the end of regulation. It's the type of outing that will haunt Gonzalez forever and it may very well end in him being cut as soon as tomorrow. Think about the fact that Cleveland could very well be 2-0 with better placekicking.
2) Turnover Factory
For the second consecutive week, the Browns defense held their own against one of the NFL's best offenses. Turnovers were a major part of that as they racked up two more fumble recoveries on two of the Saints first three drives. That brings their takeaway total on the season to eight after finishing last season with just 13. That's right, the defense is more than halfway to their entire turnover total from a season ago. Not only that but they tallied three more sacks and kept the Saints out of the end zone until the fourth quarter. Hard to fault the defense for much of anything during Cleveland's 0-1-1 start.
3) Larry Ogunjobi
In that vein, defensive tackle Larry Ogunjobi had himself a stellar day down in the Big Easy. Ogunjobi registered two sacks on the day as he was constantly making life tough for Drew Brees. He finished with four total tackles. This Browns defensive line is just so scary and when a guy like Myles Garrett is drawing double teams it creates opportunities for a guy like Ogunjobi to seep through and make plays.
4) Who needs Josh Gordon
On the eve of Josh Gordon being released it sure didn't look like Cleveland was missing him out on the field. That's because rookie Antonio Callaway balled out in Gordon's place. Three catches for 81 yards and a miraculous 47-yard field goal that put the Browns in position to take the lead with just over a minute remaining in regulation. It was an all-around great day for the man who's workload just got a whole lot bigger. In many respects, fans witnessed a passing of the torch of sorts as the Callaway looks to fill the shoes Gordon couldn't and become a key piece of this youthful Browns team.
Tyrod Taylor finds Antonio Callaway for SIX! ? pic.twitter.com/BCWPGQ7PWL

— Cleveland Browns (@Browns) September 16, 2018
5) How do they do it?
Don't let anyone tell you the Browns aren't exciting to watch. The 2018 Browns are must watch theatrics. Each of the first two contest of this young season has been down to the wire and filled with drama. The only problem is that, per usual, the Browns seem to end up on the disappointing end of things. This loss to the Saints though, was a different animal. There's that joke about the Browns inventing ways to lose, add this one to the list. The Browns have truly turned losing into an art form and it's hard to understand how any team can continue to lose they way they do.
Follow: @Spencito_

NEO Sports Insiders Newsletter
Sign up to receive our NEOSI newsletter, and keep up to date with all the latest Cleveland sports news.