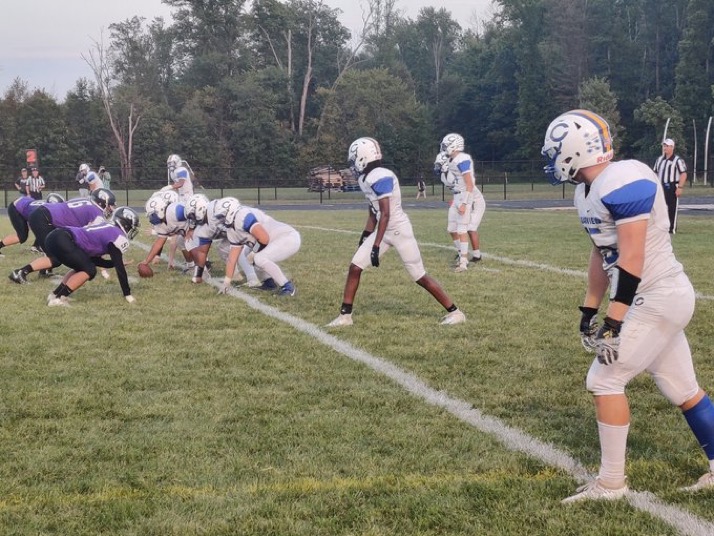 By Mark Perez
LA GRANGE, OHIO – Two juggernauts of the new Lorain County League faced off for the rights to first place in La Grange and an interception by Keystone's two-way player Dylan Naylor sealed the win for the Wildcats as they halted the Clearview Clippers' rally with a 26-20 win in a classic at Keystone.
It's a heavyweight fight gentlemen," Wildcats head coach Don Griswold said.
"We're gonna land some blows; they are gonna land some blows. It's just facts. They had a big play at the end of the first half. It's gonna happen. We're unfazed by it. Because we have a high character. We are battle tested."
Two pitch and catches form Wildcats' quarterback Jacob Shackelford to little brother Ryne Shackelford gave them a 13-0 lead to start the game. These were made possible from two turnovers by Clearview early in their first drives.
The first turnover was a deflected pass intercepted by Jacob Shackelford, who was playing defense for the Wildcats, setting up a nine-yard slant catch in the end zone for Ryne.
Ryne's second touchdown catch was a 64-yard screen as he evaded four defenders on his way for six points.
"It's a brotherhood," Jacob Shackelford said. "We've been throwing the ball since we were what, three-years-old? It's what happens."
"It's always been my dream," he said about playing with Ryne. "It's been my dad's dream. It's been all of our dreams to play together and do this."
A drive that was assisted by a few neutral zone infraction penalties helped Clearview drive down the field as the Clippers' quarterback Chase Christensen ran the ball in to make the score 14-8.
Naylor, their All-Ohioan running back, joined the fun with a 23-yard run through the teeth of the defense to give the Wildcats their biggest lead. 20-8
Before the half ended. Clearview began their rally as Christensen threw a touchdown pass to Joseph Norris with one second remaining to make it a one-score game.
The third quarter was more defensive, but Norris returned a punt for a touchdown in the final seconds, but was called back because of a penalty.
"It's a tale of two halves almost," Griswold said. "When you see two heavyweights like this. A lot of offense early. There might have been a lot of yards in the second half. There wasn't a lot of scoring. But both defenses played really well. I thought both coaching staffs made some positive adjustments at halftime."
Clearview was still able to score on their ensuing drive in the fourth quarter as Hiram Carreras caught an unexpected touchdown with a group of Wildcats in front of him to tie the score at 20 points each.
Norris kept making plays for Clearview as he intercepted Jacob Shackelford on a deep ball with 8:08 remaining and return the ball to almost the 50-yard line.
"After you throw a pick, you can't look down on it," Jacob Shackelford said. "You have to keep going. Next play mentality."
Despite the momentum and Clearviews great field position, the Wildcat's defense was unfazed as they sacked Christensen at least twice in four plays that led to a punt.
Pressuring Christensen was common tonight. Often, he needed to make plays on his feet. Some of the times he did and sometimes he didn't.
"We need a couple more dudes to bring (Christensen) down," Griswold said. "Are you kidding me. That dude is a warrior."
The defense stopping Clearview set Keystone up to have the drive of the game as Jacob Shackelford and the offense drove down the field. This led to the game-winning touchdown for Ryne Shackelford, which was his third touchdown of the night with five receptions and 71 receiving yards.
Keystone goes to 3-1 and their first league win of the season. Clearview's undefeated ended in this loss and is also 3-1.

NEO Sports Insiders Newsletter
Sign up to receive our NEOSI newsletter, and keep up to date with all the latest Cleveland sports news.