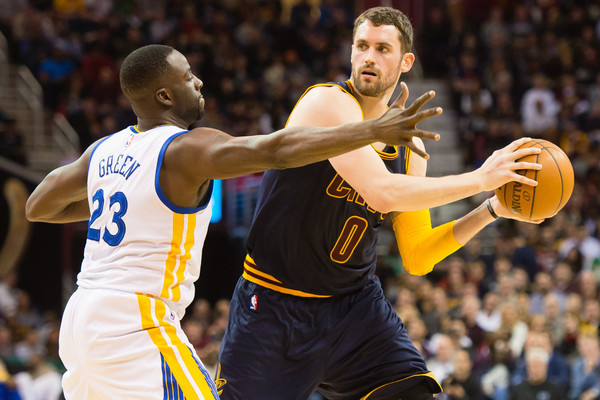 Last night, I wrote a column stating the significance of the rivalry between LeBron James and Steph Curry.
The gist of the article was that whichever superstar player brings home the Larry O'Brien Trophy in 2016 will be viewed as "best player," "top dog," etc.
The supporting casts of those players will be significant, as well. But there are interesting matchups all around the court aside from LeBron vs. Steph.
Of course the Kyrie Irving vs Curry matchup will be fun to watch, but if Cavs fans think Irving is going to be the better player night in and night out in this series, I would venture to say they are basing that more off of faith than off of what we've actually seen happen.
As much as Cavs fans have come to love J.R. Smith, who is capable of exploding for seven or eight threes on any given night, but has some rough stretches in between his outbursts, there's no denying that Klay Thompson is a top three shooting guard in the league, if not the best at the position.
Perhaps one area that is the closest thing to an even matchup on the court is the battle between power forwards, Kevin Love and Draymond Green.
Love has played excellent in 12 of 14 playoffs games this postseason, averaging 17 points and 9 rebounds per game.
He had two terrible games in Toronto, but aside from that has been lethal from three-point range, averaging three made shots from beyond the arc per game, shooting 44 percent from outside.
As for Green, he is much more than just a power forward. Some would say he is the heart and soul of the Warriors. Others would say he's a dirty player who doesn't deserve to be on the court. Maybe he's all of those things combined.
Green has not had a phenomenal postseason, but his scoring and rebounding averages are both up in the playoffs compared to the regular season.
The offense runs through Green a large percentage of the time, as he is averaging 15 points, 10 rebounds, and most impressively for a 6'7″ forward, 6 assists per game in the playoffs. It's worth noting that he averaged 7.5 assists per game in the regular season, so perhaps Golden State has veered away from some of what made them so successful in the regular season.
Watching the Western Conference Finals, there were countless times where Thompson and Curry launched up threes after little to no ball movement, but the scary thing from a Cleveland perspective is that a lot of those shots went in.
Regardless, even if Cavs fans hate Green, even if he has not played his best basketball in the playoffs, he is a force to be reckoned with and there's no doubt Cavaliers head coach Tyronn Lue has been putting a significant emphasis on how to deal with Green on both ends.
One of the most interesting aspects of the Love vs. Green matchup will be seeing how the Warriors forward tries to get under the Cavalier's skin.
Love is somewhat of a streaky player and although it's impossible to know what goes through his head, it's clear that there are times where his confidence is higher and he's making shots, and other times where he passes up on good looks, many of which come during games where he is not hitting the same amount of shots as he's used to.
The Cavaliers as a whole have been trying to boost Love's confidence throughout the season. LeBron has given mention to Love in post-game press conferences, saying how vital he is to the success of the team, even referring to him as an "All-Star," despite being snubbed from the honor in 2016.
Recently, Coach Lue called Love a "top 10 player" in the league. That's some high praise and highly debatable, but it shows that the coach is giving praise to his guy and maybe trying to give Love a bit of an ego boost.
On the flip side, Green plays with a huge chip on his shoulder. He's cocky. Arrogant. Use any adjective you like, but the bottom line is that it's clear that his energy, along with his great play, feeds the team immensely.
When Green gets fired up, the crowd gets fired up, whether at home or away. When Green gets fired up, his teammates are even raised to another level.
But let's get back to the more tangible statistical elements of this matchup.
Love has a reputation of being a poor defender. It's not as bad on a nightly basis as some would make it out to be, but there's some validity to the claim.
Love's defense at the rim, where he will likely be dealing with Green in this series, leaves much to be desired. In the regular season, Love's opponents' field goal percentage at the rim is 54.3 percent. For the record, Green's opponents' field goal percentage at the rim was 46 percent.
Perhaps we see LeBron guard Green at times in the series if this liability rears its ugly head.
On the other side, it's safe to expect Green to be guarding Love for the majority of the series.
Both of these players have different strengths and weaknesses, different styles of play, and different personalities.
Love is more of a calm, cool, and collected shooter. Love has a soft touch from thee-point range and has a nose for rebounding on the defensive end.
Green has a fiery personality, wears his emotions on his sleeve as loudly as possible, talks trash, doesn't care if he's boo-ed by fans, and in some ways is a poor man's version of LeBron, with less offensive skill. That's not a slight at Green. He was an All-Star for a reason.
The two polar opposite skill sets and personalities makes this a great matchup to watch and whichever one performs best under pressure, maintains their composure, and provides that lift that a third star is supposed to, could end up being one of the most important keys to the outcome of the series.

NEO Sports Insiders Newsletter
Sign up to receive our NEOSI newsletter, and keep up to date with all the latest Cleveland sports news.