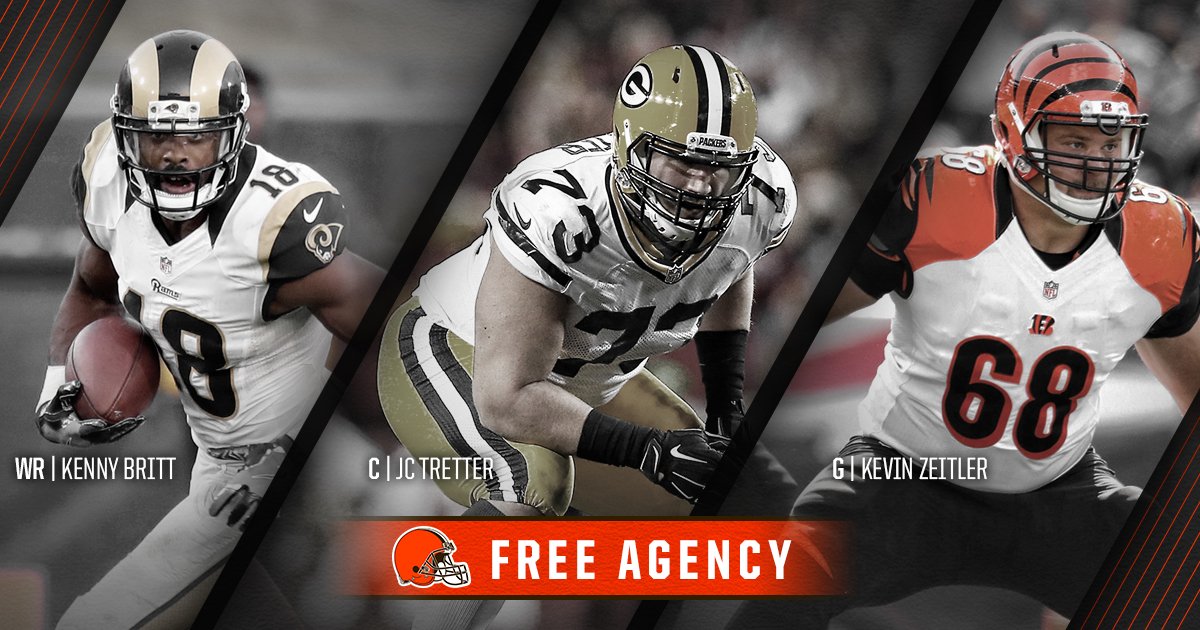 This past Thursday the Cleveland Browns signed three free agents for the upcoming 2017 NFL season. The Browns started off the day signing wide receiver Kenny Britt, followed by center J.C Tretter and rounded out the signings with guard Kevin Zeitler.
Kenny Britt had this to say on why he signed with the Browns:
"To tell you the truth, a lot of things weighed in all the way from what was the best for my family and to the coaching staff. I really like Hue Jackson and the direction he has the program going. I wanted to be a part of this. I wanted to be a part of the rebuilding and what they have going on."
Britt also commented on if he embraces the challenge of filling WR Terrelle Pryor's shoes with the Browns:
"I'm not filling in anybody's shoes. I have my own shoes to fill to tell you the truth and walk around in. Whatever he did here was on him, and good luck to his career and his success that he had here, but right now, it is moving forward. We have the players that we have here and who is going to be on the sideline that we are lining up with each other. That is our main focus is us and who is going to be here."
J.C Tretter yesterday signed a deal with the Browns for 3-years worth $16.75 million. The Browns made the move so that they can have an upgrade from Cameron Erving, who played center in the 2016 season after Alex Mack left the team. Erving had to move from guard to center which was not an easy move.
J.C Tretter commented on what drew him to Cleveland, given the Browns 1-15 record last season and uncertainty at QB:
"You start from my position, being on the offensive line, you look at the guys they have in that room already with Joe Thomas and Joel Bitonio. When you can surround yourself with great players, you have to look at that opportunity. Obviously, you add Kevin Zeitler into that and you have the potential to be a truly great line and really mesh together and build something special. That opportunity to come in and play center and play with the guys that I'll be around and in that room is an opportunity that you can't really pass up."
Tretter also commented on playing between Joel Bitonio and Kevin Zeitler:
"It will be great. Obviously, when I was in Green Bay, we had (former Packers and Bears Guard) Josh Sitton and (Packers Guard) T.J. Lang so it is great surrounding yourself with players at the top of their position. That is what you have here now. Whenever you have guys who are as good as it gets in the league right now, you have the opportunity to really go out there and succeed, and I think everybody really raises their level of play as you increase the talent in the room. I think people will also begin to play better around because they will be playing up to the expectation of other players."
Kevin Zeitler signed a 5-year, $60 million contract with the Browns on Thursday. The deal that Zeitler signed makes him the highest paid guard in the league at the moment.
Kevin Zeitler commented on his decision process and the ultimate factor that led to joining the Browns:
"My agent kept pretty quiet about this whole process. He was like, 'Hey, let me do my work. This is why I am here.' He kept me updated, and it sounded like a bunch of teams jumped in early. It sounded like the Browns and Saints separated themselves late into the process. When it came down to signing, the Browns definitely wanted me the most. Hue definitely wanted me. They made the best deal, too, which obviously was a factor, but the fact that Hue is here and everything, it just made sense. I know the offense partially already. It was the best fit. It really was. I am excited to get to work."