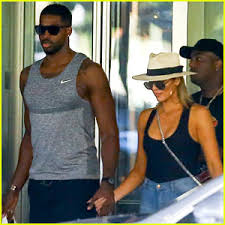 So, it begins.
Tristan Thompson has had a very eventful year. New contract, winning the NBA championship and finding love….well, so it seems. The big man out of Texas has been the talk of the town off the court.
Tristan has been dating Khloe Kardashian, a member of the famous Kardashian family. Though known more so for their reality TV show, they have been known for dating other celebrities. Khloe has had a list of NBA Players that she has dated. Kris Humphries, Lamar Odom and James Harden just to name a few. Some have said there is a bad aura when dating a Kardashian, which is kind of ridiculous. How much can one truly affect a player's game due to her just being around? Come on.
But, the serious thing going on is Tristan is starting to get some heat from his teammates due to who he is dating. Before opening night, Tristan had a talk with the team, telling them Khloe can come to any game she wants. He also told LeBron that she is is his good luck charm. Thompson said he would considering telling Khloe to stay back if they lost that game. Obviously, the Cavs won that night against the New York Knicks.
I don't see there being a problem unless Tristan and the Cavs' game starts to suffer. Until then, this will just be a story to hear about when the Cavs are on an off day.

NEO Sports Insiders Newsletter
Sign up to receive our NEOSI newsletter, and keep up to date with all the latest Cleveland sports news.