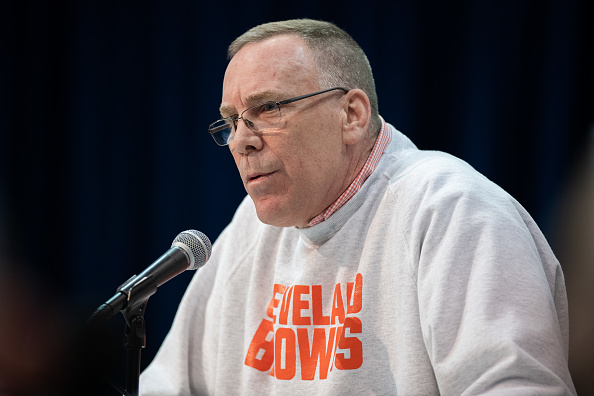 For once here in Cleveland, there was more excitement about the Browns 2019 schedule being released than the NFL Draft. That's because not only can the Browns finally say they have a franchise quarterback, but they also traded their first round pick in this year's draft to acquire star wide receiver Odell Beckham Jr.
As things currently sit, the Browns won't make a pick in next week's draft until the second round, where they hold the 49th overall pick. That, however, could change.
Speaking with the media one final time before the NFL Draft, Browns general manager John Dorsey reiterated that he's open to the possibility of trading back up into the first round.
"You always do your due diligence just to see what is the possibility of going up or what is the possibility of going back," Dorsey explained. "I think you have to play that year in and year out to be consistent with regards to that.
"If I deem it will help the Cleveland Browns, surely I will do that if it helps the organization moving forward, but the compensation on the back end cannot be outrageous. It has to work on both sides."
The decision will depend largely on how the dominoes fall on Thursday night. If a certain player they love with first round value is still available at a spot the Browns can get to, they'll explore a trade up.
Unfortunately, it's impossible to know exactly what that would look like until it plays itself out on draft night but in the days leading up to it, Dorsey and his staff will kill time mocking dozens of scenarios simulating what it could look like. With each one, they'll weigh what they'd be willing to give up.
"When you make a decision, it helps to have as much information as you possibly can. We are going to have conversations with regards to that," he said. "I think it is important to talk about scenarios and how they may unfold. Once you get into the moment of that draft, things move very quickly so you better be ready to make those decisions very quickly, and hopefully, you have worked out all of the different scenarios that could possibly come up."
Of course, all those scenarios are only hypothetical. Dorsey could get to draft night and decide to wait things out if things don't fall the way they like. Trade or not, Dorsey's has an overarching goal to improve the team in mind.
"We are trying to get as many competitive football players to help this roster moving forward and to help contribute for the 2019 season," Dorsey stated. "You can't have enough good football players. At the end of the day, I would like all eight of [our draft selections] to be starters, but reality says that is not going to happen. You just want to try to get as many good, competitive football players as you can."
There are plenty of good football players to go around in this year's draft, even in the second round if the Browns do end up sitting tight. Defensive line in particular is one of the stronger position groups in this year's class.
Interestingly, Dorsey brought up a few other position groups that boast a lot of talent.
"If you look at the wide receiver position, I think there is depth on all fronts at the wide receiver position," he said. "I think there is depth at the running back position. I think there is depth at the quarterback position, as well."

NEO Sports Insiders Newsletter
Sign up to receive our NEOSI newsletter, and keep up to date with all the latest Cleveland sports news.