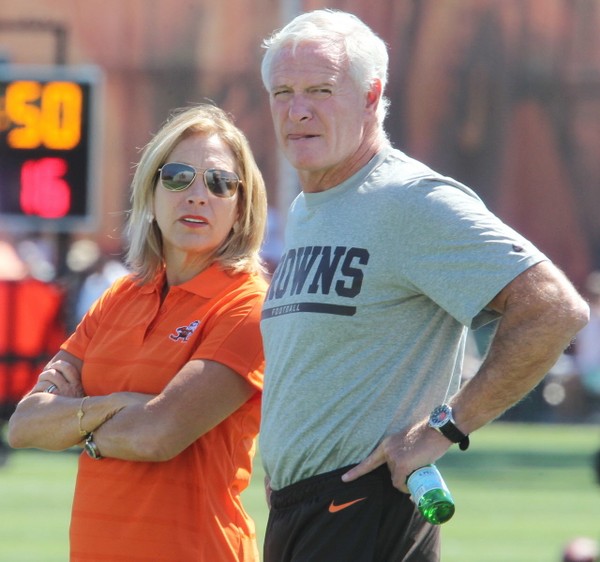 Berea- Jimmy and Dee Haslam talked during a press conference today before training camp.  Jimmy and Dee were asked if they would say the Browns will make the playoffs as many players have predicted.
"We would echo (Head) Coach (Hue) Jackson's comments. We are excited to see their excitement and their optimism but a long way to go and a lot of work to do," Jimmy said.
Jimmy Haslam talked about being 'really pumped about the players that are here' but wasn't willing to guarantee a playoff birth. It would seem like common knowledge not to guarantee anything after a 0-16 season even with the added talent.
Instead of promising playoffs, Dee Haslam said Browns' fans will see improvement.
"I think you can realistically expect progress. That is what we feel like. We have already made a lot of progress. We realistically feel like we will have progress this year."
Although ensuring fans they will see progress, Dee couldn't describe exactly what kind of progress will be seen, "That is hard to define right now – progress. I think that we are going to see a lot of progress among our players. I really do."
Dee Haslam talked about moving on from losing seasons and praised the fans for sticking with the team, "Our fans have been unbelievably supportive. Cleveland is just the greatest town to be in if you are a football organization. We have great, loyal fans. I really believe that there is a lot of energy. It is a really great team that has been assembled. We really have not thought about the past. We have been looking towards the future. It is pretty easy because the excitement that we have here and the players that we have here, and the coaching staff is really excited."
Dee Haslam acknowledged that the losing has taken a toll on the fan base, "Absolutely, I think you always worry about your fan base. That is one of the things that we talk about a lot is taking care of our fans. I think you worry about your fan base, but this is an unbelievably loyal fan base. The Browns fans are just incredible. We are just kind of overwhelmed with how enthusiastic and loyal they are as a group of people."

NEO Sports Insiders Newsletter
Sign up to receive our NEOSI newsletter, and keep up to date with all the latest Cleveland sports news.