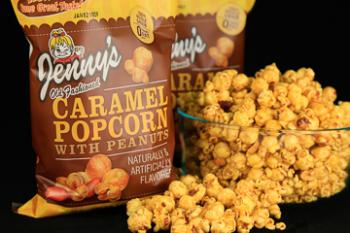 https://www.facebook.com/jennyspopcorn/https://www.jennyspopcorn.com/
NEO Sports Insiders is proud to welcome Jenny's Old Fashion Popcorn into the mix this High School Football season. As many of you know who vote weekly, the High School Football Player of the Week ballot is amongst one of the most popular things we do here at NEOSI, and now Jenny's will be the official sponsor of that coveted and highly viewed article.
Need further proof of how popular these articles are? Simply scroll to the far right of your screen and you will see the thousands of votes collected each week on it from last season's games.
You can find them locally, at their Snack Shop in North Ridgeville and in Giant Eagle, Drug Mart, convenient stores and gas stations. They also supply Browns Stadium. You can also shop online at website www.jennyspopcorn.com. https://www.facebook.com/jennyspopcorn/ or you can follow them on Instagram at jennys_popcorn
We are honored to have Jenny's Old Fashioned Popcorn aboard with us moving forward. I recently sat down with owner Jenifer McGuire, a North Olmsted graduate, an avid Cleveland sports fan, to learn a little more about the company as well as her passion for Cleveland sports!  Speaking of Cleveland sports, don't be surprised to see Cleveland Browns legend Doug Dieken looming around when you visit, as he is a big fan! With 20 existing flavors, and 5 new ones on the way, Jenny's is the place to be!
You can visit their website by clicking here https://www.jennyspopcorn.com/
What year did you start your business? It was started by my Grandmother in the 1950's; my father took over in 1961 and my brother and I purchased it in 2007.
What was your passion behind it, why did you do it? Popcorn is a family tradition! Our grandparents started popping at home and selling it to local schools. When my grandmother was widowed, she opened the original Poppee's Popcorn storefront to support her family and raise her three children.
My father took over and developed the business into a wholesale manufacturer of both popcorn and extruded snacks. My brother and I purchased the business in 2007 and have continued the tradition!
We grew up around the business and couldn't imagine doing anything else! As a family business, we love the connection we have to the local community. Everyone has memories that involve popcorn: baseball games, going to the movies, birthday parties. Plus, I love popcorn!
What are some of your favorite sports memories? The Cavs winning the Championship! Going to Indians games in the summer with my friends at the old stadium; The Browns return to Cleveland (and the countdown clock in Tower City); Cleveland Force games at Richfield Coliseum; The Indians in the World Series! Many years of games, fun, heartache and joy!
Why do you feel Cleveland Sports Fans are so passionate? We are a very loyal fan base and truly believe the saying – "There's always Next Year!"
What will a customer get to experience when walking into your show area / store?  Once a customer steps in our Snack Shop, they will experience mouth-watering smells of all our different flavors. Luckily, samples of all the products are available to help you make up your mind!
Visually, the décor has a nostalgic feel – an ode to my grandmother – with an old school red and white checkered floor and wall to wall popcorn. Even our logo has a throwback look with a very young Jenny included!
Need further proof of the taste explosion and overall fun that comes with Jenny's?  Take a swing by their Facebook page and see for yourself!
https://www.facebook.com/jennyspopcorn/

NEO Sports Insiders Newsletter
Sign up to receive our NEOSI newsletter, and keep up to date with all the latest Cleveland sports news.