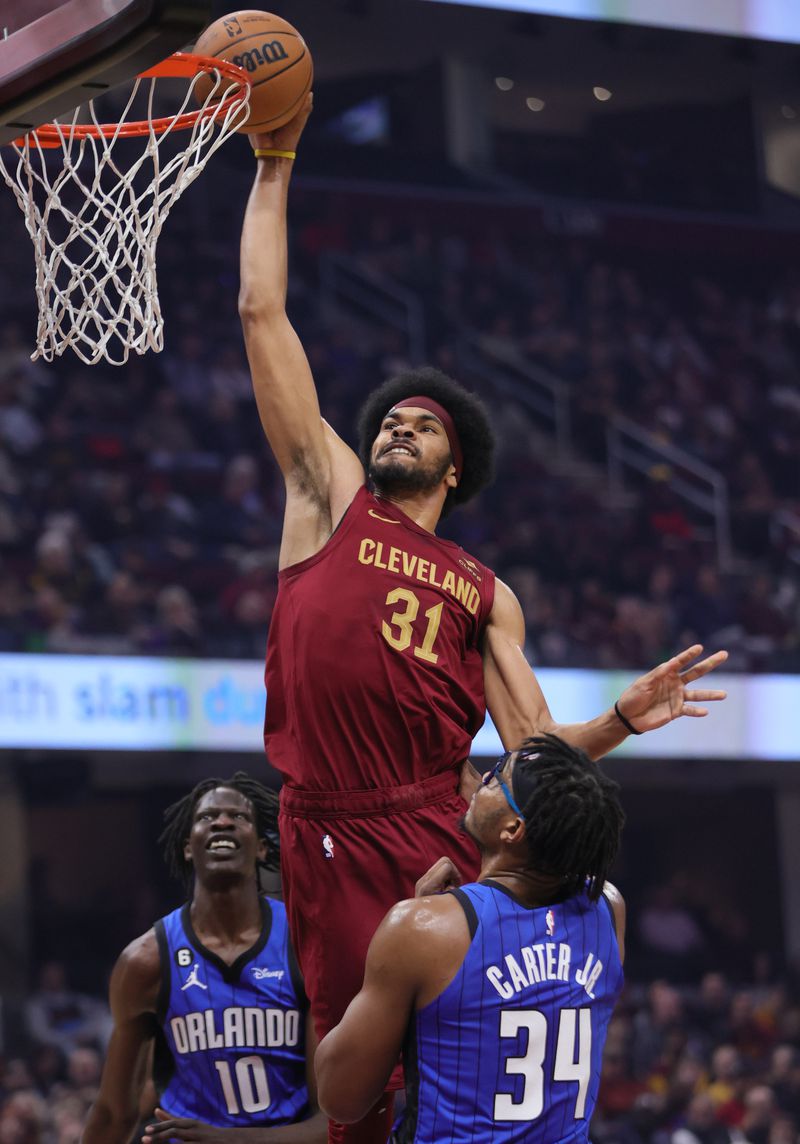 Jarrett Allen was recently asked if he watches video of the teams the Cavaliers might play in the playoffs. 
"I can't watch these games because of the blackout dates on NBA TV!"
It's this type of humor and intelligence that have made the six-year center from San Diego not just a team favorite but a fan favorite!
Family
Jarrett was born in San Diego. His dad, Leonard Allen, was a four year starter at San Diego State University and was drafted by the Mavericks. He was told to head to Europe and work on his game so he left for Spain.
He spent one year overseas.
Jarrett inherited dad's 6'11 frame, so when the family moved to Texas, Jarrett played one year at round Rock High School in Texas then transferred to St Stephens Episcopal School. Coming out of high school Allen was rated as a five star player and enrolled at the University of Texas in Austin.
He only played one year in Austin as the team struggled under 2nd year coach Shaka Smart and finished in last place in the Big 12. Allen decided to make himself available for the NBA draft for 2017.
Professional Career
Jarrett was drafted by Brooklyn with the 22nd pick in the draft, just a few behind his now teammate, Donovan Mitchell who went to Denver at 13.
He started 20 games for the Nets that year and became a starter near the end of his rookie campaign. In his three full years with the club, Allen's points, assists, and rebounds increased each year.
In the two playoff appearances for Brooklyn, Allen averaged a double double (10 pts/10 rebounds/1 block) per game.
But in 2021, the Nets had an opportunity to pair Kyrie Irving and Kevin Durant with James Harden, so one of the biggest, craziest trades went down. It actually involved not just Allen, but his current mate, Caris LeVert, as the Nets traded Allen and Tauren Price to Cleveland while the Pacers ultimately received LeVert. There were many more bodies involved, but Allen has been a mainstay for the Cavs since joining the club.
Cleveland
Jarrett was penciled into the starting lineup as a center and has found a home in The Land. He immediately showed his worth with rookie Evan Mobley and Darius Garland forming a strong triad of guys under 24 years of age!
Before breaking his finger in March of 2022, the Cavaliers were the talk of the NBA and the ALL STAR festivities in Cleveland, winning the team skills challenge. Allen was named an ALL STAR replacement for, ironically, James Harden.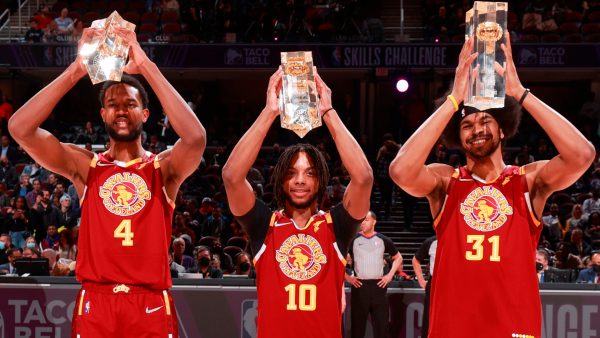 Allen had his best season to date with his best numbers: 16.1 points, 10.8 rebounds, and 1.3 blocks per game on 32 minutes per game.
But his injury and the injuries to Ricky Rubio and a myriad of others saw the Cavaliers make the play-in tournament but lose games to both Brooklyn and Atlanta to end their season. Another year without a postseason.
2022-23
As of today, the Cavaliers have since qualified for the playoffs as right now the 4th seed. Their opponent will most likely be the New York Knicks. Jarrett has been nursing a groin injury but has been one of the best interviewers for the media the entire year. Here are some of his takes.
(Last time sans LeBron Cavs in the playoffs. Here's the comparison for the starting 5.)
On Aggressiveness
Since the beginning of February, media pundits and fans were lamenting the Cavs were a soft team. Allen mentioned that it is an area they have made a focus on since early February. "We are learning how to be more aggressive. JB has said, 'If you make a mistake try to make it up with effort.'"
"We have been more methodical with our approach."
Allen even mentioned that since the all star break, the club has refocused.
"[This] was the time you switch your mindset. Every game NOW has meaning."
JYD chain!
On His Role With the Club
This club has bought into Bickerstaff and his coaches approach to defense.
"We work in practice every day on verticality (defending not just three point attempts but shots around the rim by jumping straight up and hands back), keeping our hands out of the cookie jar."
He has specifically been honing his skills in knowing when to stay and guard the hoop and when to defend when his man pops out to the 3 line.
"[I know] it's not just protecting the rim all night. I need to [be aware] and ready for both."
JARRETT ALLEN GOT ALL OF THAT 🖐️ pic.twitter.com/uNxbUfO0IR

— NBA on ESPN (@ESPNNBA) March 27, 2023
On His Big Mate, Evan Mobley
Never forget that the Rockets took a pass on both Jarrett Allen (Harden trade) and Evan Mobley (draft).

Cavs owe them this much 😂 pic.twitter.com/BAVGhqFOlf

— NBA Memes (@NBAMemes) March 27, 2023
(Imagine, Houston passed on these two!)
Many in the media question how Allen and Mobley continue to work well together. Jarrett had much to say on his partner in rim defense! For example, Mitchell was asked what makes the team successful. He responded that the team works well when Evan and Jarrett are firing well. Allen was surprised.
"I thought it was the opposite! 'How we go is how our guards go.' But that shows you how we feed off each other's energy."
"It feels like (Evan) all of a sudden, he's turned the switch on. Evan's become more physical [and mentally strong]. He knows where to be at the right time. Knowing the coverages. Evan knows when to be up or down for the screen. He just has a great feel for the game."
Often when Allen sits, Mobley moves to the 5 role. "He's more comfortable at the 5 when I'm out. Heck, he could even do well at the 3!"
Jarrett mentioned how even keel Evan is. "In a game, you look up and he has 25 point, 14 rebounds and 4 blocks. And you wouldn't know it [from his expression.]"
On Home Field Advantage For the Playoffs
"It was extremely important for us to get home field at Rocket Mortgage." When asked to expand, he said: "Momentum… It's a real thing."
"We are still on an uphill trajectory! Our progress has been good, but [that homefield advantage]…it's big for the Cavaliers."
On His Humor
Two comments recently reflect how he has arguably taken on the role of keeping things light after GM Koby Altman moved Kevin Love to Miami, a role KLove had according to Allen.
On if he has better footwork or hands: "I have better hands with some of the passes some of our guards have been giving me!"
On when he gets a haircut: "When [I stick my finger in] and my hair goes to my knuckle!"
I've never seen Jarrett Allen make an angry face before 😂

— Abby Mueller (@abby_mueller_) March 26, 2023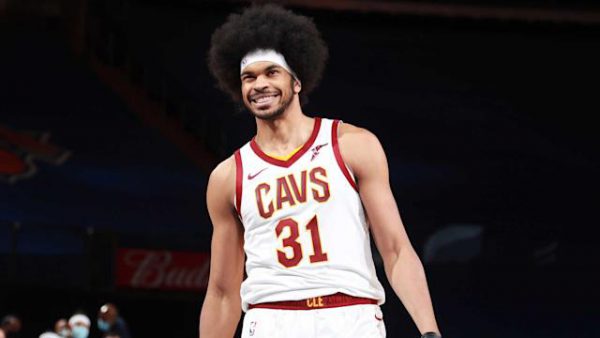 His Worth
His worth to this club and how the fans have embraced the soon-to-be 25 year old can't be measured exactly, but you can look at metrics. Allen is the #9 ranked center in Fantasy Basketball and is currently rostered on 90% of fantasy teams.
But here is his true worth using the NBA's Advanced Metrics. From the 2017 draft class, Jarrett Allen has the highest win shares for 48 minutes at .208! The entire NBA average is .100! This eclipses the fellow '17 draftees of Jayson Tatum (.181), Bam Adebayo (.134) and Lauri Markkanen (.176).
In fact, Allen is in the top 10 in this category. Sitting behind him? The Bucks Giannis Antetokounmpo!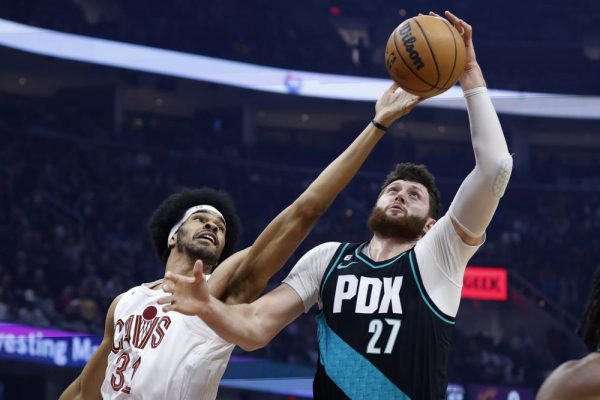 Koby Altman said he didn't make a move at the trade deadline because "there is value in continuity."
There is value in Allen! Measurable or not! The fans know it, his teammates know it. He even mentioned how he felt when traded to Cleveland: "It feels good to have a team want you."
Get healthy, big fella! When the playoffs come, the entire NBA will see your true value to this club!
Share your views on Jarrett in the comments! Sharing…is caring!

NEO Sports Insiders Newsletter
Sign up to receive our NEOSI newsletter, and keep up to date with all the latest Cleveland sports news.