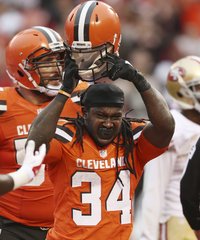 When the Cleveland Browns went out and spent on their offensive line this off-season, few more could be excited than Isaiah Crowell. The fifth-year running back out of Alabama State had put together the best year of his young NFL career in 2016, compiling 952 yards in last year's campaign for the Browns. Just thinking about all the damage Crowell what do to opposing defenses was fun to think about.
Think again.
After three games, Crowell has mustered up 114 rushing yards. There is no power behind his runs, no burst of speed, no big plays. It is quite puzzling trying to figure out why this could be. After adding Kevin Zeitler and J.C. Tretter to accompany Joe Thomas and Joel Bitonio, Crowell should have green pastures to gallop through, making the highlight plays that we saw last year on a more consistent basis. What could it be? What could have slowed down Isaiah Crowell?
Could it be the teams he has faced?
I don't think so. Though he faced some stout competition in Pittsburgh and Baltimore, Crowell has shown he can have big days against those two teams. Last year, Crowell rushed for over 100 yards in at least one game against both division rivals. For the Indianapolis game, I look at the back end of defenses for reference. For that, I went with three Washington Redskins' defense. In that game, Crowell went for 120 rushing yards on 16 carries while finding the end zone once in the game for the Browns. So that point isn't valid.
Could it be the lack of carries?
Let's just put an end to whatever debate will try to be entertained here. In three games, Crowell has averaged twelve carries a game.  Surely his average must've been way higher last year, you're probably saying right now. Nope. In fact, Crowell's magical season from last year was done off of the same average of carries: Twelve.
So it's quite confusing to try figuring out why Crowell is struggling to find success. This is the first year in the last three seasons that he's had the backfield all to himself, as Duke Johnson Jr. has transitioned to more of a wide receiver. Sure, Crowell hasn't received twenty carries in a game and he has played two tough AFC North defenses but the points above squash all of those arguments.
With Crowell seeking a new contract by the end of the season, he sure isn't putting himself in good favor to remain a Cleveland Brown next year. With a lot of options in free agency to choose from along with a talented running back class this year, it might be gut-check time for the "Crow".

NEO Sports Insiders Newsletter
Sign up to receive our NEOSI newsletter, and keep up to date with all the latest Cleveland sports news.