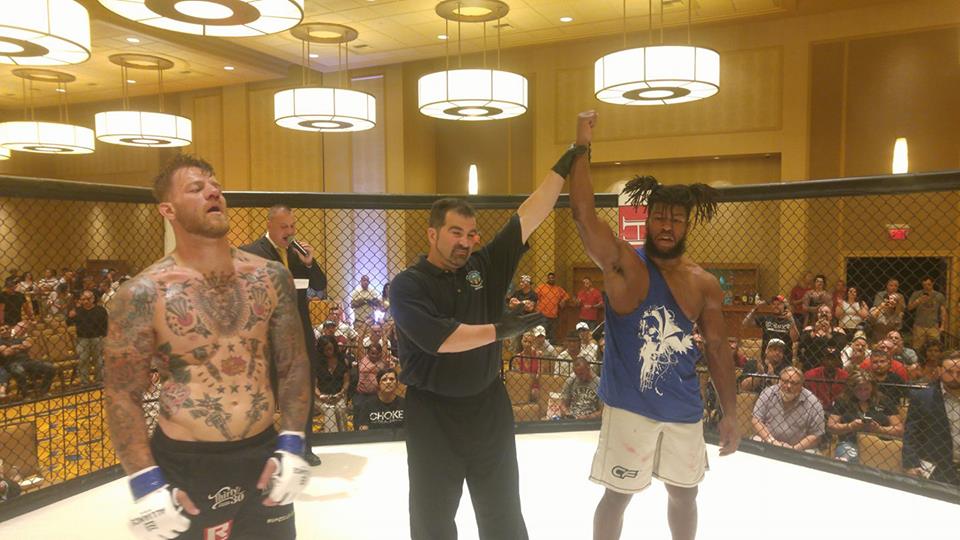 This MMA preview is brought to you by the official sponsor of all things MMA and Boxing at NEOSI, the world class Workout Factory. You can visit them in person, and get the best workout of your life. They are located at 5508 Ridge Rd, Parma, OH 44129.
Call today to schedule your first visit 440-476-6470.
You can visit them on line here – https://www.workoutfactory.com/
Iron Tiger Fight Series
June 2nd, Hollywood Casino
Official results
Klevon Hill vs Stephen Hale
Decision –  Hill by second round stoppage.
Summary – After a close first round that saw Hale get the slight edge on the ground, Hill came back strong in the second.  Hill worked for the ground control advantage until finally getting it.  Once on top he delivered enough shots in a row for the referee to stop it.  The shots weren't exactly devastating by any stretch, but enough to get the job done.
Cody Jenkins vs Tad Vela
Decision – Vela by UD 30-27, 30-27, 30-27
Summary – Tad Vela used the same game plan for all 9 minutes of this fight and it worked.  Took Jenkins down, laid on him, didn't let up, and scored enough points to win.
Jeremy Langley vs Donnie Scott
Decision – Scott by tap out at 58 seconds of the first round.
Summary – This one was never close as Scott took Langley down and went right to the ground and pound.  Scott got the tap out by consecutive strikes.
Greg Spivey vs Boris Pattison
Decision – Spivey by rear naked choke at 1:38 of the first round.
Summary – Pattison went for the traditional touch of gloves to start the fight.  Spivey wasn't having it and instead decided to bull rush him.  Pattison never recovered and a little over 90 seconds later it was over as Spivey took his back, flattened him, and then choked him for the win.
Ryan Santana vs Sean Foster
Decision – Foster by UD 30-27
Summary – This was a great fight that could have went either way.  I had it 29-28 Santana on my card.  Both men looked great on their feet and on the ground.  Santana tried several times to lock in a heel hook and came close to sinking it in.  Sean did enough damage at the end of the third round in a late flurry to sway the judges.  Again, keep an eye on both of these excellent fighters fight fans, they are both ones to watch.  This was the fight of the night as both men unleashed a full arsenal of talent.
Sam Lemin vs Jimmy Sandlin for Welterweight Championship
Decision – Lemin by leg lock at 19 seconds.
Summary – If you blinked, you missed it!  Lemin grabbed a leg after Sandlin rolled through the initial knee bar attempt.  From there, it was over quickly as Lemin locked in the leg and Sandlin was tapping seconds afterwards.
Daniel Hague vs Karic Cecutti for the Bantamweight Championship
Decision – SD 29-28, 29-28, 29-28
Summary – A good matchup all the way around.  In the end, Hague did enough to pull out the slim margin of victory.  If Hague can improve his stand up, he can become a very dangerous man. He is excellent on the ground.  Hague has unlimited potential and also the pedigree to go far.
Jordon Beverly vs Ryan Shough for the Heavyweight Championship
Decision – Shough by KO at 1:11 of the first round.
Summary – These two big bulls went at it in a slugfest.  It didn't take Shough too long to corral Beverly however, as he knocked him out with a thunderous hook at just over a minute in.  Shough hits like a mule!
Chris Beal vs Aaron Bush
Decision – Bush by knockout due to strikes at 1:45 of the first round.
Summary – Bush picks up another win as a pro.  It was nice to see him go for the kill and not rely on a win by decision.  Bush is improving each time out and it showed tonight.  He took Beal down with ease and pounded out the victory.
Main Event
Travis Davis vs Dom Steele
Decision – Steele by UD 29-28 across the board.
Summary – This fight was dead even until mid-way through the second round when Steele landed some powerful knees to the solar plexus of Davis that changed everything.  Steele poured it on in the third period as well, and with the help of several takedowns, went home with the Main Event win in an excellent fight.  For Steele, that was the 17th win of his pro career.

NEO Sports Insiders Newsletter
Sign up to receive our NEOSI newsletter, and keep up to date with all the latest Cleveland sports news.