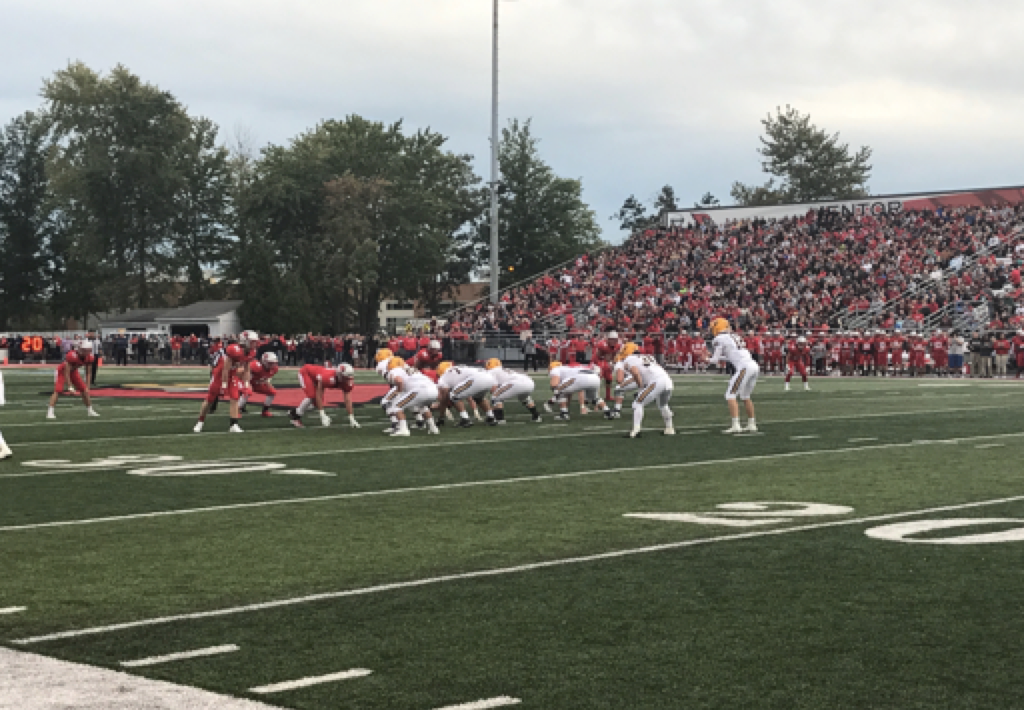 MENTOR, OHIO- It was a perfect Friday night for one of the biggest high school football games of the year. St. Ignatius and Mentor are not just two of the top teams in the area, but in the state of Ohio as well. There was plenty of raw emotion in Mentor as Jerome T. Osborne Stadium was sold out, to see two powerhouse schools face off early on in the year. It was St. Ignatius that came out with a statement win in Mentor Friday night.
The game didn't start off how you would of thought it would. Both teams struggled to get things going as the first five possessions of the game all resulted in a punt. St. Ignatius opened up the game with a 32-yard field goal by Matthew Trickett. The first quarter just consisted of both teams adjusting to one another, but things would start to pick up in the second quarter.
The second quarter is where Ignatius started to slowly pull away from the Cardinals. Mentor started to play a little sloppy as turnovers and poor play resulted in scores for the Wildcats. St. Ignatius scored 21 total points in the second quarter, behind Kyle Hall's two touchdown passes. The Wildcats got a lot of their points off of miscues from Mentor, and that was a big part of the win Friday night.
"That's what good teams do," said head coach Chuck Kyle, "You get your break, you get your opportunities. You have to make it happen."
The defense for the Wildcats was stellar in the first half, but the talk of the second half (and the reason St. Ignatius pulled away) was senior quarterback Kyle Hall. Hall hit fellow senior Sam Snyder for a 24-yard touchdown pass as time expired in the third quarter. That seemed to put the dagger on the Cardinals chances of a late rally comeback as Ignatius carried all the momentum heading into the fourth quarter.
"Kyle shows really good leadership, he is a track guy so he can get out and run a few times, which helps us out a little bit," Kyle said after the game. "He had a couple of disappointments and then started to iron it out and see things better. He had some nice passes, which got us the momentum back, which was key."
The running game for Ignatius also came alive after the slow start. Senior running back Mark Bobinski led the rushing attack all night, as he turned 23 carries into 99 yards and a touchdown. Junior running back Jahadge Floyd had himself a big series running the ball early on in the fourth quarter. Carry after carry he pounded for yards, which ultimately turned into a nice 10-yard touchdown run early in the fourth quarter to seal the deal for the Wildcats.
Friday night's contest was another big win for Kyle and the Wildcats. Starting the season off with two key wins against top-10 teams in the area shows that this St. Ignatius team can really compete with the best of the best. Coach Kyle has himself a special group of seniors leading the way as another state championship appearance is very possible if they keep up the stellar play on both ends of the field.
"Lets just keep doing what we can do," said Kyle. "This was a playoff caliber game, and it was nice to win. We've come out on a losing end against them and there is so much to learn from that film to get better. To be pressed like this against Mentor, you have to find things to work on and that's good. Both teams are going to get better because of this game."
| | | | | | |
| --- | --- | --- | --- | --- | --- |
| Team | 1 | 2 | 3 | 4 | Final |
| St. Ignatius | 3 | 21 | 7 | 10 | 41 |
| Mentor | 0 | 10 | 14 | 7 | 31 |
St. Ignatius: Matthew Trickett 32-yard field goal 1:56 of 1st 3-0 Ignatius
St. Ignatius: Mark Bobinski 2-yard TD run 8:10 of 2nd 10-0 Ignatius
Mentor: Conor Mcintosh 22-yard FG 5:51 left of 2nd 10-3 Ignatius
Mentor: Tatarunas 13-yard TD pass to Logan Shea 3:12 left of 2nd 10-10 tied
St. Ignatius: Kyle Hall 28-yard TD pass to Sam Snyder 2:55 left of 2nd 17-10 Ignatius
St. Ignatius: Kyle Hall 12-yard TD pass to Michael Brobnick 0:25 left of 2nd 24-10 Ignatius
Mentor: Tatarunas 5-yard TD run 9:03 left of 3rd 24-17 Ignatius
Mentor:Tatarunas 17-yard TD pass to Luke Floriea 6:32 left of 3rd 24-24 tied
St.Ignatius: Kyle Hall 24-yard TD pass to Sam Snyder 31-24 Ignatius
St.Ignatius: Jahadge Floyd 10-yard TD run 9:04 left of 4th 38-24 Ignatius
St.Ignatius: Mathew Trickett 42-yard field goal 4:48 left of 4th 41-24 Ignatius
Mentor: Tatarunas 46-yard TD pass to Steven Baird 4:21 left of 4th 41-31 Ignatius
Player of the Game:
St. Ignatius Senior QB Kyle Hall
Another win turns into another solid performance by the 6'3 quarterback. Hall took some early hits as Mentor gave it their all early on in the contest. But he stayed poised in the pocket and made some big time plays to help carry their offense as the game transitioned.
Kyle Hall finished the game completing 14 out of his 30 passes, while throwing for 301 yards and three touchdowns. The key score for Hall and the Wildcats came at the closing seconds of the third quarter. After that, it was all St. Ignatius from that point on.

NEO Sports Insiders Newsletter
Sign up to receive our NEOSI newsletter, and keep up to date with all the latest Cleveland sports news.