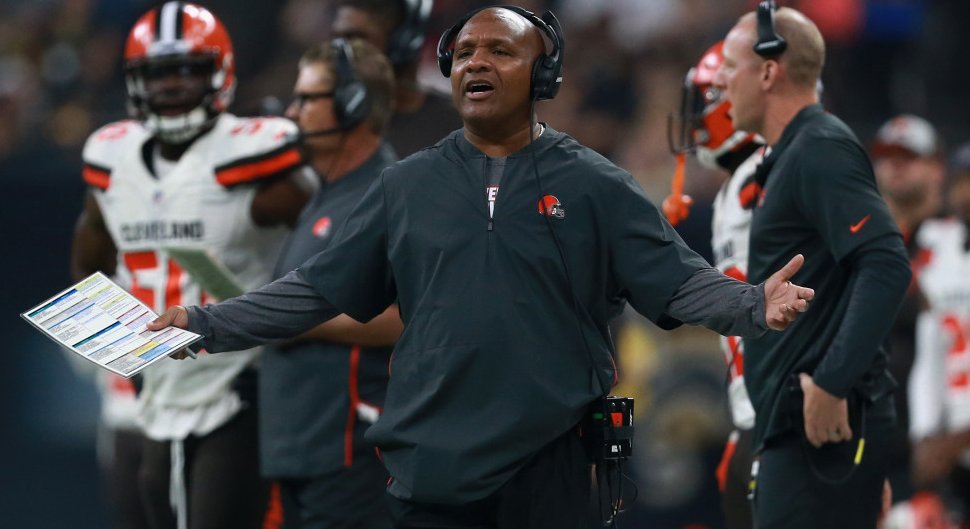 Browns head coach Hue Jackson spent most of the week leading up to today's showdown with Pittsburgh, walking back his postgame comments from last weekend's loss in Tampa Bay. Jackson raised some eyebrows when he hinted at possibly taking over the play-calling duties from offensive coordinator Todd Haley.
During the postgame presser, Jackson continually flashed his status as the team's head coach to the media, making it clear that he can make whatever changes he wants to help the team. In reference to the Browns slow starts on offense, Jackson asserted that he wasn't, "going to continue to watch something that I know how to do keep being that way."
After the remarks sparked plenty of public backlash, Jackson did his best to smooth things over by clarifying that he isn't stripping Haley of calling the plays, but just wants to provide some assistance. Unfortunatley for the third-year head-man, the damage seems to be done as multiple outlets are reporting that the undermining remarks left not only Jackson's superiors like general manager John Dorsey and owners Jimmy and Dee Haslam miffed, but his own players as well.
Jackson already entered the 2018 season on a scorching hot seat after winning just one game over the previous two seasons. Even though Jackson was brought in for being an offensive guru, the team added Haley during the offseason to help take some pressure off of the Browns head coach. So far the dynamic between Jackson and Haley, where Haley is the primary play-caller, hasn't gone smoothly, as evident by the team's continued first-half short-comings.
Cleveland is averaging just 5.7 points per game in the first half so far this season and in last week's eventual loss to the Buccaneers, they managed to score just two points before the intermission.
It's certainly not hard to see where the initial postgame remarks came from. The Browns had just come up short in overtime for the third time in four tries this season. It's also hardly lost on Jackson that his job security is fleeting by the day. If he were to actually seize back the play-calling responsibilities, it would likely serve as a last ditch effort to save his job.
According to reports though, the remarks seem to have had the reverse effect as Jackson further alienated himself from the Browns brass. Dorsey and the Haslam's apparently met after Sunday's loss to discuss Jackson's future with the team and whether or not he's the guy to this young group of impressionable players. That group holds all the cards in regards to determining his fate. Today's contest with Pittsburgh could go a long way in determining how much longer Jackson will be leading the franchise. At this point hange is almost imminent.
Follow: @Spencito_

NEO Sports Insiders Newsletter
Sign up to receive our NEOSI newsletter, and keep up to date with all the latest Cleveland sports news.