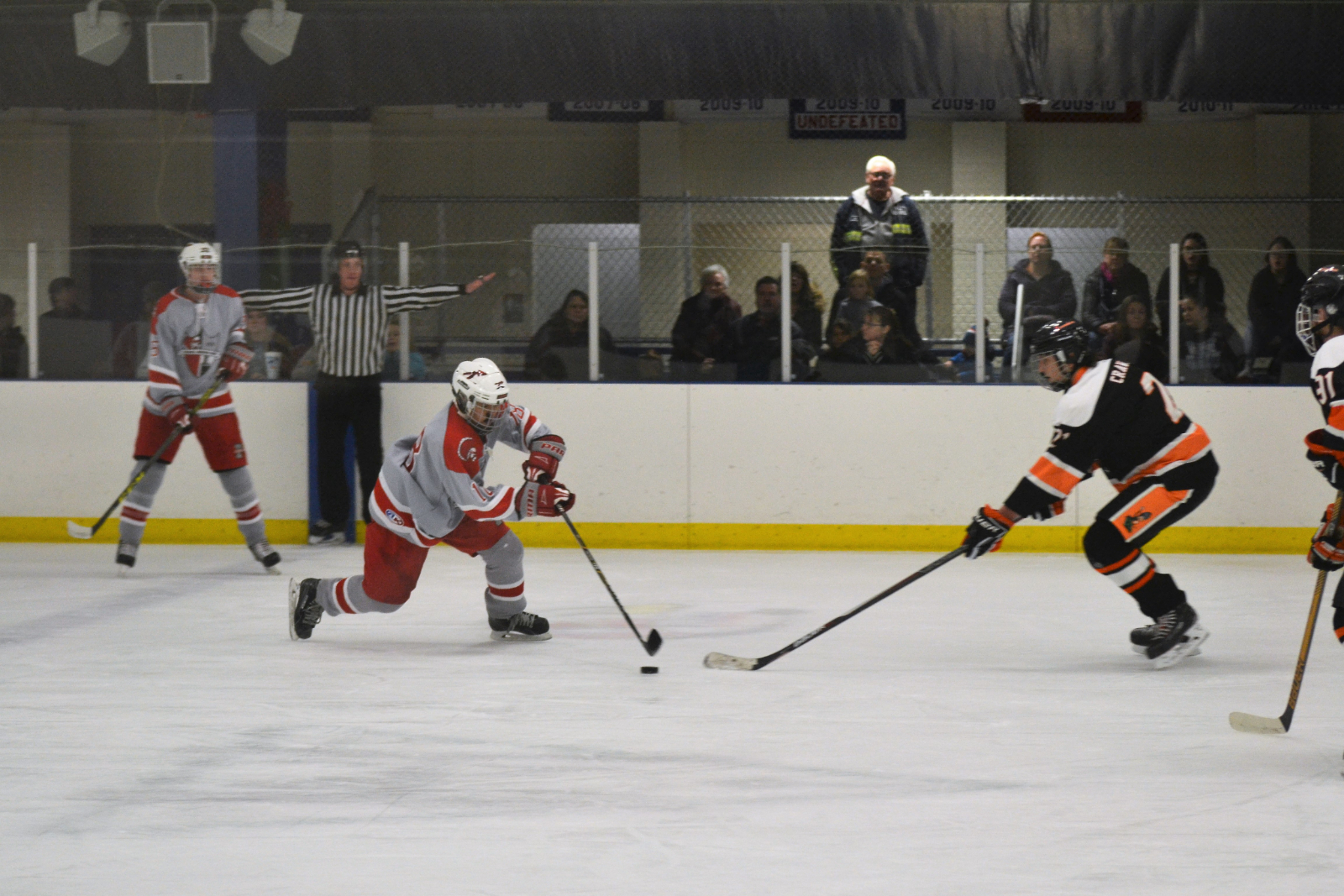 By Ryan Rufe
PARMA, OHIO – On Sunday, the storied hockey rivalry between the Parma Redmen and Normandy Invaders continued as the teams met at Ries Rink for the first time in several years.
Parents, students and alumni filled the stands for this highly anticipated matchup between Blue North division teams. As many from both sides grew up playing youth hockey together, this game was extra special for the players and those in attendance.
After getting blanked on the man advantage earlier in the 1st period, Parma struck first on the power play as forward Matt Higginbotham found the back of the net, assisted by Matt Piech and Raiven Ignacio.
One minute later, Normandy followed up with an equalizer courtesy of Lukas George on a pass from Jason Pierzchala. The Invaders were called for another penalty at the end of the period, but a short-handed goal by Cody Tintelnot (Lukas George, Brennan Sutton) fired up the "visiting team" (Normandy also plays their home games at Ries), giving them a 2-1 advantage heading into the 2nd period.
The Redmen tied the game 25 seconds into the 2nd, however, as Higginbotham (from Ignacio) halted the Invaders' momentum with his second power play goal of the contest.
He netted his third goal 10 minutes later on an assist from freshman forward Ryan Myers. Normandy responded back on Tinelnot's second goal of the game (from Jared Crawford and Tyler Beck) with two minutes remaining in the period.
The Redmen found themselves in the penalty box to close out the 2nd, but Higginbotham buried a short-handed goal on a pass from defenseman Robbie Gudin to give Parma a 4-3 lead.
The 3rd period belonged to the Redmen, as the team played excellent defense while Higginbotham scored twice more – one from Piech and one unassisted – to give the Redmen a 6-3 win.
He credited his teammates on Twitter, "I could not have done this without the support and effort of all my fellow teammates who made countless plays, and my goalie who kept the pick out of the net, who gave us a chance to compete and win this game."
Redmen goalie Colin Pinson was hard-nosed between the pipes, turning away 27 of the 30 shots he faced.
Derek Billiter had 31 saves for Normandy, 16 of which came in the first period alone.
The teams finished the game with a total of 30 penalty minutes between them.
With the win, Parma improved to 3-0 in the Blue North division, while Normandy dropped to 4-2.
They'll meet again at Ries on Sunday, January 27th in a game that could have implications on the division standings and possible playoff seeds.