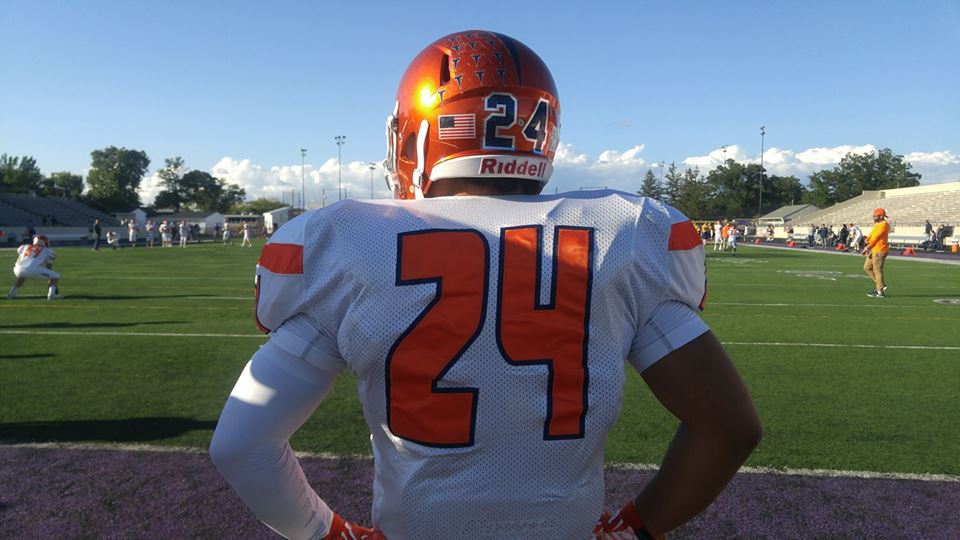 BEREA, OHIO– Berea-Midpark comes into the 2018 season under the radar, and they are preparing to change that instantly.  Other teams around Northeast Ohio, and the SWC would be wise not to take them lightly. Despite coming off of a 4-6 record they are possibly one of the most dangerous teams in the state.
They have a large number of starters returning on both sides of the ball, and boast one of the most powerful and explosive offenses the SWC has seen in quite some time.  Need proof?  They averaged 43-plus points a game last season. The biggest problem, however they let up an average of 45.
Returning starters on offense include quarterback Trevor Bycznski who finished 2017 with 3,080 passing yards and 26 touchdowns.  He also attacked with his legs, racking up 12 rushing touchdowns.  He did all of this, while only tossing five interceptions.  Bycznski will be off to Rice next fall.
Returning is running back, Bryce "The Beast" Agnew who wrapped up 2017 with 864 yards and 12 touchdowns.  He did all of that on only 137 carries.  He also caught 29 passes for 285 yards and three touchdowns with zero fumbles.  This young man finished with over 1,000 all-purpose yards, 15 touchdowns and zero fumbles.  A game is truly never over with the threat of Agnew looming in the backfield.
Despite Bycznski losing his favorite target in the dynamic Luis Vega, he will have several big-name starters returning to light up the rest of the SWC with the high octane run-and-gun attack.  Those names include players such big play receivers as Garrett Waite, Omar Siggers and Dwayne Holland.
Backup tailback Jabriel Williams will also provied an excellent one two punch with Bryce Agnew.  The sky is the limit for emerging tight end Cameron Siggers as well.  Jon Lyons has all the makings of a bust-out star at receiver.  Defenses will have nightmares simply trying to figure out who to cover.
"These kids put in the work and should do well," head coach Jon Hunek said. "I look for Lyons to step up as he puts in the work at practice, and is very shifty and a hard-nosed kid.  I see Garrett Waite stepping into the Luis Vega role from last year, and Lyons filling in with what Waite did last year as we still get that same consistent effort from others such as Agnew, Siggers and Holland."
With All-Conference caliber guards and tackles like Stephen Yerkey and Jared Bycznski, the skill position players will have all day to get open.  I had the privilege of watching Bycznski block last year, and it is like a man against boys watching him play.  His brother Trevor may get the share of the headlines playing quarterback, but Jared Bycznski is one to watch.
On the defensive side of the ball, look for the same guys playing receiver to hold down the secondary.  The can't miss player on the Berea-Midpark defense is Beau Bachie.  This Junior will have D1 college scouts looking at him this season.  Bachie has amazing talent and flies to the ball on defense.  He is the tailor-made middle linebacker to lead this defense.
Bachie has it in his pedigree as his older brother starts at Michigan State. He was in on almost every single big stop last year.  Along with two-way players Bryce Agnew, they are the heart of that defense.  Look for both Bachie and Agnew to wreak havoc.
The only question mark remains that defense.  Berea-Midpark lost six games last year, but it must be noted that their losses to Midview, Avon Lake and Amherst where all by one score in the closing seconds that very easily could have went either way.  Their defeat against Strongsville was opening week, and saw the Titans overcome a 30-point deficit to almost win.
So how does Hunek plan to get things turned around?
"We hired a new defensive coordinator, Pat Murphy," he said. "He had coached for the school in the past before going to the collegiate level to apply his trade.  He has already established a new culture of our defense.  We brought in some other coaches as well, and retained some guys who we thought were really good and continue to push our program in the right direction.
"Pat is doing a great job as the kids are really buying in to what he is saying.  They are playing aggressive, but simple and also fast.  It will mesh well with what we do on offense.  The kids are also growing and maturing.  There is a lot of kids back that I have seen grow so well on both sides of the ball since I have been here and they were sophomores."
Bottom line, while most of the early season attention will be on Ryan Maloy and the Avon Eagles, the running attack of Olmsted Falls, and the crafty offense Amherst runs, watch out for Berea-Midpark to sneak up on a lot of teams this season.
If they get past Strongsville Week 1, the schedule sets up perfectly for them to be 5-0 heading into a pivotal Week 6 matchup with Amherst.  It all starts this weekend at Strongsville's Pat Catan stadium.

NEO Sports Insiders Newsletter
Sign up to receive our NEOSI newsletter, and keep up to date with all the latest Cleveland sports news.