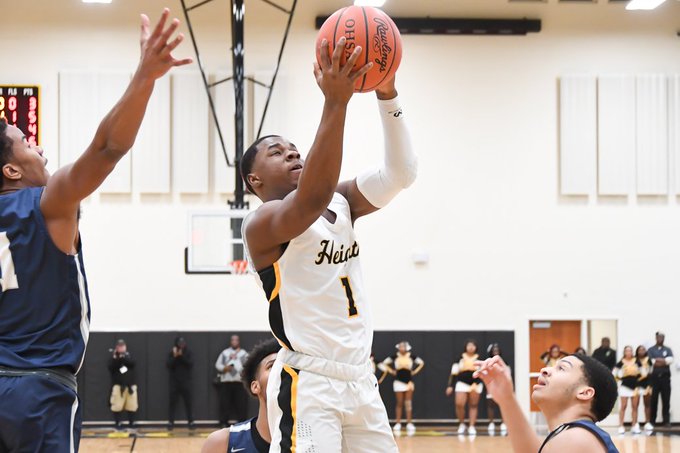 The Cleveland Heights Tigers pulled out a huge first quarter scoring 32 points, and were able to overcome with a big 86-72 win Tuesday night over neighborhood rival Lutheran East.
Nigel Martin scored 31 points in the win for the Tigers, with Jae'Lyn Withers right behind him with a 30-point effort.
"It was a huge game and a huge win and one we had to have, no shying away from the magnitude of the game or the fact we haven't played well lately," Cleveland Heights coach Michael Cruz said following the win.
The win for the Tigers puts them at 8-6, 5-2 in the Lake Erie League.
The loss for the Falcons drops them to 12-5 on the year, 7-3 in LEL play.
The Falcons down 11 after one, cut the deficit to just four after three quarters, and tied the game at 66, but the Tigers outscored Lutheran East 20-10 in the fourth quarter for the win.
Collin Albert led the way for the Falcons with 19 points in the setback.
"We had a long layoff and I was proud of the way our guys were focused and came out strong. Now, I don't think any of us are happy about giving up 72 points if we want to achieve our ultimate goals, but overall, it was a great win," Cruz said.
Robert Morgan, Christian Dillard and Jamol Coles were all big contributors in the win for the Tigers, who will play on February 1st at Maple Heights.
"It was a key game and it was a rivalry game, but more than that it was two good teams playing and we needed it to stay in the league race. We don't control our own destiny, but we need to take care of our own business and we did that tonight," Cruz said.
Getting 61 points from Martin and Withers, the best 1-2 punch of the season thus far for Heights, is something that Cruz would love to see over and over for his team.
"Bottom line is if we get that kind of offense from those two on the same night I don't see many scenarios where we lose," Cruz said.
"These are two of the best scorers in Ohio and are really just starting to get to know each other. We have a chance to be very good when it counts in March."
The game was called with 2:40 to play, as Falcons head coach Sam Liggins was ejected from the game, as well as assistant coach Anthony Jones.
At that point both teams got into it, and the officials called the game with the Tigers leading by 12.
On behalf of the varsity boys basketball program, I would like to apologize to our @LutheranEast family and @Heights_Hoops for what transpired in tonight's game. Our actions demonstrated tonight does not reflect who we are as program or school in any capacity! #TheLue

— Coach Sam (@sammybball87) January 30, 2019
The Falcons will be back in action on February 1st on the road against St.Ed's.
You can watch the Tigers broadcast of the victory posted on Youtube below:

NEO Sports Insiders Newsletter
Sign up to receive our NEOSI newsletter, and keep up to date with all the latest Cleveland sports news.