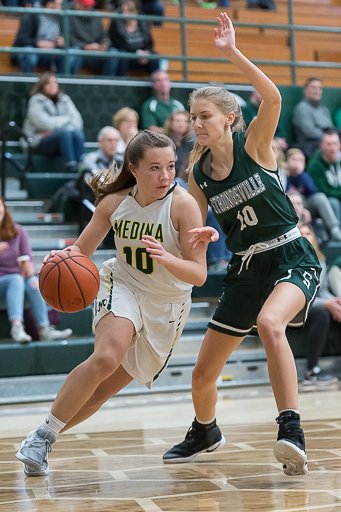 The Bees (4-0, 2-0) soundly defeated the Mentor Cardinals in this GCC match-up, thanks to stifling defense and generous sharing of the ball on offense.
Despite leading just 12-6 after the first stanza, Medina did lots of damage in the middle quarters by outscoring their opponent 39-9. The home team was led by Sarah McKee's 16 pts, 10 rbs along with 8 pts from Katie Neate. Aly Dwyer tallied 6 assists, 3 pts, 2 steals.
The Bees also got 7 pts, 7 steals from Abby McMullen and 6 pts, 6 rebounds, 4 blocks from Lindsey Linard. Rowan McDonald & Elizabeth Stuart each chipped in 5 pts. In addition, congrats to Gillian Wagner on scoring her first varsity points!
Medina next plays on Saturday, Dec. 8 vs. Euclid. Tip off is at 7:30pm at MHS.
(photo by Russ Gifford)