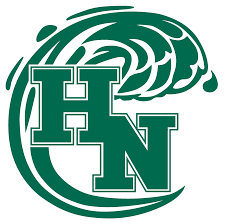 BROOKLYN, Ohio- The Holy Name Green Wave and Midview Middies took over the ice for the night half of Tuesday's quarterfinals, with the winner taking on St. Ignatius in the semifinals.
Midview would strike first with a goal by Brody Rodgers, who's slapshot from the high slot found a home in the back of the net to give Midview the 1-0 lead within the first half of the frame. Holy Name would retaliate with a goal of their own off of the stick of Sean Bauchens, who would work his way into position for a top-shelf marker off of a slapshot with twenty-five seconds remaining in the frame. Holy Name led the shots on goal count 16-9 after the opening frame, hinting at what Midview goaltender Logan Perkins would deal with the rest of the game.
Kevin Habeeb would take charge and bring the Green Wave their first lead of the game, as he fired a shot from the right faceoff circle that zipped past Logan Perkins at the 5:56 mark of the frame. Sean Bauchens would extend the lead with a power play goal in which he would feint a shot from the left point and would work into the mid-point, going top shelf for his second goal of the day with twenty-nine seconds left in the frame. The two teams would head into the break with Holy Name leading 3-1.
The Green Wave would extend their lead to 4-1 when Tyler Guarniere maneuvered his way around the Middies' defense and netted the puck at the 11:47 mark of the third period. Holy Name would finish out the game and make the 4-1 score final.
Holy Name will play St. Ignatius on Saturday at 1:00pm.