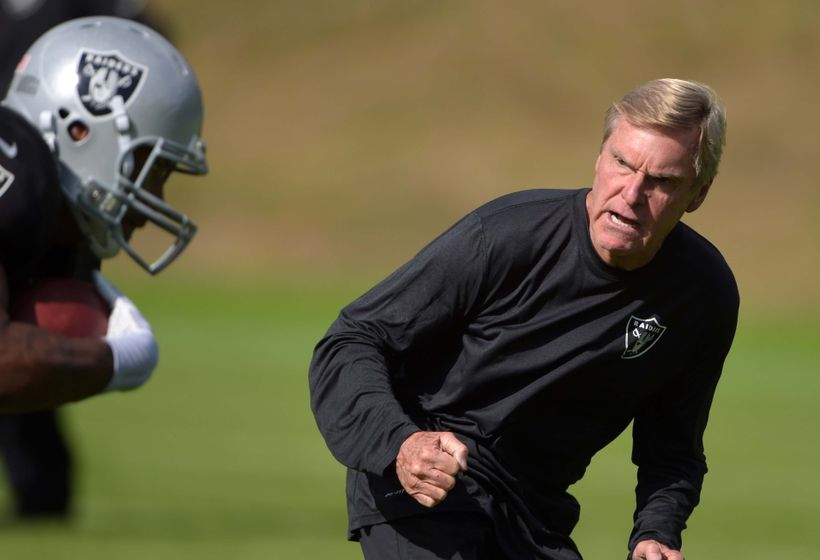 BEREA, OHIO – New Browns Head Coach Hue Jackson has completed his offensive and special teams coaching staffs.
Pep Hamilton (associate head coach-offense), Al Saunders (Sr. offensive assistant/wide receivers), Kirby Wilson (running backs/run game coordinator), Hal Hunter (offensive line), Mark Hudson (assistant offensive line), Greg Seamon (tight ends) and Bob Saunders (offensive quality control) will round out the offensive staff, while Shawn Mennenga (special teams assistant) and Stan Watson (special teams quality control) rejoin special teams coordinator Chris Tabor.
"I think we've been able to assemble a really good group thus far," Jackson said. "We are very excited about the men who have decided to come here to Cleveland and join the organization in our quest to win football games. As an offensive staff, I think first and foremost we have to work together. Our players need to see a staff that is committed, that is together and will do anything and everything to help them become better football players. What we wanted to do is try to hire the best staff that was going to give us a chance to teach, motivate, instill discipline and drive our players.
"The other thing that I love about this group of coaches is they all want to be here with the Browns. They want to be a part of the change. I want a bunch of guys who really want to be in Cleveland because they have to understand there is a lot of work ahead. We are going to have to roll up our sleeves and get some work done and just put our head down and go. Do it the right way. We need guys that are going to be loyal, guys who can be totally trusted and guys when I turn my back I am not worried about what they are doing. They are trying to do one thing, which is improving this team to help us win.
"I have made the decision to call plays. I think I have to start that way for our team. When you take these jobs you get them for a reason. You have to be aware of what you've been successful at and what got you this opportunity. You want to make sure the team is really good at what got you here, first and foremost."
Hamilton spent 2013-14 and the first eight weeks of the 2015 season as the offensive coordinator for the Colts. In his two full seasons as coordinator, Indianapolis won two AFC South division titles and went 11-5 each year. In 2014, the Colts led the NFL with a franchise record 4,894 passing yards. He worked with quarterback Andrew Luck, who led the NFL with 40 passing touchdowns in 2014. Prior to joining the Colts, Hamilton spent three seasons (2010-12) at Stanford, serving as the offensive coordinator and quarterbacks coach the final two years. He worked closely with Luck, who was a two-time Heisman Trophy finalist.
Hamilton served as the quarterbacks coach for the Chicago Bears from 2007-09. He worked with Jay Cutler, who set single-season franchise records for completions (336) and passing attempts (555) in 2009. Hamilton was an offensive assistant and quarterbacks coach with San Francisco in 2006, where Alex Smith became the first quarterback in team history to take every offensive snap during an entire season. Prior to San Francisco, Hamilton spent three seasons with the New York Jets as offensive assistant/quarterbacks coach (2004-05) and offensive quality control coach (2003). He spent one season as the pro personnel intern for the Baltimore Ravens in 2002. Hamilton also interned with the Washington Redskins (2001) and Kansas City Chiefs (2000). He began his coaching career at his alma mater, Howard University, where he served as quarterbacks coach from 1997-2001.
"Getting a coach like Pep Hamilton is going to be big for us," Jackson said. "He will be great for the quarterbacks' room. He is going to help us mold that 'guy' into being one of the best quarterbacks in the National Football League. That is our goal. We have to have a signal caller that can play at a high level. That is Pep's number one mission and mine too as we go through it. In his role as the associate head coach, when I step out, he steps in. I have a lot of confidence and trust in Pep. He has done a great job calling plays in the National Football League. I am going to give him a lot of responsibilities as we move forward."
Al Saunders has more than 40 years of coaching experience, including the past 32 in the NFL. He has been a part of 15 playoff teams, five division titles and one Super Bowl championship as an NFL coach. His offensive units have ranked first in the NFL in total offense, passing, rushing or scoring 20 times. Saunders helped St. Louis win Super Bowl XXXIV with one of the most explosive offenses in league history. He helped create "The Greatest Show on Turf," establishing NFL records in 2000 of 7,075 total yards, 5,232 passing yards and 540 points (33.8 avg.).
He also spent 15 seasons with Washington, during which time the Redskins set numerous franchise and league records and led the NFL in total offense on multiple occasions. Saunders was interim head coach for the Chargers mid-way through the 1986 campaign and spent the following two seasons as the club's head coach. As an assistant with the Chargers, he worked for "Air Coryell," one of the most prolific offenses in NFL history that featured three Hall of Famers. Prior to entering the NFL, Saunders spent 12 years as an assistant on the collegiate level. A Native of Hendon, England, Saunders earned Academic All-American honors at San Joe State as a three-year starter and team captain at defensive back and wide receiver.
"You will be hard pressed to find a better offensive coach in the National Football League than Al Saunders," Jackson said. "He has been my right hand in Oakland. He has been my right hand in so many situations. His role in working with the wide receivers will be very important to the success of our offense. He's a great football coach and is going to be a tremendous asset to the Cleveland Browns."
Wilson has 18 years of experience coaching running backs in the NFL, during which time he has coached five running backs who rank in the top-30 for career rushing yards (Emmitt Smith, Curtis Martin, Edgerrin James, Thomas Jones and Adrian Peterson). Wilson has helped seven different running backs break the 1,000-yard plateau a total of eight times. He has mentored four players to the Pro Bowl and been to the playoffs with four different franchises, highlighted by the 2002 Buccaneers and 2008 Steelers Super Bowl victories.
Wilson's teams have won six division titles and advanced to the postseason eight times. He spent the past two seasons (2014-15) with the Minnesota Vikings, where he helped Adrian Peterson capture the NFL rushing title with 1,485 yards in 2015. Prior to Minnesota, Wilson served as the running backs coach in Pittsburgh (2007-13), Arizona (2004-06), Tampa Bay (2002-03), Washington (2000) and New England (1997-99). He also spent 10 seasons coaching on the college level. Wilson played collegiately at Pasadena Community College (1979-80) and Illinois (1981-82) and later played two seasons in the Canadian Football League.
"Kirby and I go way back, "Jackson said. "I went to Dorsey High School after Kirby went to Dorsey High School. I have a long standing history and Kirby, in my opinion, is one of the best running backs coaches in all of pro football. He has been around some tremendous run games dating back to his days in Pittsburgh, in Tampa Bay with Jon Gruden and obviously this past season with Adrian Peterson. We are getting a guy who understands what a runner means to an offensive football team and also a guy who understands how to run the ball. We are going to take his expertise and use it. He along with Hal Hunter is going to head up our run game. We are going to do everything we can to run the football here and be one of the better running teams in football."
Hunter brings 34 years of coaching experience on the college and professional levels. He spent the past three seasons (2013-15) with the Indianapolis Colts, serving as assistant offensive line coach for two years before spending his final season as offensive line coach. In 2015, the line paved the way for Frank Gore to rush for 967 yards, the most by a Colts running back since 2007. Prior to Indianapolis, Hunter spent seven seasons in San Diego as assistant offensive line coach (2006), offensive line coach (2007-11) and offensive coordinator/offensive line coach (2012). Prior to joining the Chargers, Hunter spent 24 years coaching at the collegiate level. Born in Canonsburg, Pa., Hunter was a Dean's List student at Northwestern.
"Hal Hunter is another experienced coach," Jackson said. "Obviously, his dad coached here with the Browns so that's a natural connection. This guy is a tremendous football coach. I think it is one of the biggest coup for us, in getting Hal because the guy has fire, he has intensity, he can teach fundamental football to a young group of men and even though we have some older players I just think he has a way of getting guys to follow him. We are glad he is here."
Hutson brings 26 years of coaching experience on the college and professional levels. Most recently, he spent the 2015 season as associate head coach and offensive line coach at Eastern Illinois, where he also coached four other seasons (2003-06). Hutson coached the tight ends for the Oakland Raiders for three seasons (2012-14) after spending five years coaching at Tulane (2007-11). After beginning his coaching career as a graduate assistant at Oklahoma in 1990, Hutson had coaching stints at Arkansas (1992, 1998-99), Murray State (1993-96), Boise State (1997) and Tulsa (2000-02). A two-time All-America lineman at Oklahoma (1986-87), Hutson was a team captain and member of the Sooners' 1985 National Championship team. He was named to the Oklahoma All-Century Team and was a third round draft choice of the Dallas Cowboys in 1988, but back surgery forced the Fort Smith, Ark. native into early retirement.
"Mark has mainly been a college coach but he does have some NFL experience," Jackson said. "I wanted a guy who has had that college flavor because they are tremendous teachers. I was also impressed when I studied tape of the guys he coached with the Raiders at tight end. Those players under him showed great tenacity. They played with something to prove, and Mark has that in him. It really came through while interviewing him."
Seamon has more than 40 years of experience in coaching and scouting football. Most recently, he served as a scout for the Cincinnati Bengals for 12 seasons (2004-15). Prior to joining the Bengals scouting department, Seamon served as an associate to the Bengals coaching staff as an advance scout. In 2002, Seamon served as the Dallas Cowboys tight ends/offensive quality control coach. Prior to joining the NFL, Seamon coached collegiately for 18 seasons in various roles, including 12 years as an offensive coordinator at Miami, Ohio (1999-00), Cincinnati (1995-98), Akron (1991-94) and Pacific (1985-86). A native of Bright, Ind., Seamon played football and baseball at Franklin College in Indiana.
"Although he spent a number of years most recently on the personnel side, Greg has always been a coach in my eyes," Jackson said. "He was my college coach. He has been in Cincinnati with me in two stints. He did a lot of other off-the-field things for us. Last year in training camp, he became more and more involved in the offense. I know what kind of coach he is. He is very bright. He is very smart. Very meticulous. Very detailed. Again, the label of all these guys, they are really, really good teachers, great motivators, great men of character and that is the kind of staff you want to build on offense."
Bob Saunders enters his second season with the Browns after spending 2015 as a coaching intern, working with the offensive line. Saunders has served as the assistant wide receivers coach with Kansas City (2002-05) and Washington (2006-07) and as an offensive quality control coach with St. Louis (2008). He spent two seasons (2011-12) in the United Football League (UFL) as the wide receivers coach of the Virginia Destroyers, where he helped the team win the UFL title in 2011. Saunders also coached on the college level for three seasons.
"Bob has already gained a lot of valuable experience throughout his young coaching career," Jackson said. "He has worked with a number of top coaches in this profession. He was here last year and worked closely with the offensive line. We are excited to have him onboard."
Mennenga returns for his sixth season as Browns special teams assistant coach. Since Mennenga's and special teams coordinator Chris Tabor's arrival in 2011, the Browns lead the NFL in punt return average (11.3), are tied for fifth in kickoff return average against (21.7) and are tied for sixth in punt return touchdowns (four). The Browns have won six AFC Special Teams Player of the Week awards from 2011-15. Prior to joining the Browns, Mennenga spent 17 years coaching on the collegiate level. A native of Melbourne, Iowa, Mennenga lettered as a defensive back at the University of Missouri in 1992.
Watson spent the previous two seasons as a special teams coaching intern. He worked closely with the gunners on punt coverage, where Johnson Bademosi led the league in special teams tackles in 2015. Prior to jumping to the NFL ranks, Watson spent 11 years as a collegiate coach, where he worked with 18 first-team all-conference selections and 11 All-Americans. A Youngstown, Ohio native, Watson graduated from Mount Union, where he was a linebacker on four national championship teams and served as team captain in 2002.
"Stan and Shawn have had great success here. Coach Tabor has talked about how much he relied on these two coaches. But I didn't just hear it from Coach Tabor. I heard that from numerous people around the building. I wanted to make sure I kept that area intact after I investigated more and found out about Coach Tabor, Shawn and Stan. They are one of the best trios in the league. I think it is important to keep those guys together so that our core special teams players and our special teams group can continue to move forward."

NEO Sports Insiders Newsletter
Sign up to receive our NEOSI newsletter, and keep up to date with all the latest Cleveland sports news.