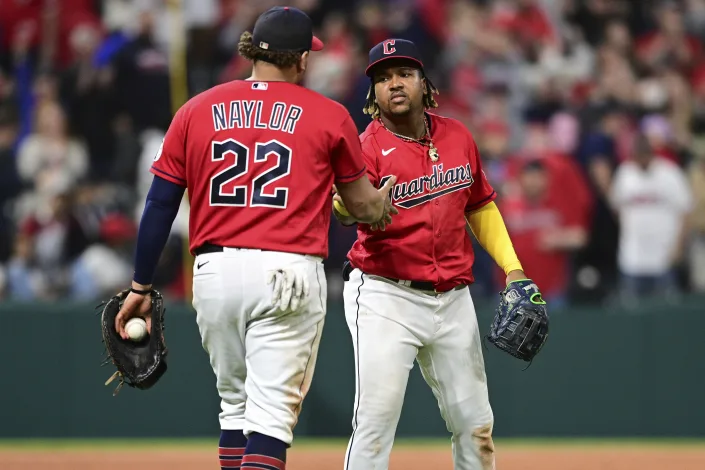 What a Saturday night! Ninety-eight percent chance to lose heading into the bottom of the 8th. Then come out with a "W?!"
First Inning Saturday Night blues
As the Guardians took on the Angles last night, Cal Quantrill took the mound for Cleveland. He faced off against Angle's rising star LHP Reid Detmiers. 
To kick off the game Angels LF Mickey Moniac hit a line-drive home run in his first plate appearance this season. This left the team battling from behind from the jump. Quantrill got through the rest of the first inning without much of an issue and didn't allow any more runs.
Who's The Leadoff of the Club? 🤔
M-i-c-k-e-y Moniak Home Run💥🎂
100.3 MPH 34° 370 Feet📏

Mickey Moniak homers (1) on a fly ball to right field.
80.3 MPH curveball thrown by Cal Quantrill.#Angels 1 – Guardians 0 Top 1st
Credit: Ballys#Moniak #Angels #GoHalos #LAAvsCLE pic.twitter.com/igcKKaga75

— Anaheim Sports (@AnaheimSports1) May 13, 2023
At the bottom of the first Kwan and Rosario started off the game with hits to get runners on 1st and third. Ramirez struck out as Rosario stole 2nd and we had 2 in scoring position.
Josh Bell stepped up and hit a deep pop out to right. It should have scored a run, but Rosario was thrown out at 3rd. Kwan reached home but crossed after Rosario was tagged out. No runs, and an inning ending double play.
Down 3-0 early!
Moving to the second, Quantrill walked Moniac and the next batter was Mike Trout. Quantril ended up hitting him in the arm with a pitch. Cal dug himself a huge hole with no outs and runners on first and second. Shohei was the next batter to come up to the plate and proceeded to lace an RBI double into left field.  Now the Angels had runners on second and third with Anthony Rendon coming up to the plate. He hit a sacrifice fly to drive in Trout and make it 3-0.
You can put that on the board! 3-2!
After that, both teams were pretty quiet until the bottom of the 6th when Kwan got walked as the lead-off hitter. During Rosario's at-bat, Kwan stole second, and with a runner in scoring position Rosario hit a double to drive in a run. 3-1!
AMED ROSARIO RBI DOUBLE TO GET US ON THE BOARD 🚨🚨🚨

HE'D BE OUR DH IF HE ONLY EVER HAD TO FACE LEFTIES

JOSE UP NEXT- RALLY TIME #FortheLand

— 216 Baseball Podcast (@216BaseballPod) May 13, 2023
During the next at-bat, Devinski threw a wild pitch to Josh Bell, and Rosario was able to score on the play bringing it to 3-2. 
In the 7th Moniac got another hit in the game to keep his 1.000 batting average and Louis Rengifo drove him in. The Guardians were able to switch sides with only allowing one more run. During our plate appearances in the 7th Gabrial Arias walked to lead off the inning. Andres Giminez looked to have hit a bloop single but Zach Neto, the SS for the Angels, made a spectacular play to catch the ball and double up the runner at 1st.
Crazy Saturday Night 8th!
The sides flipped as we went to the top of the 8th, Eli Morgan got 2 quick outs. On the next batter Rosario dropped a fly ball that he waved Kwan off of. The Angels had 1 on and 2 outs in the inning as Zach Neto stepped up to the plate and hit a 2-run shot to extend the lead for the Angels to 6-2.
Naylor does it again!
In the bottom of the inning, the Guardians had 4 straight base hits and cut the lead to 6-4. Josh Naylor stepped up and hit a towering 3-run drive down the right field line to give us a lead of 7-6. A batter later, Andres Giminez extended the lead with one swing of a bat putting the ball over the fence in the same spot that Naylor did.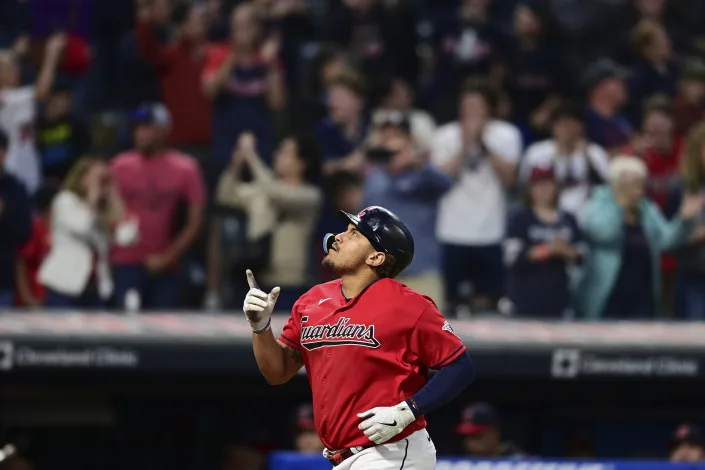 AP Photo/David Dermer
In the top of the 9th, Trevor Stephan hit the mound to close the game. Stephan walked a batter and then gave up a hit to Hunter Renfroe to get a runner on each corner. Mike Trout ended the game with a ground ball to Jose Ramirez who threw the Angel outfielder out. Book it! Guardians 8-6 win.
Back on track?
Post-game Terry Francona had some interesting comments. He said other managers go out there and just yell at their teams, and he said that helps nobody except himself. Terry said he talks to his players and helps them get better. He also mentioned that when Josh Naylor hit his home run, Bell was seen yelling at Jose, basically telling the 3rd sacker that the comeback was all because of him. Ramirez's leadership qualities were in full force Saturday night.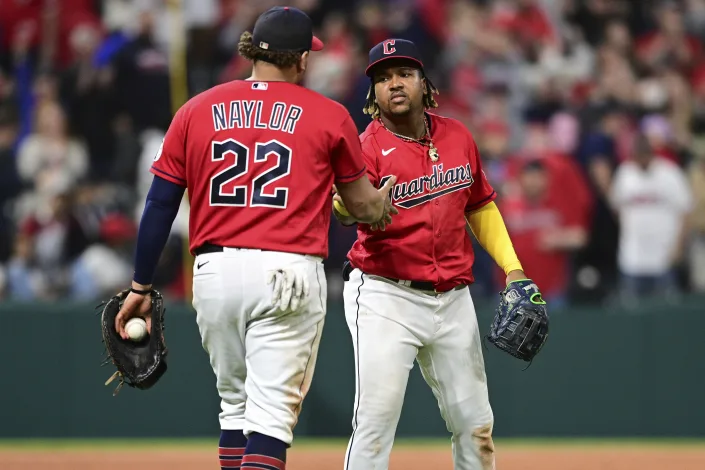 Courtesy of AP's Dave Dermer
Cal Quantrill applauds the offense of the Guardians, saying that it's hard to get them out 27 times.

Quantrill then relives the leadoff home run to Mickey Moniak, claiming that he didn't feel as if he threw the ball very well today.#ForTheLand pic.twitter.com/mTDHqRNyhg

— Bally Sports Cleveland (@BallySportsCLE) May 14, 2023
Here's hoping that this spurs this club onward.

NEO Sports Insiders Newsletter
Sign up to receive our NEOSI newsletter, and keep up to date with all the latest Cleveland sports news.