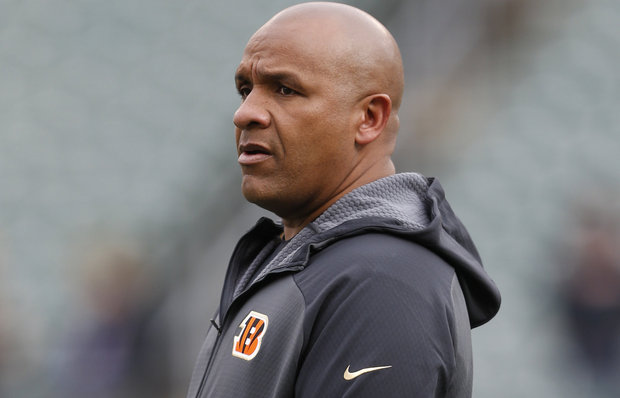 Just a few weeks ago Hue Jackson sat in interim head coach Gregg Williams seat. Now, Williams is preparing to coach against his former boss for the first time since he was fired.
That's because last week while the Browns were enjoying their bye week, Jackson took his talents back to Cincinnati in the role of special assistant to his good friend, Bengals head coach Marvin Lewis. Ironically, in just his second week on the job, Jackson gets to coach against the team he not so long ago used to coach. It's probably not a coincidence that he joined Cincinnati's staff with two matchups with the Browns still to come this season.
Williams took the high road when asked about Jackson's landing with Cleveland's in-state division rival, wishing him nothing but the best.
"I'm happy for him," Williams said. "He is a coach. He has been a coach for life. Same thing with me. I have turned down other things to do in life because I loved coaching, That is what you are supposed to do."
Williams went on to reflected on his season and a half here in Cleveland working under Jackson as defensive coordinator. Most notably, the 60-year-old said he was thankful that Jackson gave him an opportunity to join the Browns staff and attempt to turn around the plagued franchise.
The pleasantries stopped there though because, well, the Browns have a game to play and Jackson is the enemy. It's fair to wonder if the Bengals now have the upper hand with Jackson's brain at their disposal. What Jackson knows or doesn't know is of little concern to Williams though.
"I can't predict any of that stuff," he said. "There is nothing private in our world anymore. Every single clip of film is out there for everybody to watch – I always smile at that – when people are looking at all of the things from red zone to everything that is out there. It is abut execution. We have to go an execute."
Inevitably, there are some things Jackson can share with is new team. 11 weeks into the season is too late for Cleveland to change its entire playbook. For what it's worth though, under Williams and new offensive coordinator Freddie Kitchens the offense has bene much more efficient than it was with Jackson or former OC Todd Haley.
Ironically, the Browns experienced a similar situation with Haley joining the staff earlier this year. Coming from Pittsburgh, Haley had some insight into the Steelers playbook and what they wanted to do on offense. That inside knowledge resulted in exactly zero wins against their arch-rival this season.
"I learned a long time ago that it's more important that we know what we are doing than somebody else. That was pounded down my throat when I worked with Buddy Ryan many years ago."
So will the idea of taking down their former head coach, provide Browns players with a little extra motivation for Sunday? Williams doesn't think his guys need it.
"I would not think that any of them will need any extra juice," he explained. "That is not what we are really about in that respect. It is about each and every day winning the play, winning the series, winning the quarter, winning the game. We do that in here on how we keep track of winning meetings and how well we do in the meeting structure, too. I would probably say no."
Technically, the 3-6-1 Browns are still in the playoff hunt. There's one thing to play for. These last six games are also six more opportunities for this young Browns roster to continue to grow and learn how to win. So yeah, there is plenty to be motivated about other than who is coaching the Bengals.
Follow: @Spencito_

NEO Sports Insiders Newsletter
Sign up to receive our NEOSI newsletter, and keep up to date with all the latest Cleveland sports news.