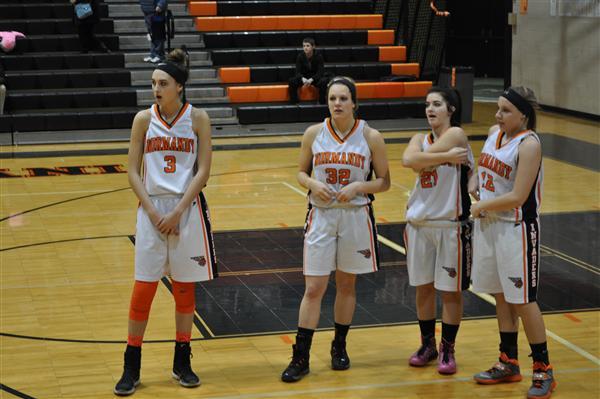 Yet another exciting Great Lakes Conference showdown was on our hands Wednesday night between the Holy Name Green Wave and Normandy Invaders. In the end, the Invaders were able to come back and hold off the Namers 51-46.
The game started off with the first points being scored by Hannah Kowalski who got two quick baskets to put the Green Wave up by four. The first basket by the Invaders was then scored by Sam LaPlaca. The rest of the opening quarter saw Holy Name holding strong with the lead by Normandy knocking on their door with the score being a low scoring 10-6 going into the second.
The beginning of the second quarter saw several nice steals by both teams and missed shots. The first points came from Destiny Jackson for the Green Wave with her first points of the night, and from there on, the game went back and forth. Once the shots stopped being knocked down by both teams, the game became a defensive battle which then ended on a miss shot from Normandy before the final buzzer sounded with the score being 20-19 in favor of the Green Wave.
The game was back in action and started out fast on the first possession with Nicole Sabol completing an and one play to start it off. The matchup was even closer throughout the third quarter with LaPlaca heating up for the Invaders and Jackson and Colleen Wise battling against Normandy for the Green Wave. Going into the final quarter the score stood at 35-34 in favor of Normandy as they took the lead with only a minute remaining in the quarter.
The final quarter started off with a back and forth battle with Normandy gaining the advantage and momentum with approximately two minutes remaining after a huge three. Even after the three the Green Wave kept fighting back with a three from Molly Searles with just 4.4 seconds remaining to bring the game within three. Normandy's free throw shooting was lights out all game and that showed as the Invaders knocked down their free throws to end the game with the score being 51-46.
After the loss the Green Wave move to 2-2 on the season and 0-2 in Great Lakes Conference play with their next game being Wednesday at Lake Catholic High School. Following the big win the Invaders record improves to 3-1 and 1-1 in conference play.