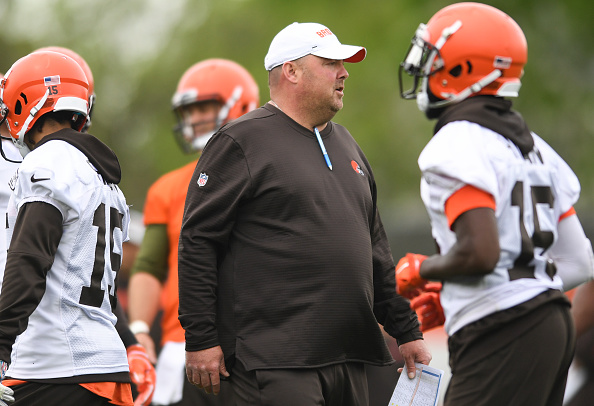 If you've googled "Odell Beckham Jr." any time in the past two months, you've likely come across a handful of articles about his skipping out on voluntary workouts. The wideout has only made a brief cameo since being traded to the Cleveland Browns, and the team has been asked about this on what feels like a daily basis.
Coach Freddie Kitchens appeared to reach a breaking point on Thursday, stressing that Beckham has missed "a lot" in his absence. He gave nothing but curt responses when answering questions about his receiver being MIA, which seemed to indicate he's become frustrated about the entire situation.
At least, that's how many are perceiving it. The reality is, while Kitchens' remarks are leading people to believe he's upset with Beckham, the whole situation has been severely overblown.
For a refresher, here's exactly what Kitchens said. When asked what he wants to see in Beckham during next week's mandatory mini camp, he claimed, "I just want to see him." When someone followed up asking what Beckham has missed, Kitchens just said, "a lot, the offense."
That's it. Ten words. Short and sweet.
At least that's how I saw it. Some outlets, however, interpreted this as Kitchens "begging" Beckham to show up. Others felt this indicated the wideout was "in hot water," or that a problem is brewing in Cleveland.
Am I here to say Kitchens is 100% OK with his receiver's absence? No. At the same time, to take his comments as an indication that he's incredibly upset with Beckham seems like nothing but creating unnecessary drama.
What feels far more realistic – to me, at least – is that Kitchens has spent the past two months being questioned on the whereabouts of one specific player. He's been peppered with the same inquiries over and over and over, constantly asked to share his feelings on the one player who's not in attendance as opposed to those who are.
With that in mind, I'd like to think Thursday's abrupt comments were simply a result of him being tired of the constant questions about Beckham. One can only be asked so many times about the same player not attending voluntary workouts before getting burnt out.
This didn't stop people from reading too much into Kitchens' "a lot" response. Many felt this was some sort of indictment against his absent wideout.
To those who feel this way, I just have to ask – what was he supposed to say?
The Browns have been conducting voluntary workouts since April. Should Kitchens have just said, "Ah he hasn't missed much, we've just been farting around up here," as if this has all been wasted time?
Yes, the Browns have been doing a lot of work over the past couple months. Kitchens saying as much wasn't a shot at Beckham, it was a statement of fact.
Yet, people are still using this as proof things have gotten out of hand. People are still openly debating whether or not Beckham missing voluntary workouts is some sort of red flag.
Did Kitchens come right out and say he was upset with Beckham? Did he open the conversation by saying "by the way, Odell needs to be here, he's missed a lot"?
No. He answered a question. The same one he's been answering for the past two months.
You could argue he wouldn't have to if Beckham was in attendance, which is technically true. The reality, though, is these sessions are voluntary. Yes, he's missed some time with his teammates, but he still has mini camp, training camp and the preseason to make up for it. Nobody is going to see him drop a pass in October and think "well he would've caught that had he gone to OTAs."
If Beckham is absent for next week's mandatory sessions, fine, let's sound the alarm. For what it's worth, he's already claimed he'll be there. At the end of the day, though, I'm not getting caught up in the "drama" of a player's absence during voluntary sessions.
My guess is Kitchens feels the same way, and he's tired of having to answer the same questions about it every day.

NEO Sports Insiders Newsletter
Sign up to receive our NEOSI newsletter, and keep up to date with all the latest Cleveland sports news.